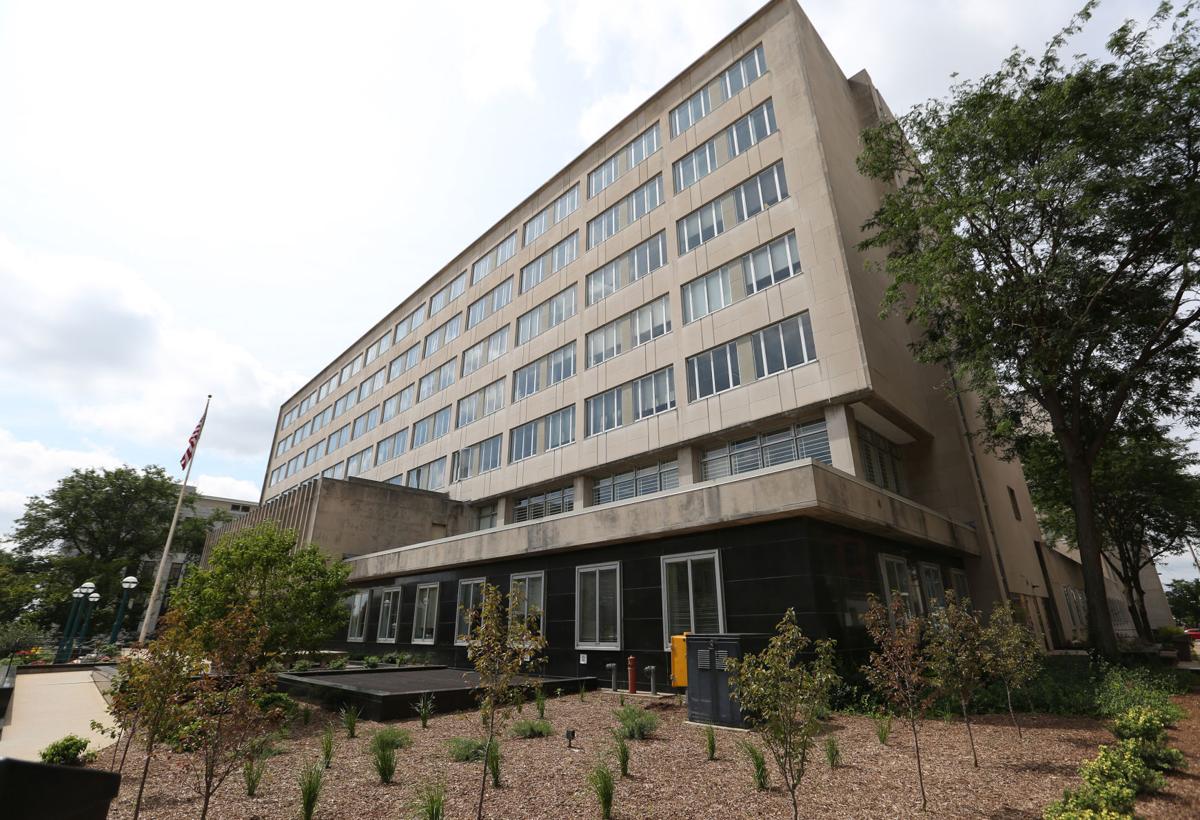 The Madison City Council approved the 2020 operating and capital budgets Wednesday after adding hundreds of thousands in funding for three police officers, an ambulance and low-cost housing.
In a unanimous voice vote, council members approved $173.9 million in new funding in the capital budget, with $95.7 million in borrowing and $78.2 from outside sources, as well as a $340.7 million operating budget that draws from $250.0 million in property tax revenues.
The two 2020 budgets prioritize low-cost housing, continue support for the Madison Public Market, move up the timeline for Bus Rapid Transit and bolster city bus operations, while addressing some of the public safety concerns brought up by the community.
For the first time, the operating budget relies on revenue from a $40 vehicle registration fee, also known as a wheel tax, that is projected to bring in $7.9 million annually to close what would have been a major budget hole this year. The fee — which was approved by the council Oct. 29 on an 11-8 vote — will take effect Feb. 1.
In addition to the vehicle fee, the operating budget increases city taxes from last year by $94, or 3.6%, to $2,681 on the average value home, now assessed at $300,967. It is just $15,000 below state levy limits on how much cities can increase property taxes.
Mayor Sayta Rhodes-Conway said those state limits on property taxes constrained what the city could fund, and there were many other projects that were "not frivolous" but were ultimately get approved this year. 
"Each department had things that were good ideas, and you could argue deserved to be funded," Rhodes-Conway said. "But we couldn't afford to."
But Rhodes-Conway said she was happy with the budget overall and staff's "flexibility and creativity" in finding ways to fund their projects during a tight budget year. 
Major projects in capital budget
It also delivers $5.5 million to the Affordable Housing Fund to support low-cost housing developments. The mayor had initially proposed $5 million for the fund, but council members approved an amendment for $500,000 more in 2020 borrowing.
"I have no concern about our ability to use this money," Rhodes-Conway said of the addition. "The need is so great in our community."
An amendment also restored funding for a $17 million Reindahl Imagination Center on the North Side — but did not authorize any borrowing for 2020. Envisioned for 2022, the budget plans for $1.1 million in borrowing in 2021 and $11 million in borrowing in 2022.
The project, a collaboration between the library and Parks Division, had originally been moved to the "horizon list," which includes projects that are not yet ready to be in the new five-year plan and have no specific timeline.
Bus Rapid Transit and Metro
The operating budget prioritizes Metro Transit, the city's bus service, by using funding from the $40 wheel tax to bolster operations and prepare for Bus Rapid Transit, or BRT, a high-frequency, high-capacity, limited-stop service that the city wants to develop to reduce vehicle traffic.
Bus service on the city's South and Southwest sides will be increased, more free bus passes will be available and a few new positions will be added. In the future, the wheel tax will fund BRT operations.
The capital budget moves up planning and initial development of BRT from 2024 to 2020-23.
The city is refining details of an initial BRT route roughly from East Towne through Downtown to West Towne that will require an $80 million to $100 million capital outlay and cost about $3 million annually to operate. 
It delivers $3.5 million for BRT planning in 2020 and another $124.5 million, partially supported with federal money, for design and construction of an initial east-west corridor through 2023. It would advance funding of a satellite bus facility, critical for implementation of BRT because the city now lacks the space to store the new elongated buses, from 2023 to 2020-21.
Public safety amendments
After the council on Tuesday rejected a proposal to add 10 firefighter paramedics to the operating budget and make major cuts in other areas, council members approved $305,000 in borrowing in the capital budget Wednesday for a new ambulance for Station 14 but no new staff.
Fire Chief Davis said ambulances are able to service Station 14's territory in under nine minutes 53% of the time, while other parts of the city see response times under nine minutes nearly 90% of the time.
Davis said the department would get the ambulance by Jan. 1, 2021. The council would have to approve additional firefighters in the 2021 budget to staff it.
Ald. Lindsay Lemmer, 3rd District, said funding the ambulance "moves us in the right direction." She urged council members to start working on finding funding to staff the ambulance in the 2021 budget.
On Tuesday, the council also added $123,000 in the operating budget and $45,000 in the capital budget for three police officers to boost morale in the department and address concerns from residents about public safety. The addition did not require any cuts, but pushed the budget close to state levy limits.
Wednesday, the council approved $59,300 in borrowing in the capital budget for one squad car and equipment to support the new officers.
Before the amendments, the budget had already included $5 million more for the Police Department, a 6.5% increase, and a $4.2 million increase for the Fire Department.
Other amendments
In other amendment deliberations, the council:
Maintained funding for the creation of an independent police monitor to analyze the Madison Police Department and hold the organization accountable, despite several efforts to cut the $200,000 that will support the position. The monitor has been described as the cornerstone recommendation from a committee that has been reviewing the department's policies and procedures for more than three years.
Maintained a 3.25% raise for all city employees.
Approved $350,000 in capital budget borrowing to fund an analysis of traffic conditions to improve safety through news signs, pavement markings, speed reductions or infrastructure changes.
Added $25,000 in funding to the operating budget for the Focused Interruption Coalition, a community-based peer support initiative aimed at comforting victims of violent crime and calming the impulse to retaliate. The operating budget initially cut funding in half, and the approved amendment gives a little bit of that money back.
Get Government & Politics updates in your inbox!
Stay up-to-date on the latest in local and national government and political topics with our newsletter.