On a frigid Tuesday morning, Madison Parks Division staff began placing orange tags on tents and belongings to notify the homeless they had 48 hours to remove property from a once-sprawling encampment at Reindahl Park on the Far East Side.
The city and others have been working to help up to 80 homeless people who have been living at the park in tents, RVs and vehicles to relocate to other places, including 30 new, tiny shelters at the city's first encampment at 3202 Dairy Drive on the Southeast Side and to 35 rooms at the two-story Madison Plaza Hotel, 3841 E. Washington Ave., across the street from Reindahl.
As of Tuesday, perhaps a handful of people were still living at Reindahl amid clusters of abandoned tents and makeshift shelters and a smattering of furniture, burn barrels, beaten shopping carts, bikes, grills, wood pallets, clutter, trash and other remnants of life in a place the city deemed unhealthy and unsafe, city officials said.
Starting Tuesday, the notice allows the city to begin enforcing ordinances that prohibit overnight camping in the park and all portable toilets were to be removed. But the city is looking to avoid citations or enforcement action, officials said.
James DeGray, who lived in the park and tried to organize campers and cleanups, has accepted shelter at the Dairy Drive encampment but returned to Reindahl to help those transitioning or trying to stay there with their belongings as the city ends camping there.
It's important, even critical, to protect belongings like tents or supplies that can be shared with other homeless people who have not secured shelter or for it to be available for the owner if shelter doesn't work out or ends, he said.
"They're moving people so fast. There's a sense of shock," said Pearl Foster, an advocate for the homeless spending time at the park in solidarity with them.
Charles Stovall, who has been homeless since April and living at Reindahl since August, accepted a room at a nearby hotel through a nonprofit on Monday. He was grateful for a night out of the elements but frustrated with a lack of help in storing his belongings, which include multiple tents and equipment.
"I've got two days to figure out what to do with this stuff," he said, adding that assistance with storage and legal problems that helped lead to his eviction would make a huge difference in becoming employed and housed in the future. "I could go forward with my life," he said.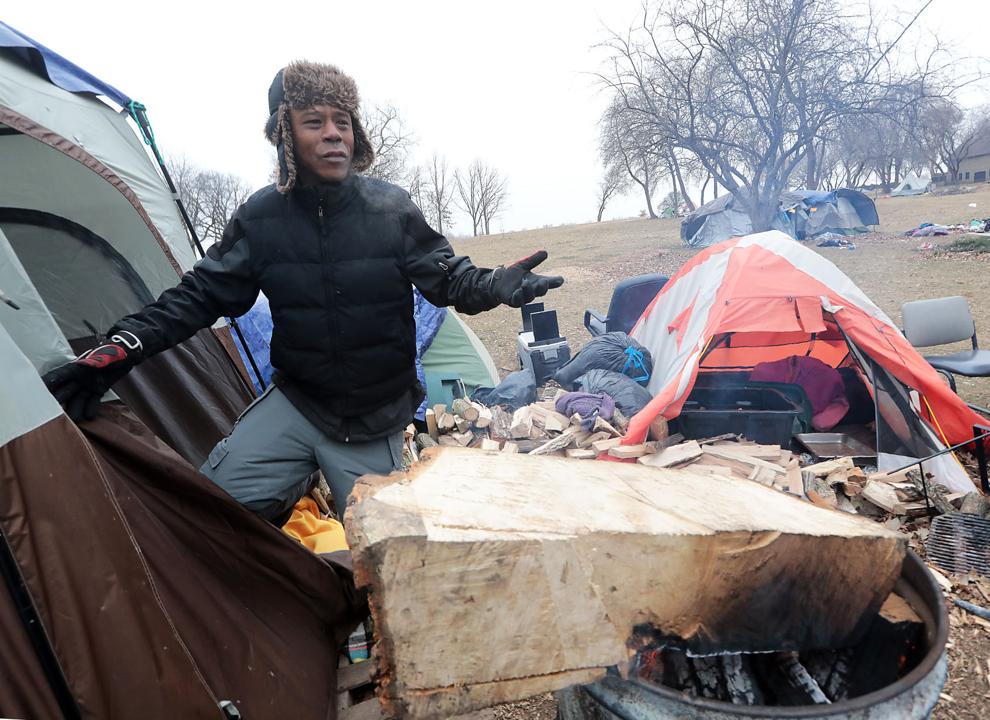 Advocates have placed signs in the park, one saying: "Breaking up community during the holidays is wrong. Shame on you Madison."
'A better place'
It's an appropriate time to end the Reindahl encampment, city officials said.
"First and foremost, it's an issue of safety for the people who have been staying there, getting them to a better place," city community development director Jim O'Keefe said, adding that the newer alternatives also have better access to key services.
So far, 28 people have moved to 64-square-foot, heated, tiny shelters at the Dairy Drive encampment, which features a small building with office space and six restrooms with showers — each with their own entrances — streetlights, landscaping and a 6-foot privacy fence surrounding the 1.8-acre, city-owned site in an industrial area across the street from Fire Station 14.
The operators, Madison Area Care for the Homeless (MACH) OneHealth of Madison and Kabba Recovery Services of Monona, have identified people who want to move to the remaining two shelters and there's now a wait list.
Due to accommodating some couples, more than 35 people are expected to fill the city's 35 rooms at the Madison Plaza Hotel, O'Keefe said. Since September, Dane County has been renting 100 rooms at the hotel for homeless adults considered at high risk for severe illness if they contract COVID-19. The city, which recently leased 35 remaining usable rooms there, and the county will be using Focus Counseling of Madison to provide services there.
Around October, the city did a census of the Reindahl population and outreach efforts have continued since then, O'Keefe said.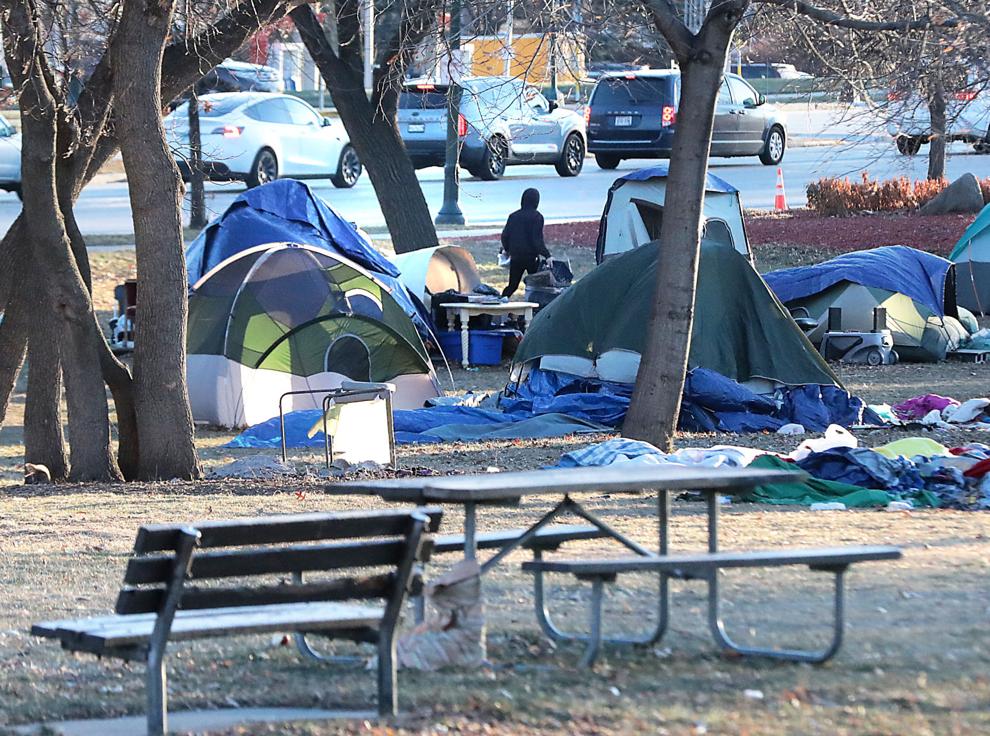 Public health concern
On Nov. 17, the city posted notices at Reindahl that by the end of the day on Monday, all unauthorized structures, including tents and personal property, must be removed from the 91-acre park.
The park needs an aggressive cleanup, city community development grants supervisor Linette Rhodes said. On Monday, a partially eaten full turkey at one abandoned site had two hypodermic needles sticking from it and needles were easy to spot elsewhere. "It's a public health concern," she said. "We don't want needles being covered up by the snow. We are trying to get ahead of the weather."
Under city ordinances, all property remaining after Monday is considered property left on a public land without the city's permission.
The property will be handled in two ways:
Property will be disposed immediately if its replacement value is less than $50; is contraband or considered dangerous; is perishable; if it poses a public health risk or has no sentimental, legal or medical value.
Other property will be tagged by Parks Division staff, removed and placed in storage for not more than 45 days. It can be claimed by contacting the Parks Division. If unclaimed after 45 days, it will be disposed.
The property is logged to include a physical description, location in the park and photos, assistant parks superintendent Lisa Laschinger said. It's then put into a large bag, placed on pallets and moved to storage. Each pallet is numbered and the city coded the log to include location so the property can be more easily recovered, she said.
In an encampment situation like Reindahl, trash, perishables, biohazards and large bulky items like mattresses are removed from tents and the entire tent is dismantled and put into storage. As crews clean the entire park, everything is evaluated and if something needs to be kept, it is logged and stored as well, she said.
If someone wants to recover their property, they need to call the Parks Division, describe their property and provide the general location where it was left, she said.