The uphill climb to survive in the golf industry may have gotten steeper Monday for Madison's area courses.
Governor Tony Evers ordered nonessential businesses to close indefinitely starting Tuesday in order to slow the spread of the COVID-19 coronavirus. If that decree includes golf courses — a detail that is expected to be revealed Tuesday — it would be a massive blow to the industry right before many courses were preparing to open for the season. In the already-short Wisconsin golf season, losing these opening weeks could cost courses thousands of dollars and affect their ability to retain workers.
"You take a business like golf that's already on the brink of shutting down and shut it down even more … not everyone's going to survive, that's for sure," said Becky Iverson, the general manager of The Bridges Golf Course in Madison. "In the heat of the summer, we have over 60 employees and we'd obviously have to lay everybody off. Most of our employees would not … qualify for unemployment."
Iverson said she called representatives from Evers and Tammy Baldwin's offices on Monday, but could not get through. States such as California, Kentucky and Nevada who have similar nonessential business shutdowns have allowed golf courses to stay open.
A message left with Park Division public information officer Ann Shea on Monday wasn't returned.
Some courses, such as Bridges, already opened this year with new parameters in place to fight COVID-19. Iverson said customers pre-paid online, were restricted to one person per cart and practice facilities like the driving range and putting and chipping greens were closed to prevent congregation points. Her staff also made changes on the course, such as placing PVC pipe in holes so balls didn't go all the way in, removing the rakes and sanitizing carts thoroughly after rounds.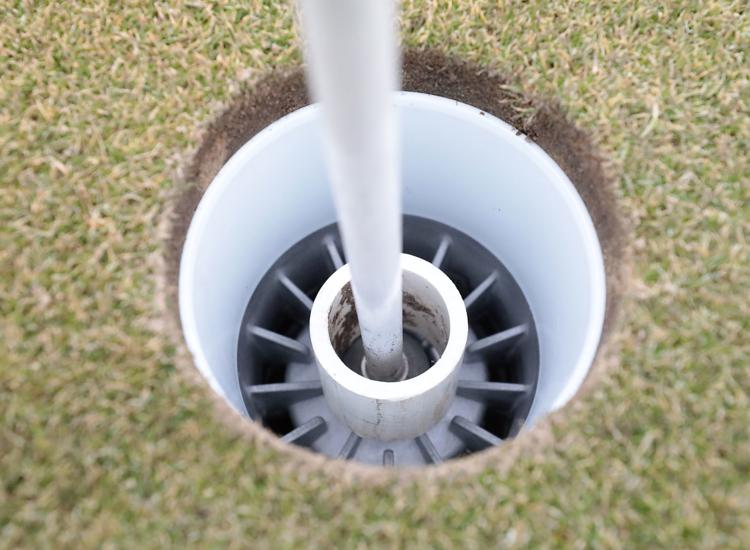 "We've done everything so that when you come out on the golf course you don't need to touch anything anyone else has touched," Iverson said. "Basically, the national golf association is calling it, 'park and play.' So you can just park in the parking lot, get out, go play and not have to be in contact with anyone."
Evers posted a thread on Twitter when announcing the safer at home order and one tweet, the first-term governor wrote, "You can still get out and walk the dogs — it's good exercise and it's good for everyone's mental health — but please don't take any other unnecessary trips."
Iverson believes the same mental health benefit can be said for golf courses that adjust to the novel coronavirus like hers has.
"Being locked in your house for a month … I see no difference in going on a golf course and playing 18 holes versus going for a walk, or going a hike in a state park," Iverson said. "I'm hoping that we can get a hold of someone from the governor's office and make it so that golf courses can stay open to give people some sanity."
The Wisconsin PGA has reached out to Evers seeking clarification on if golf courses will be deemed essential and highlighting why it believes it should be.
"The second part of it is we want to make sure that they're still able to maintain their property," said Joe Stadler, the executive director of the Wisconsin PGA. "The damage that would be done if this lasts a couple of weeks, even this time of year, would be pretty significant to try to repair moving forward."
Derek Schnarr said course maintenance was a major concern of his. The director of golf and club operations at Blackhawk Country Club had hoped to have his course open last weekend, but said they won't open with the current situation. If courses become overgrown now, the damage will be irrevocable this year, he said.
"If you don't let course maintenance people on the courses, the 2020 season is over," Schnarr said. "It'd be devastating to the industry.
"These are trying times."
Jeff Murray, the general manager of Bishops Bay Country Club in Middleton, said the club has converted its restaurant into a curbside takeout service and has made a number of other changes to be ready for a golf season altered by COVID-19. But not allowing the course to open would prevent the club from employing around 70 workers.
"We all employ a lot of folks; it's a big deal," Murray said. "I have a sincere hope that we'll be allowed to at least operate, or semi-operate, because we won't be full-on operational for a long time. We have to come to the realization that until this thing is squashed, it's going to change our lives. Probably forever."
Concerned about COVID-19?
Sign up now to get the most recent coronavirus headlines and other important local and national news sent to your email inbox daily.