Roughly half of Madison poll workers have vowed not to show up on Election Day, which in a worst-case scenario could leave some area voters completely without a polling place, as the novel coronavirus wreaks havoc on the upcoming spring election.
Madison City Clerk Maribeth Witzel-Behl said 525 poll workers, or roughly half of those who were scheduled to work, canceled for the April 7 election, while Middleton City Clerk Lorie Burns said 25 of her 72 poll workers, including two of her chief inspectors, won't staff Election Day. The cancellations have left city clerks offices, many currently understaffed, scrambling to find new poll workers and polling places to make April's statewide election viable.
Still, it's possible a surge in absentee voting may reduce the need for poll workers.
On Monday, the city of Fitchburg called on government employees, teachers and those looking for temporary work to work at the polls during the April 7 election to replace poll workers who are sick or have underlying health conditions.
The city of Fitchburg has about 124 poll workers, many of them in their 60s and 70s, who work on Election Day registering voters, monitoring voting equipment, explaining how to use voting equipment and counting votes.
City clerks say they expect more poll workers, many of whom are over the age of 60, to bow out in the coming days. Because polling locations are required to have at least three poll workers, otherwise known as election inspectors, clerks are working quickly to find workers — such as government staff or even the National Guard — to staff polling sites, or looking to consolidate polling sites.
But while three is a minimum, more are usually needed to handle the myriad of tasks on Election Day, from assisting with voter registration and photo ID requirements to keeping lines to a minimum. Witzel-Behl said she'd prefer to see closer to nine poll workers staffing each site. Witzel-Behl said she was originally working toward a goal of 1,500 poll workers, but hadn't obtained that number by the time the novel coronavirus struck.
State election officials last week rang alarm bells over the possible shortage of poll workers due to the risk of contracting the virus at the polls. Among the many other problems elections officials have encountered are possible delays in absentee voting due to mailing and shortages of ballot envelopes.
Witzel-Behl said moving and consolidating polling places is likely, especially if more cancellations occur. Already, Witzel-Behl is working to find new sites to replace at least 21 polling sites.
Burns said she already has plans to scale down Middleton's four polling places to two, a necessity that requires the polling places to be sectioned off to accommodate voters from each ward.
Even that patchwork approach may create new problems, such as more crowding at polling sites — the very thing officials want to avoid.
And for poll workers themselves, working on Election Day presents a tough choice: staffing the election or prioritizing their health and the health of others.
Laura Hanson-Schlachter, a 35-year-old Ph.D. candidate at UW-Madison, said she no longer plans to work at the polls due to the coronavirus. She said she and her family are aggressively following social distancing precautions because her mother, who is about to turn 65, is living with them.
"We have to choose between our own safety and the safety of our families and wanting to support the integrity of the election," she said.
Hanson-Schlachter, along with many other Wisconsin officials and organizations, such as the League of Women Voters, supports postponing the election or moving to an all mail-in election.
Burns encourages voters to vote by mail if at all possible, and thinks the state should look at alternatives to an in-person election on April 7.
"We're having a shutdown, but yet you want to keep the polls open," Burns said. "How do you expect 100 or more people to come out and stand in line? It's totally contradictory."
Critics say moving the election back too far would risk leaving many local government positions temporarily unfilled. It's also unclear whether Wisconsin would have enough envelopes to conduct an all mail-in election.
Gov. Tony Evers so far has not issued plans to alter the election date, but again on Tuesday encouraged voters to request a ballot online and vote absentee.
"What we do know is the simplest way to vote is either as an absentee vote or early voting," Evers said. "We're working hard to understand the issues of what's happening on April 7, but what we do know for sure is that what's easiest to do is just go online."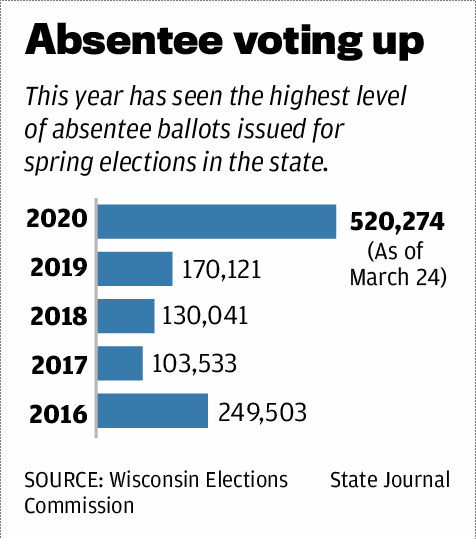 Absentee voting has surged, with clerks issuing 520,274 absentee ballots to voters across the state as of Thursday. Those numbers keep climbing and they've easily eclipsed the 249,503 absentee ballots issued for the 2016 spring election, the last time there was a presidential primary.
In Dane County, local clerks have issued 90,097 ballots as of Tuesday, and requests are at 93,271. For reference, 235,539 Dane County voters, both in person on Election Day and absentee, cast a ballot in the 2016 spring election and presidential primary.
The absentee voting surge, made up mostly of mail-in ballots, comes as some Wisconsin cities, including Madison and Middleton, have canceled most of their in-person absentee voting locations due to building closures and lack of staffing, leaving only one or two sites open for voters to cast an absentee ballot in person.
In Madison, voters can vote in-person at a curbside voting location outside of the City-County Building.
The Wisconsin Elections Commission has asked the governor and Department of Health Services to help secure a supply of hand sanitizer for clerks to use in polling places. It also directed local clerks to accommodate all requests to conduct in-person absentee voting and registration, and intends to develop best practices for local clerks to minimize the spread of COVID-19 at the polls.
In a letter on Friday, Evers said the state is working with the Elections Commission to locate absentee ballot envelopes from two vendors and expediting the purchase and delivery of the envelopes. In addition, the State Emergency Operations Center, housed within the state Department of Military Affairs, is working to secure more hand sanitizer for clerks. The SEOC is also coordinating with volunteer organizations, such as AmeriCorps and United Way; businesses; and state employees to recruit poll workers.