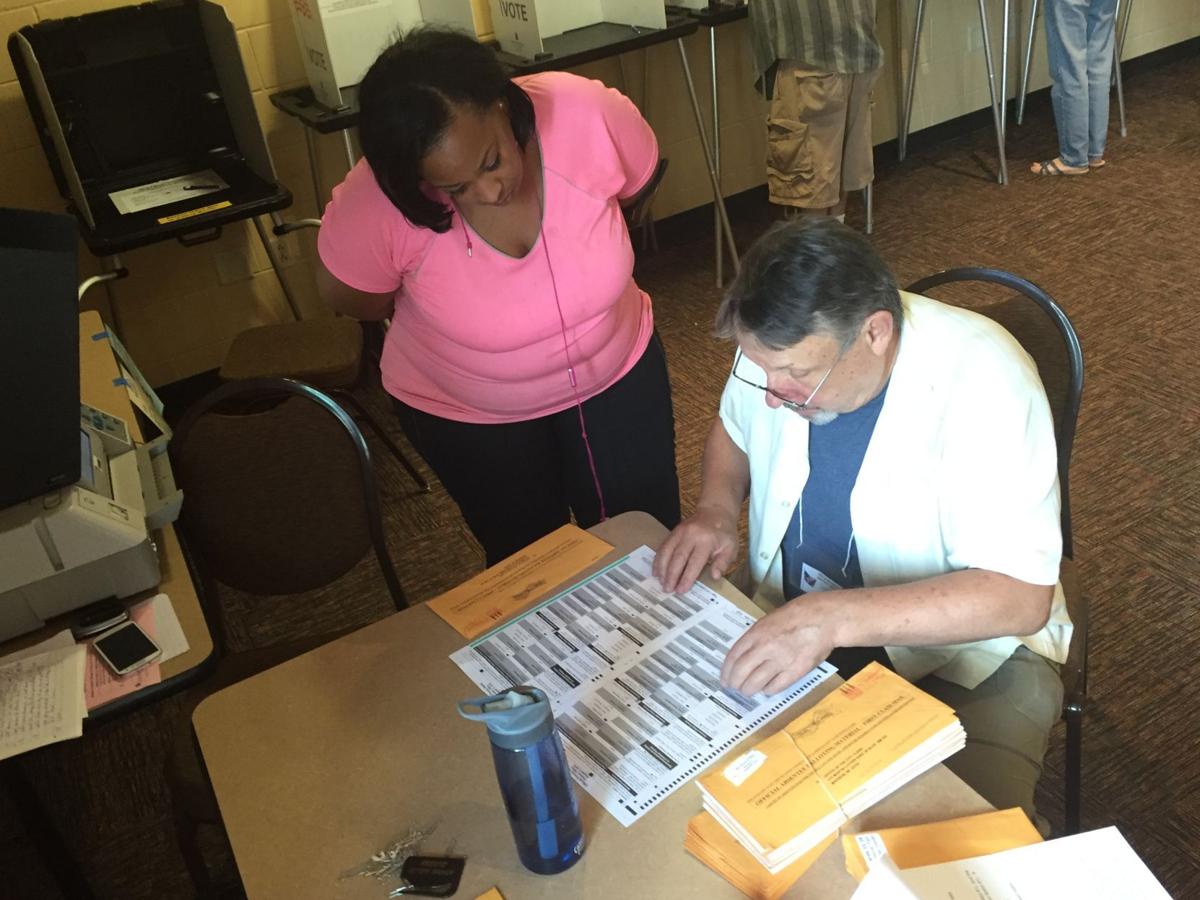 While not a ringing endorsement of democracy, the light turnout in Tuesday's primary had one upside: It provided poll workers some relief in dealing with a major problem involving absentee ballots sent to Madison voters.
As in-person voters trickled in, poll workers were busily remaking faulty ballots that had been sent to voters before a problem with the printing margin was discovered. The mistake caused voting machines to reject some ballots during tests, forcing poll workers across the city to meticulously duplicate faulty ballots while conducting their normal Election Day responsibilities.
"I haven't heard of any troubles getting through the absentee ballots, probably because of the lower turnout," City Clerk Maribeth Witzel-Behl said. "If this had been November it would likely have delayed the results."
Witzel-Behl was alerted to the extent of the problem about two weeks ago when the county clerk's office replaced ballots for all 111 of Madison's populated wards. With hundreds of faulty ballots already mailed to voters, she decided it would risk confusing poll workers to introduce newly printed ballots into the absentee ballot pool. Instead, she directed poll inspectors to remake all of the absentee ballots before counting on Election Day.
Poll workers typically remake ballots only when voters make mistakes, such as circling the oval beside a candidate's name rather than filling it in. But the erroneous absentee ballots kept polling places across the city busy even though turnout of than 20 percent of eligible voters.
Madison poll workers began receiving their first envelopes of absentee ballots by early afternoon, setting in motion a laborious process in which ballot envelopes were sorted alphabetically, opened and a new ballot marked to reflect the votes cast on the original ballot. The new ballot was then compared with the original by another poll worker before being fed into a voting machine. The original ballot was then sealed in an envelope for safe-keeping in the event of a recount.
"I think it's important for voters to know that there are precautions, there's not just one person sitting there remaking the ballot," Witzel-Behl said.
In Ward 44 at the Tenney Park shelter, chief poll inspector Karen Miskimer said it took her staff about three hours to process the first group of 45 absentee ballots.
"There's a lot of checking details that goes into each one of those ballots," she said. "There were times that an election official would be called to help register somebody and when you don't have two people, the process has to stop temporarily."
Only five more absentee ballots arrived in the second wave, allowing Miskimer's poll workers to focus on in-person voters as a slight post-work rush approached. 
Earlier in the day, with turnout still dwindling in the single-digits, many polling stations had little to no lines.
Sunny T'Shika Balentine, chief poll inspector for Wards 33 and 34 at the Warner Park Community Recreation Center, used the slow pace to teach other poll workers how to remake ballots.
"It's been slow … It gives us time to see how we need to set up for the November election," she said.
To help with the task, the clerk's office deployed 31 "rapid response" election officials, primarily to wards with the most absentee ballots. Witzel-Behl said most wards had about 60 absentee ballots to remake. Ward 89 at Oakwood Village West had the most at 170.
Few other problems surfaced Tuesday, even after a month that produced two decisions from federal judges striking down parts of voting-related laws Republicans have passed since 2010.
On July 19, U.S. District Judge Lynn Adelman ruled that anyone without a valid photo ID could sign a declaration of identity at his or her polling place in order to vote in November. Then on July 29, U.S. District Judge James Peterson struck down portions of several laws that limited early voting to weekdays between certain hours at one location per municipality, upped residency requirements from 10 to 28 days and prohibited the use of expired student IDs for purposes of proving one's identity.
Neither decision was in effect in time for the rules to apply for Tuesday's primary, but Witzel-Behl said confusion also appeared to be minimal because the decisions did not negate the need for an ID.