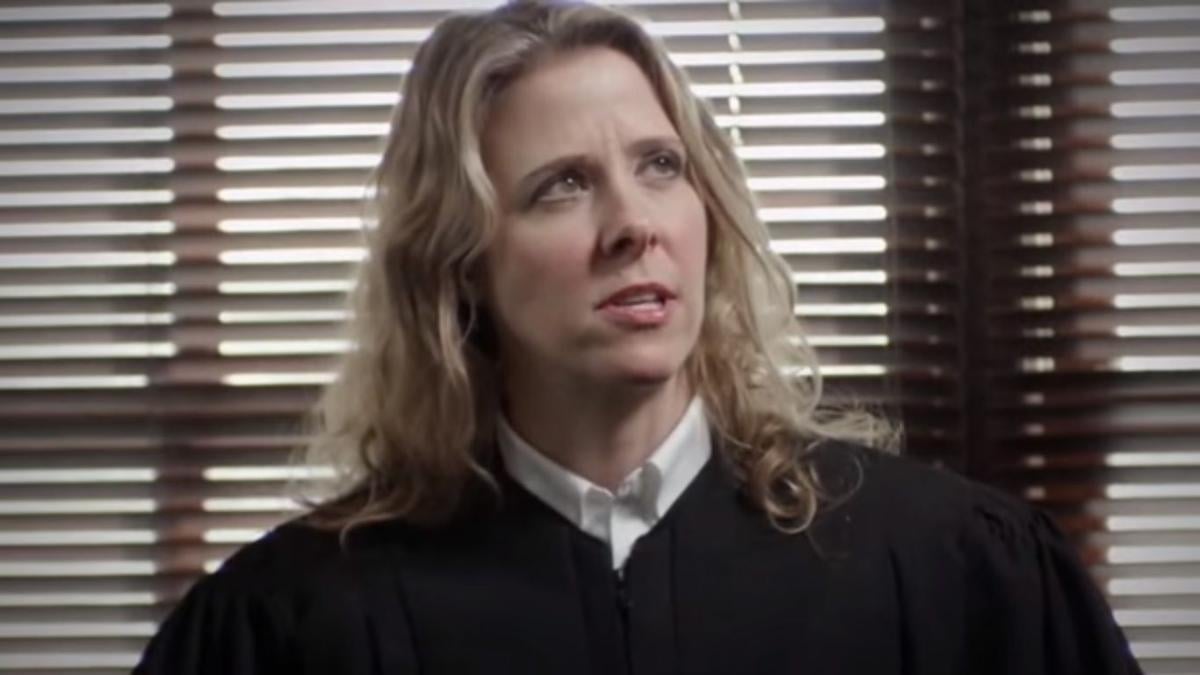 State Supreme Court Justice Rebecca Bradley on Monday apologized for opinions she published 24 years ago as a college student that referred to people with AIDS as "degenerates" and called gay people "queers."
"To those offended by comments I made as a young college student, I apologize, and assure you that those comments are not reflective of my worldview," Bradley said in a statement. "These comments have nothing to do with who I am as a person or a jurist, and they have nothing to do with the issues facing the voters of this state.
"I am frankly embarrassed at the content and tone of what I wrote those many years ago," Bradley said in the statement, in which she also said she wrote them as "a very young student."
Bradley was responding to the release of two letters to the editor and one column she wrote in 1992 as a student at Marquette University when she had a different last name. Liberal advocacy group One Wisconsin Now disclosed the writings, published in the Marquette Tribune, at a state Capitol news conference Monday.
The revelation comes less than a month before Wisconsin voters go to the polls to determine whether Bradley should retain her seat on the high court or whether she should be replaced by Appeals Court judge Joanne Kloppenburg.
"There is no statute of limitations on hate," Kloppenburg said in a statement. "Rebecca Bradley's comments are as abhorrent and disturbing today as they were in 1992 as people were dying in huge numbers from AIDS."
Ryan Owens, a political science professor at UW-Madison specializing in the politics of and appointments to the U.S. Supreme Court, said he didn't think the release of Bradley's comments would affect her campaign.
"I think the question in this case is going to be: Who will respond negatively to these comments?" Owens said. "Obviously these are statements that are on their face pretty negative and pretty disparaging, but I think the question that we are going to ask in the political sense, is this going to move the dial. I suspect the answer to that is probably not."
Owens said the public "has shown repeatedly that comments people made decades ago are things they are not going to hold (candidates) accountable for."
A spokeswoman for Gov. Scott Walker, who appointed Bradley to three judicial positions in as many years — including as Supreme Court justice last fall — said Monday that "neither the governor nor our office was aware of the columns."
The spokeswoman did not immediately respond to whether Walker would have appointed Bradley had he known.
"Justice Bradley appropriately made it clear today that a column written in college does not reflect her views as a Supreme Court justice, a court of appeals judge, a circuit court judge or as an attorney," Walker said in a statement.
Fairness at issue
Scot Ross, executive director of One Wisconsin Now, said Monday that the writing shows Bradley "cannot be trusted" to treat all people fairly under the law. He called on her to resign immediately, a move her campaign rejected.
In a Feb. 28, 1992, letter, Bradley wrote that "Heterosexual sex is very healthy in a loving marital relationship. Homosexual sex, however, kills," referring to the transfer of HIV, the virus that causes AIDS.
She also wrote in a Feb. 11, 1992, letter, "Perhaps AIDS awareness should seek to educate us with their misdirected compassion for the degenerates who basically commit suicide through their behavior."
In a Nov. 11, 1992, column, she wrote that "One will be better off contracting AIDS than developing cancer, because those afflicted with the politically-correct disease will be getting all of the funding." Bradley added, "How sad that the lives of degenerate drug addicts and queers are valued more than the innocent victims of more prevalent ailments."
Ross called the columns "hateful and venomous attacks on gay people and people with HIV."
Bradley also in the November 1992 column called then-President Bill Clinton "a tree-hugging, baby-killing, pot-smoking, flag-burning, queer-loving, bull-spouting '60s radical socialist adulterer."
Bradley characterized One Wisconsin Now's release of the columns as a "blatant mudslinging campaign to distract the people from the issues at hand."
But Scott Foval, political coordinator for the liberal advocacy group People for the American Way, and who is gay, said Bradley's comments "make me question if she can be truly unbiased and truly fair" regarding matters in the lesbian and gay community. Foval was present at the news conference.
Owens said he suspects the news of her 1992 writings will be "a big deal for a few days," but likely won't come back to haunt her should she keep her seat on the Supreme Court.
Close race
Walker appointed Bradley, who is backed by conservatives, to the Supreme Court after the death of Justice N. Patrick Crooks in September. Kloppenburg is backed by liberals.
According to the latest Marquette Law School Poll, each candidate has the support of 30 percent of those polled, while 31 percent remain undecided. The two face off April 5.
Kloppenburg campaign manager Melissa Mulliken said Kloppenburg did not write any opinion columns during college.
A search of the online archive of the Yale Daily News revealed no articles or opinion columns by Kloppenburg during her undergraduate career at Yale University.
The UW-Madison Law School reference library found three articles in which Kloppenburg was referenced as a former assistant attorney general providing comment related to her work on environmental law.
The release of Bradley's writing Monday prompted an immediate backlash from conservatives against Ross. Conservative website Media Trackers published a series of public tweets by Ross that contained crude sexual references. Ross did not respond to a request for comment.
Democratic U.S. Sen. Tammy Baldwin, who is gay, also said Bradley's columns raise questions about her fitness to serve as an impartial justice.
"The people of Wisconsin would be right to question Justice Bradley's commitment to our nation's founding belief that all Americans are created equal under the law," she said in a statement. "I for one believe that our Wisconsin values deserve better from judges on the Supreme Court."
Reporter Matthew DeFour contributed to this report.
'I think the question we are going to ask in the political sense, is this going to move the dial. I suspect the answer to that is probably not.' RYAN Owens
UW-Madison political science professor

'I think the question we are going to ask in the political sense, is this going to move the dial. I suspect the answer to that is probably not.' RYAN Owens
UW-Madison political science professor