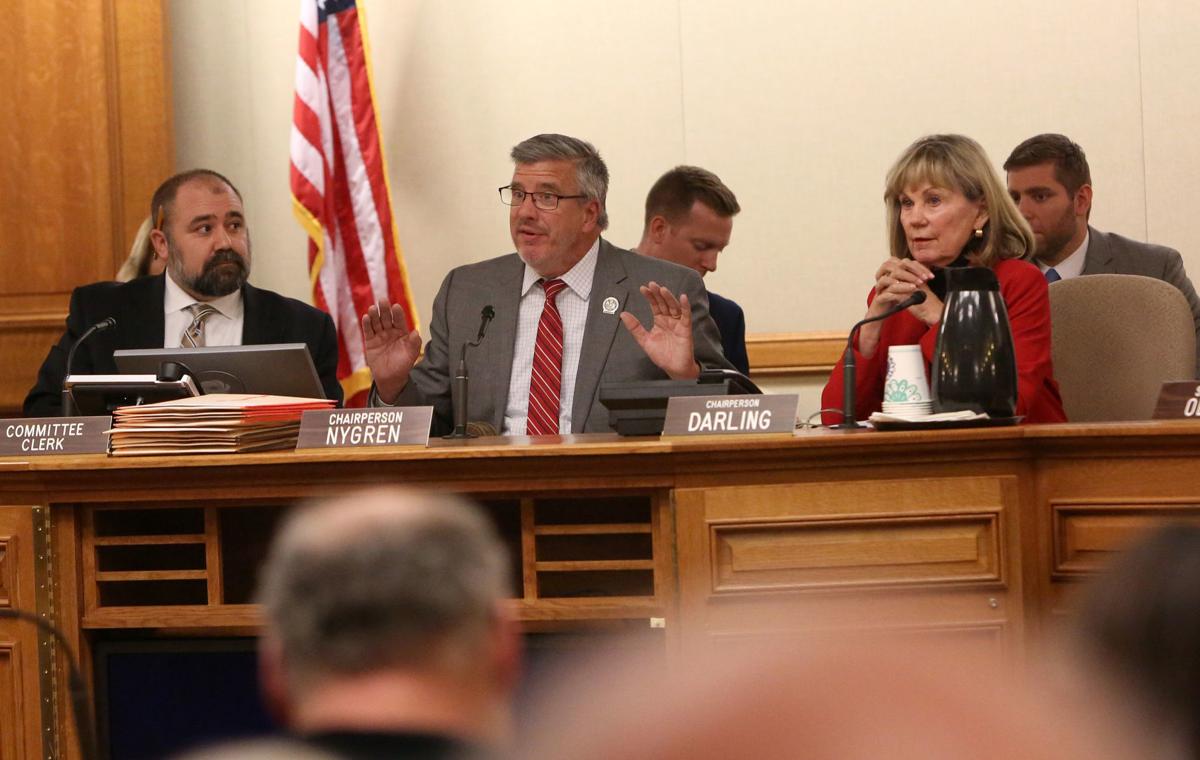 In an unprecedented chain of events, Republicans who control the Legislature's budget committee on Tuesday declined to take action the attorney general said is required for him to settle an unknown lawsuit that could involve other states.
The inaction by the Joint Finance Committee during perhaps the first-ever closed session of the body appears to be the latest fallout stemming from controversial lame-duck legislation Republicans passed in December limiting Democratic Attorney General Josh Kaul's authority to settle cases.
The closed-door meeting is the first time the budget committee has taken up a settlement-related matter since the passage of the lame-duck law requiring budget committee oversight of legal settlements.
The political skirmish, still unresolved, resulted in Democrats blaming Republicans for creating unworkable laws blocking the attorney general from doing his job.
They argued the disagreement was the latest evidence that Republicans failed to consider the consequences of passing the lame-duck legislation.
It left Republicans fuming over the process and blaming the attorney general for failing to provide them with the necessary information about the case in order to approve it. If the matter goes unresolved, the state could be at risk of losing out on millions of dollars in settlement money if it has to forgo the settlement agreement. In one settlement agreement reached with Volkswagen, for instance, Wisconsin was set to receive a total of $67 million.
Kaul has until Friday to proceed. If not, he said there would be "significant harm" to the state.
"We need approval from the committee," Kaul said. "We need to get something signed so we can move forward on an important matter."
Under the new lame-duck law, Kaul is required to seek the finance committee's approval to reach settlement agreements in certain cases. But on Tuesday, Republicans who passed the lame-duck laws couldn't agree how to give such approval.
Kaul on Tuesday did not identify the case he wanted to settle, and told lawmakers they would need to sign a nondisclosure agreement for him to discuss details and move forward with the case. He said the secrecy agreement would only apply to that meeting.
Democrats said the matter is connected to an agreement former Republican Attorney General Brad Schimel struck promising confidentiality in a case.
Kaul said such confidentiality agreements are standard procedure when settling cases with multiple parties and help protect the state's negotiating position. Additionally, communications between lawyers and their clients are typically assumed to be confidential, something that wouldn't necessarily apply to members of a committee subject to open meetings laws.
Democrats on the committee blamed the Republican lame-duck laws for tying Kaul's hands. If Kaul were to comply with the lame-duck laws by informing budget committee members of the settlement, they argue that would violate attorney-client confidentiality if committee members don't agree to secrecy.
"This attorney general is trying to do his job, and my Republican colleagues have made it impossible," said Rep. Chris Taylor, D-Madison, a committee member. "Either he violates one law, or he violates another."
Both Democratic and Republican lawmakers refused to agree to a nondisclosure agreement citing different reasons.
The committee leaders, Sen. Alberta Darling, R-River Hills, and Rep. John Nygren, R-Marinette, sent Kaul a letter earlier this month in which they said they opposed signing nondisclosure agreements with the view that a closed session of the committee, designed to handle confidential information, would suffice.
But according to the Wisconsin Freedom of Information Council, the state's open meetings law does not prohibit committee members from discussing matters from closed session after the meeting is over.
In fact, Sen. Jon Erpenbach, D-West Point, a budget committee member, briefed reporters on the closed session discussions outside the hearing room while the meeting was ongoing.
Additionally, the state's open meetings law does not prevent the public from filing an open records request for the minutes of the closed session meeting.
Christa Westerberg, a Madison attorney and FOIC co-vice president, said she's not aware of any laws preventing lawmakers on the committee from sharing information discussed in closed session. She argued Tuesday's kerfuffle illustrates the problems with the Legislature's attempt to micromanage the attorney general.
Not unusual
Nondisclosure agreements aren't new in the Capitol. Nearly all of Wisconsin's Republican state lawmakers signed a legal agreement promising they wouldn't comment publicly while Republican-drawn political maps were being drafted in 2011.
Republicans added that signing nondisclosure agreements would be unfair to the Legislature, claiming previous attorneys general have shared confidential information with the governor's office for decades without making them agree to secrecy. They argued a confidentiality agreement would be unnecessary since they gave their assurance such information would remain confidential.
Democrats also refused to sign the confidentiality agreement, but on different grounds, arguing lawmakers don't need the authority over settlements given to them by December's lame duck legislation.
"I'm not going to personally sign a nondisclosure," Erpenbach said. "Because the attorney general was elected to do the job. The law Republicans passed to do the job isn't working."
According to the meeting notice, budget committee members were set to consider "one unnamed case submitted by the Department of Justice" they received notice of on Friday. Nygren said members asked for more information about the unnamed case, but received none.
Open at first
Committee members began their meeting in open session, but promptly went into closed session to deliberate. They later convened in open session, where Republicans, without any Democratic support, passed a motion Kaul said would do nothing to move the settlement forward.
The committee met in closed session under a statute allowing them to "confer with legal counsel on litigation," but committee Democrats said they had no appointed counsel and that the budget committee had no reason to meet since it wasn't directly involved in litigation.
Republicans pointed them to DOJ attorneys, who said they could not represent them. They also pointed to staff attorneys for Assembly Speaker Robin Vos, R-Rochester, and Senate Majority Leader Scott Fitzgerald, R-Juneau, but Democrats said they represented a conflict of interest.
After the meeting, Republicans on the committee declined to discuss the matter with reporters, save for Sen. Luther Olsen, R-Ripon, who couldn't explain why Republicans didn't want to sign a nondisclosure agreement.
Bill Lueders, president of the Wisconsin Freedom of Information Council, lamented Tuesday's events.
"Any secret proceeding by a government entity is unfortunate," he said. "Legislators should not have to sign confidentiality agreements to discuss the public's business."
Republicans, however, called it a win for transparency.
"I would suggest today, even though we don't know the case that was actually before us, there had been more discussion about this process today than ever before in the history of settlements in Wisconsin," Nygren said.
Get Government & Politics updates in your inbox!
Stay up-to-date on the latest in local and national government and political topics with our newsletter.