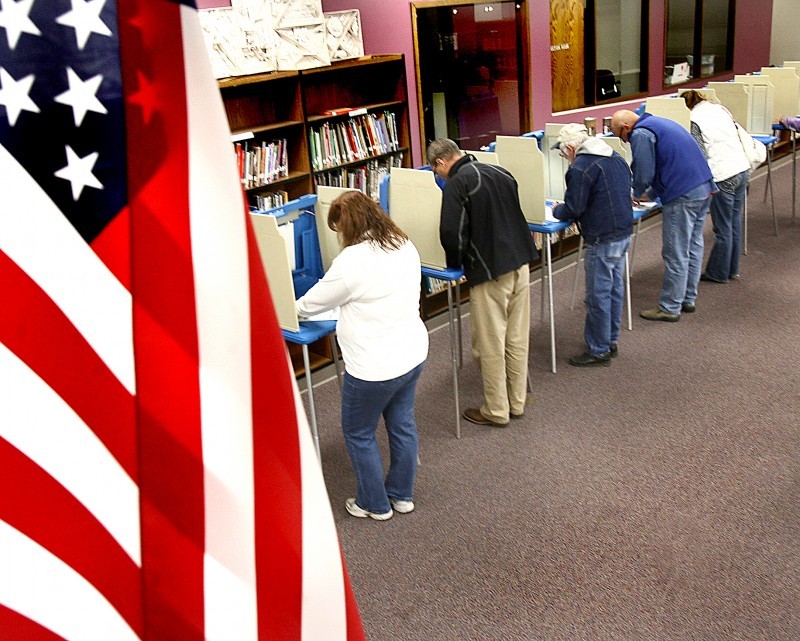 Amid chants of "Shame!" and "Recall!" from the gallery, the state Senate on Thursday gave final approval to a controversial bill requiring voters to show photo identification at the polls. The measure now heads to Gov. Scott Walker, who said he plans to sign it next Wednesday.
"Requiring photo identification to vote will go a long way to eliminate the threat of voter fraud," Walker said. "If you need an ID to buy cold medicine, it's reasonable to require it to vote."
Republicans in the state Assembly passed the bill in a late-night session last week. Debate in the GOP-controlled Senate began Tuesday, running until after 1 a.m. Wednesday, when Democrats used a procedural move to delay final passage.
On Thursday, Senate GOP leaders limited floor debate to one hour. Senate Majority Leader Scott Fitzgerald, R-Juneau, defended the time limit saying the topic "has received a lot of debate," and Democrats had had plenty of chances to speak on the floor.
When the call for a vote was made, Sen. Fred Risser, D-Madison, was speaking and tried to continue.
"In my 50 years, I've never had anyone cut me off!" yelled Risser, the nation's longest-serving state lawmaker.
Sen. Jon Erpenbach, D-Middleton, moved to adjourn. Senate President Mike Ellis, R-Neenah, repeatedly banged his gavel and began the roll call over the protests of Democrats.
The bill passed 19-5 along party lines, with many Democrats refusing to vote. Some later said the GOP would not add their votes following the chaos.
The legislation, which proponents say will prevent people from voting illegally, would give Wisconsin arguably the most restrictive voter identification law in the country. According to the Legislative Fiscal Bureau, it could cost more than $5.7 million to implement.
Under the bill, a voter would have to present a driver's license, a state ID, a passport, a military ID, naturalization papers or a tribal ID. College students could vote with a school ID as long as it has their signature and an expiration date within two years of the card's issuance. University of Wisconsin IDs currently do not meet that criteria and would have to be updated to comply before students could use them to vote.
Nursing or retirement home residents, stalking victims and anyone who objects to having his or her photograph taken for religious reasons would be exempt. Anyone who forgets to bring an ID to the polls would be allowed to cast a provisional ballot, but would have to show an ID to the local election clerk by the Friday after the election to have the ballot count.
People would be asked for ID in elections this year but will be allowed to vote without one. Starting next year, they will not be allowed to cast a ballot without one.
Other changes would take effect immediately, including requiring voters to sign poll books and to live at their current address for 28 days rather than 10 days before they could cast a ballot.
Sen. Frank Lasee, R-DePere, defended the legislation on the Senate floor, saying people need photo IDs for a number of other things, such as buying liquor or cigarettes.
Critics said the bill is an attempt to suppress the votes of students, seniors and minorities and seeks to fix a problem that isn't there. Only 20 cases of voter fraud have been prosecuted by the state Department of Justice and Milwaukee County district attorney's office linked to the November 2008 presidential election. None of those involved people voting using someone else's name at the polls.
The Legislative Fiscal Bureau said about 20 percent of Wisconsin residents do not have the type of identification required under the bill. A 2005 UW-Milwaukee study found that as many as 55 percent of black men and 46 percent of Latino men did not have a state driver's license. It's not known what percentage of those groups have other acceptable forms of photo ID.
"This is a shameful day," Sen. Bob Jauch, D-Poplar, said. "It is the day that democracy died."
Fitzgerald and other GOP senators tried to hold a news conference after the vote, but left after protesters began to question them about the bill. Protesters then took the podium and spoke until Democrats arrived to talk to reporters.
Soon after the vote, opponents hinted that lawsuits would be filed over it.
"Ultimately, this will cost Wisconsin not only our fair and clean elections, but also millions of additional tax dollars when a court rules against them for damages for denying legal voters the right to vote," said Scot Ross of One Wisconsin Now.