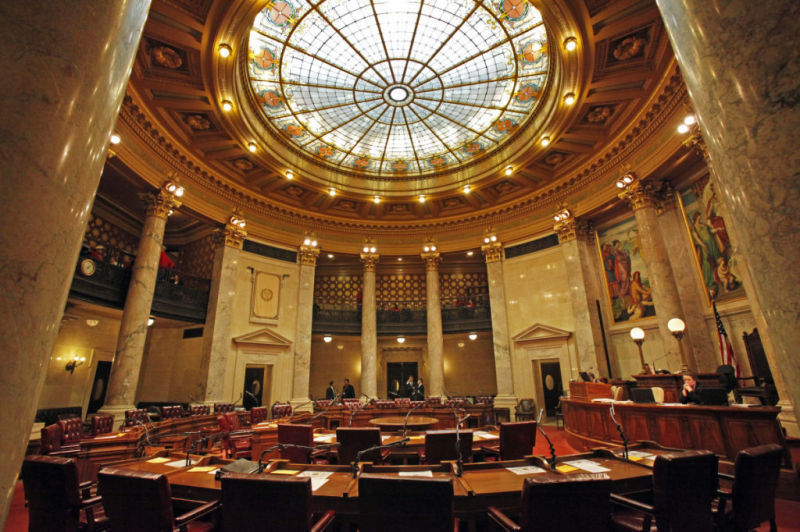 State taxpayers in 2015 paid $75,000 to a former lawmaker's aide who complained of sexual harassment and discrimination and filed a complaint alleging she was wrongfully fired from her job, records show.
Jana Harris first filed a complaint against former Sen. Spencer Coggs, D-Milwaukee, in 2009 — one of four complaints of sexual harassment filed in the state Legislature in the last 10 years, according to its chief clerks.
One other complaint was brought in the state Senate in 2011, while two complaints were filed in the state Assembly, in 2014 and 2017, Senate Chief Clerk Jeff Renk and Assembly Chief Clerk Patrick Fuller said in response to requests by the Wisconsin State Journal.
Neither provided details about the complaints nor released any documents related to them aside from the six-page 2015 settlement agreement between the Legislature and Harris, who went by Jana Williams at the time. Renk said he was releasing the settlement agreement because it was reached through the Department of Workforce Development's Equal Rights Division complaint process, which is public, although the initial complaint was filed with his office. Harris filed the complaint in 2011 after she was fired from her job in Coggs' office.
Deborah Little Cohn, an administrative law judge who oversaw the complaint proceedings, found in 2015 that there was probable cause to believe Coggs discriminated against Harris and sexually harassed her, according to documents obtained by the Wisconsin State Journal.
In one case, Coggs asked Harris if she was "showing more cleavage lately" and said her breasts "were a distraction in the office." Coggs also said Harris should cover up by wearing a jacket because she worked with men, according to Little Cohn's findings.
"He noted that anyone who came in would not know the color of her eyes," Little Cohn wrote.
In another instance, Coggs asked Harris if she had "a taste for white meat" when she and a white co-worker both asked to take the same day off. Coggs also criticized Harris' appearance — once saying she was not "black enough."
Harris reported her concerns in 2009 to the Legislature's human resources office. Staff from the office met with Coggs, who reportedly said Harris should have kept her concerns "in-house." When Harris told the HR official Coggs was upset by the complaints, the official said Coggs was "formulating a plan to address her concerns" but declined to reveal details because the meeting with Coggs was confidential.
Coggs eventually began to exclude Harris from staff meetings, Little Cohn wrote, and Harris began to experience hives and difficulty sleeping because of stress.
When Republicans took control of the Legislature in 2010 and Coggs needed to downsize staff, Harris told Coggs how important her job was to her. According to the report, Coggs responded by saying: "You can't create an adversarial situation and then come back and ask me for something."
Little Cohn concluded "Coggs both tolerated and contributed to the creation of a hostile work environment in his office" and that there was probable cause to believe the Legislature permitted sexual harassment.
'Innocent of all claims'
Coggs, who is now Milwaukee city treasurer, did not return a phone call seeking comment but said in a statement he is "innocent of all claims" regarding the case and has never engaged in or condoned harassing or discriminatory behavior. He said Harris was fired because her position was eliminated. He said he had no part in the settlement.
"In over 35 years in public office, at no time have I engaged in or condoned behavior which could be viewed as harassment or discrimination with respect to the complainant or anyone else who has worked for me," he said.
Harris did not respond to a request for comment.
Harris filed another complaint in 2011 with the now-defunct Government Accountability Board alleging a Coggs staffer used his taxpayer-funded job to work on Coggs' unsuccessful campaign for lieutenant governor. She also alleged Coggs used Capitol staff members to take care of personal matters for his family.
Coggs also denied the allegations to reporters then.
Nationally, dozens of women and some men have come forward in recent months to report alleged sexual harassment, assault and misconduct by powerful men, bringing fresh scrutiny to state legislatures and Congress over how such behavior is being addressed.
Assembly and Senate leaders have said they will not release complaints about such behavior because doing so could have a "chilling effect" on employees' confidence that their complaints would remain confidential. Renk and Fuller declined to provide the records with the victims' identifying information blacked out, and Fuller also has denied State Journal requests for records of any taxpayer-funded settlements resulting from such complaints.
'Wolves' at 'henhouse'
The scrutiny also comes at a time when the Legislature is working to improve its system for reporting harassment and training to deter it.
In the Legislature, fear of retaliation is underscored by the fact that staff work on an at-will basis for lawmakers and can be fired for any reason. Lawmakers also have a say in the employment of legislative staff in charge of receiving complaints.
The fear of retaliation often keeps staff from reporting sexual harassment involving their bosses, experts say.
"This is like the wolves guarding the henhouse," said Jennifer Drobac, a sexual harassment law professor at Indiana University. "The legislative staff work directly for the lawmaker, so if they had a problem with the lawmaker they would have to go to human resources staff who also work for the lawmakers — so both sets of subordinates are going to have to worry about losing their jobs if the person that they are complaining about is the lawmaker."
In other states, like Minnesota and Illinois, staff work for legislative caucuses instead of individual lawmakers.
Amanda Jorgenson, who oversees the Legislature's human resources office, said she was hired about a year ago and since then has been working to overhaul the Legislature's employee manuals and hiring process. Jorgenson said she also started working with legislative leaders this spring to create regular training for all staff and lawmakers.
She said any staff members who share concerns with her office are assured retaliation from supervisors or co-workers won't be tolerated and is illegal. She also emphasized that her office is independent and that no lawmakers were involved in her hiring.
"Leadership did approve of hiring an HR Manager but was not involved in the hiring process," she said. "In addition, the Legislative Human Resources Office is an arm of the Chief Clerk's Offices but is a completely separate office."
Some legislative staff say they have felt unwilling to come forward, or were unaware of protections the HR office could provide.
"Historically we tell our stories to each other over lunch or drinks. We don't go to HR, we don't file complaints," said one female staff member who spoke on condition she not be named because of concerns over her employment. "I think this is getting better as people are learning more about the HR process and the protections from retaliation and the privacy that we have."
Get Government & Politics updates in your inbox!
Stay up-to-date on the latest in local and national government and political topics with our newsletter.