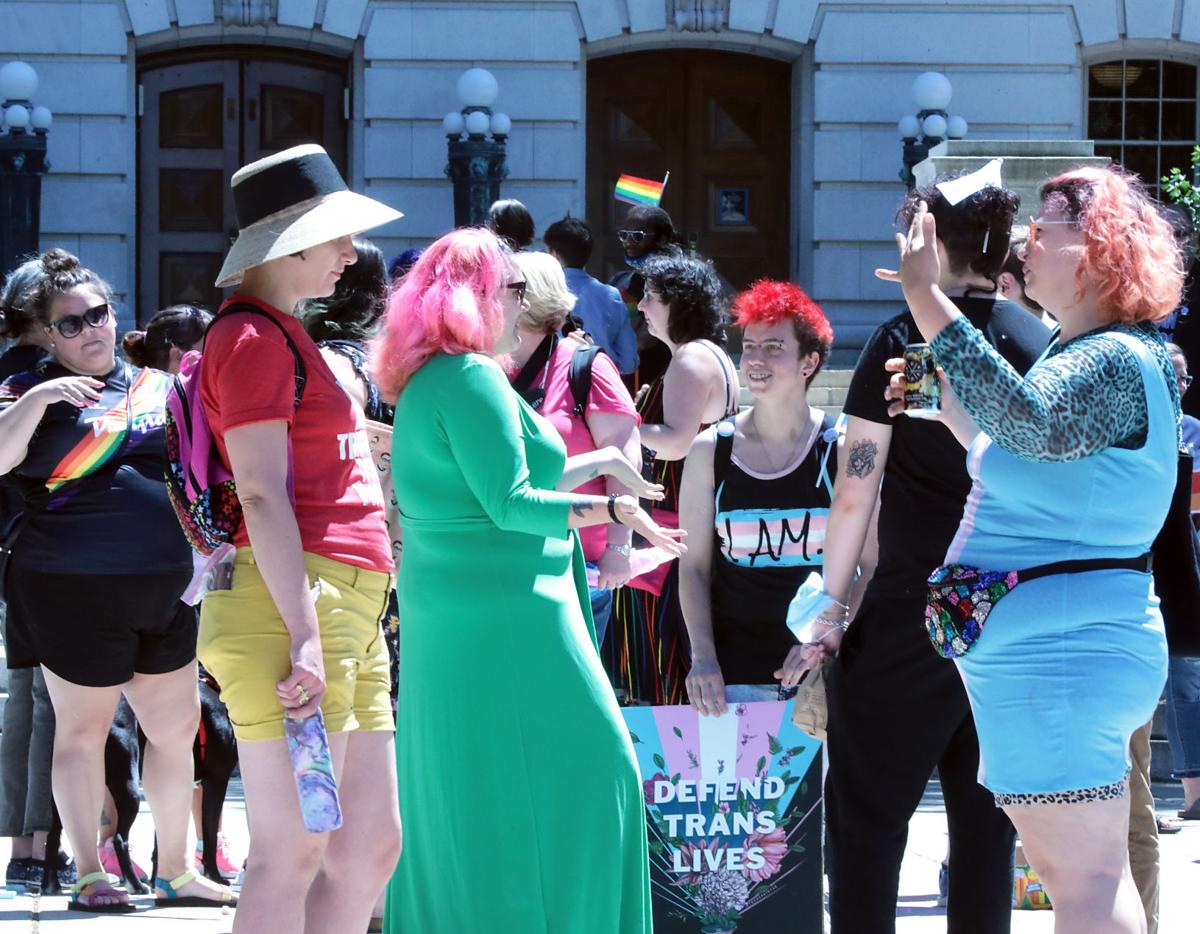 The state Legislature waded into the culture wars on Wednesday, hearing public testimony on controversial Republican-authored bills that would ban transgender athletes from participating in girls and women's sports at the K-12 and college levels.
Three legislative committees heard hours of testimony on the bills from a range of individuals and organizations, including cisgender women — women who identify with the gender they were identified with at birth — who called on lawmakers to pass the legislation.
"Where is the support for us?" said Madison mountain bike racer Leia Schneeberger, a cisgender woman in favor of banning transgender girls from girls and women's sports.
Schneeberger said she had an undefeated season in 2020 before losing twice this year to a transgender woman. "I wouldn't mind losing to someone like me, someone who worked hard and trained harder to be the best, someone who's my peer. This is not the case."
Schneeberger called her losses this year "the most demoralizing thing that has ever happened to me."
Still, the bills lawmakers are considering wouldn't address Schneeberger's specific case, since the legislation covers only K-12 and collegiate sports.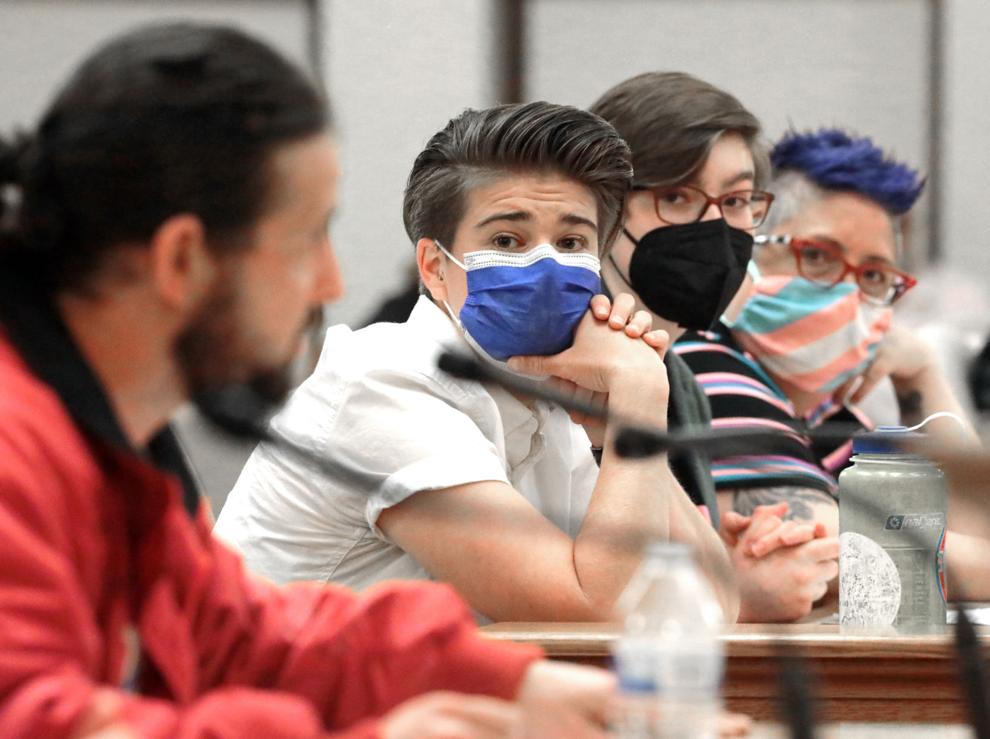 Supporters say the measures, which mirror ones passed by a variety of other states, would help maintain women's equality in sports carved out by 1972's Title IX, which gives women athletes the right to equal opportunity in sports in educational institutions that receive federal funds.
Opponents from more than 30 organizations, including LGBT advocacy organizations, the ACLU and the Madison School District, said the bill is a solution in search of a problem, is discriminatory and further marginalizes transgender children and adults.
The two-bill package would require school districts and higher educational institutions to divide sports into three divisions based on sex: boys, girls and co-ed. The proposal defines "sex" as the sex assigned at birth by a physician.
The bills would prohibit people assigned at birth as "male" from participating on an athletic team or in a sport designated for people assigned at birth as "female."
Rachel Crowl, a transgender woman, said the legislation would have harmful repercussions for trans youth.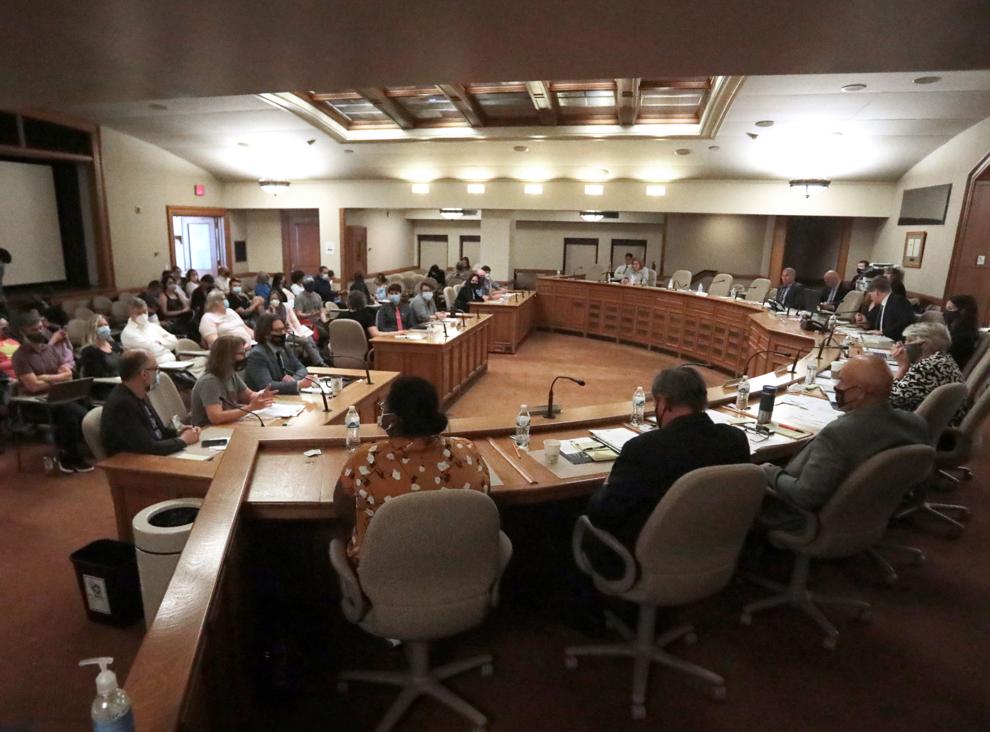 "When the world tells you you don't belong, it sticks," Crowl said. "The legislation you're considering will only further complicate (trans youth) lives when they're already so very complicated. Life's already hard. Why make it harder?"
The bill's Assembly author, Rep. Barbara Dietrich, R-Oconomowoc, said there is a "whole army of women in Wisconsin sports" who don't want their titles and prizes awarded to transgender women because of the inherent biological advantages among people assigned male at birth.
"These women have worked hard and earned their accolades in their own right, and they deserve to have their Title IX rights protected," Dietrich said.
Some supporters are using language that flies in the face of the contemporary medical understanding of transgender people — one supporter of the bill used the term "delusional" to describe transgender people. The American Medical Association describes trans and non-binary gender identities as "normal variations of human identity and expression."
For some women in sports, however, the issue is a matter of protecting another group: people assigned female at birth.
Beth Stelzer, an amateur powerlifter and founder of Save Women's Sports, said she has relied on sex-separated spaces to feel safe and said the bills transcend politics.
"We are women here saying no. Why is that not enough?" Stelzer said.
Opponents of the legislation repeatedly emphasized that transgender girls are girls, and that the law should help protect them, as well.
"The introduction of these bills adds Wisconsin to a growing list of states that are introducing similar legislation as part of a coordinated effort by national anti-LGBTQ activists to spread myths and misinformation about what it means to be transgender and chip away at support for LGBTQ equality," said a group of 31 Wisconsin organizations in a statement opposing the bills. "Laws like these do not protect girls' and women's access to sport. Instead, they create greater inequality and fail to address actual barriers to access like a lack of resources, lack of training and lack of investment in women coaches."
Democratic Gov. Tony Evers would almost certainly veto the bills if they pass the Republican-controlled Legislature. While the hearings were underway Wednesday, he tweeted his support for transgender youths, writing that they "deserve our love and support just like any other kid."
WIAA opposes bills
Dietrich said she did not consult with the Wisconsin Interscholastic Athletic Association or athletic directors in crafting the bill, which she said most closely resembles legislation in Montana.
The WIAA objects to the legislation, saying the Legislature is inserting itself into the decision-making process of a private, member-driven organization.
"We believe the bill is unnecessary," the organization said in a statement. "The WIAA serves a diverse membership of private and public schools that has a long history of providing opportunities and creating policies that benefit all student-athletes."
The WIAA's guiding principles are to ensure that transgender students have opportunities to participate in WIAA-sponsored athletics with verification and medical documentation, and that the medical privacy of transgender students is preserved.
It said the legislation is focused solely on the competition aspect of sports instead of the intrinsic benefits derived from participation and inclusion, and that it unnecessarily targets a vulnerable segment of young people.
The proposal to ban transgender athletes from participating in girls sports comes as more high school athletic associations have allowed transgender athletes to play on teams based on their gender identity. The NCAA has trans-inclusive guidelines for all its member schools.
The WIAA has transgender guidelines passed in 2013 that are "committed to ensuring that transgender students have opportunities to participate in WIAA-sponsored athletics."
Under such guidelines, transgender females must have one calendar year of medically documented testosterone-suppression therapy to be eligible to participate on a female team. A transgender female who has not started testosterone-suppression therapy may participate on male teams if the student desires.
Transgender male students who have started hormone therapy, such as testosterone, are only eligible for male teams. A transgender male student who has not started hormone therapy may still participate on female teams if desired.
The day he took office, Democratic President Joe Biden signed an executive order banning discrimination based on gender identity in school sports and elsewhere.
A federal court blocked legislation in Idaho that banned transgender athletes from women's sports teams there.