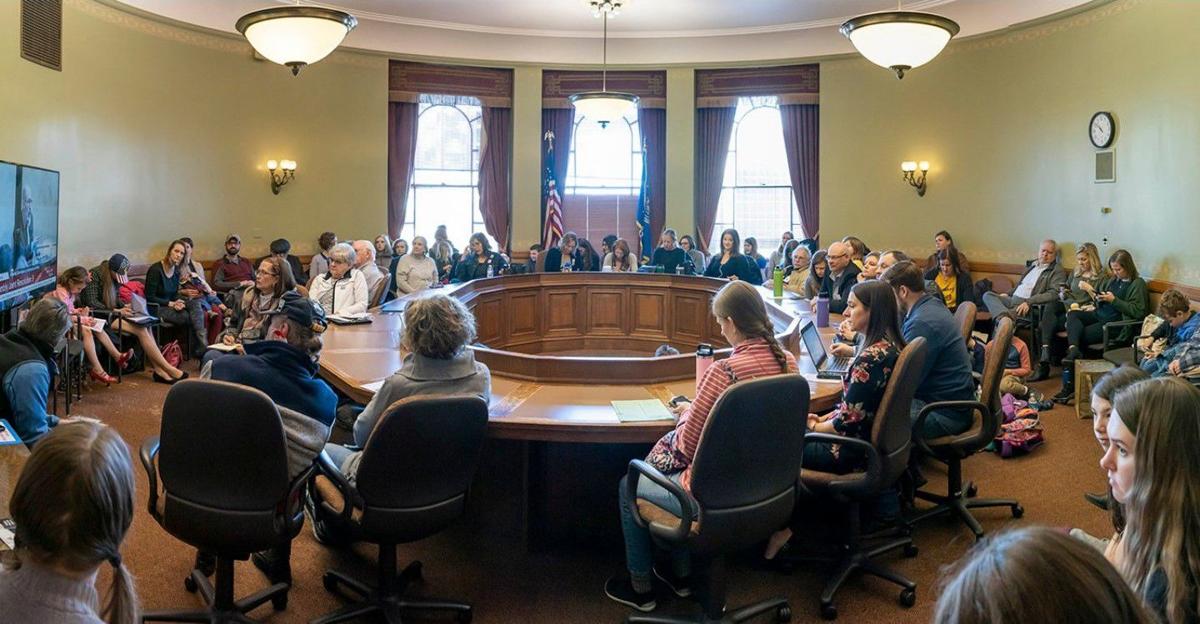 Despite declining case rates, the COVID-19 pandemic has not yet abated. But it might not have seemed that way Wednesday, judging by the maskless crowd that gathered to observe an Assembly committee hearing on bills that would, among other things, prohibit the government from requiring vaccinations.
Photos posted on Twitter by Sen. Melissa Agard, D-Madison, show dozens of people gathered in a state Capitol overflow room without wearing masks or practicing social distancing while watching televised proceedings of the Assembly Committee on Constitution and Ethics.
We are nearly a year into this pandemic, and this is what we are seeing in the state capitol today: no masks, no social distancing, and no safety precautions for the staff who have no choice but to be in the building. This is reckless and dangerous. pic.twitter.com/Q7ic76xP2y

— Senator Melissa Agard (@senator_melissa) March 3, 2021
Many of the people testifying were opposed to vaccines and came to denounce government efforts to mitigate the pandemic.
"We are nearly a year into this pandemic, and this is what we are seeing in the state capitol today: no masks, no social distancing, and no safety precautions for the staff who have no choice but to be in the building," Agard wrote on Twitter. "This is reckless and dangerous."
Agard is not a member of the committee but was in the Capitol Wednesday.
Lawmakers have been at odds for months about mask-wearing in committee hearings, with many Republican lawmakers choosing not do so.
The committee was meeting Wednesday to hear public testimony on a resolution calling for a U.S. Constitutional Convention to impose fiscal and other restraints on the federal government, and bills to prohibit the government and private employers from mandating COVID-19 vaccinations and prohibit the government from closing places of worship to control disease outbreaks.
The Assembly Committee on Constitution and Ethics did not require mask-wearing, and a number of members of the committee did not wear masks, despite repeated pleas from public health officials to continue to take the simple precaution as a way to limit spreading the disease to others.
The committee, however, did make attempts to accommodate social distancing, including setting up overflow areas in the Capitol for observers to hear testimony on TV, said a spokesperson for committee chairman Rep. Chuck Wichgers, R-Muskego.
Many of the people testifying on the legislation decried what they called government overreach, specifically government or employer mandates requiring vaccinations or masks. Several went further, denouncing vaccines themselves, with one calling it "legalized poison."
Rep. James Edming, R-Glen Flora, joined in the denunciation of vaccines, saying he doesn't believe claims that the newly released COVID-19 vaccines are truly safe.
"They're saying, 'This is safe, this is safe,'" Edming said. "Well, I'm not buying it. I think we should eliminate this vaccine."
While the development of COVID-19 vaccines was unusually fast, it was the culmination of many years of research. And the vaccines went through clinical trials involving thousands of people who were monitored for 60 days after their last dose. Studies of other vaccines have found that harmful side effects almost always materialize within 45 days.
A recent poll from The Associated Press-NORC Center for Public Affairs Research found that while 67% of Americans plan to get vaccinated or have already done so, 15% are certain they won't and 17% say they probably won't. Many expressed doubts about the vaccine's safety and effectiveness.
Dr. Anthony Fauci, the government's leading infectious-disease scientist, has estimated that between 70% and 85% of the U.S. population needs to get inoculated to stop the scourge that has killed more than 515,000 Americans. More recently, he said the spread of more contagious variants of the virus increases the need for more people to get their shots — and quickly.
The Associated Press contributed to this report.
Looking back a decade later, 10 stories about Act 10
The most seismic political story of the last decade in Wisconsin began on Feb. 7, 2011, when Republican Gov. Scott Walker informed a gathering of cabinet members of plans to unilaterally roll back the power of public sector unions in the state. He "dropped the bomb," as Walker would describe it afterward, four days later.
The audacious proposal, to be known forever after as Act 10, required public employees to pay more for pension and health insurance benefits, but also banned most subjects of collective bargaining and placed obstacles to maintaining union membership.
The proposal laid bare the state's deep, at times intensely personal, political divisions as tens of thousands of protesters descended on the Capitol. The month-long, round-the-clock occupation drew international attention, but failed to stop the bill.
A decade later, the aftershocks of one of the biggest political earthquakes in Wisconsin history continue to be felt. Taxes have been held in check, and state finances have improved. But public unions are vastly diminished and the state is more politically divided than ever.
Here are 10 stories from people who experienced the historic events firsthand.