JOHN DOE PROBE | BRITISH NEWSPAPER POSTS 1,300 PAGES ONLINE
Leaked John Doe documents paint fuller picture of case against Scott Walker campaign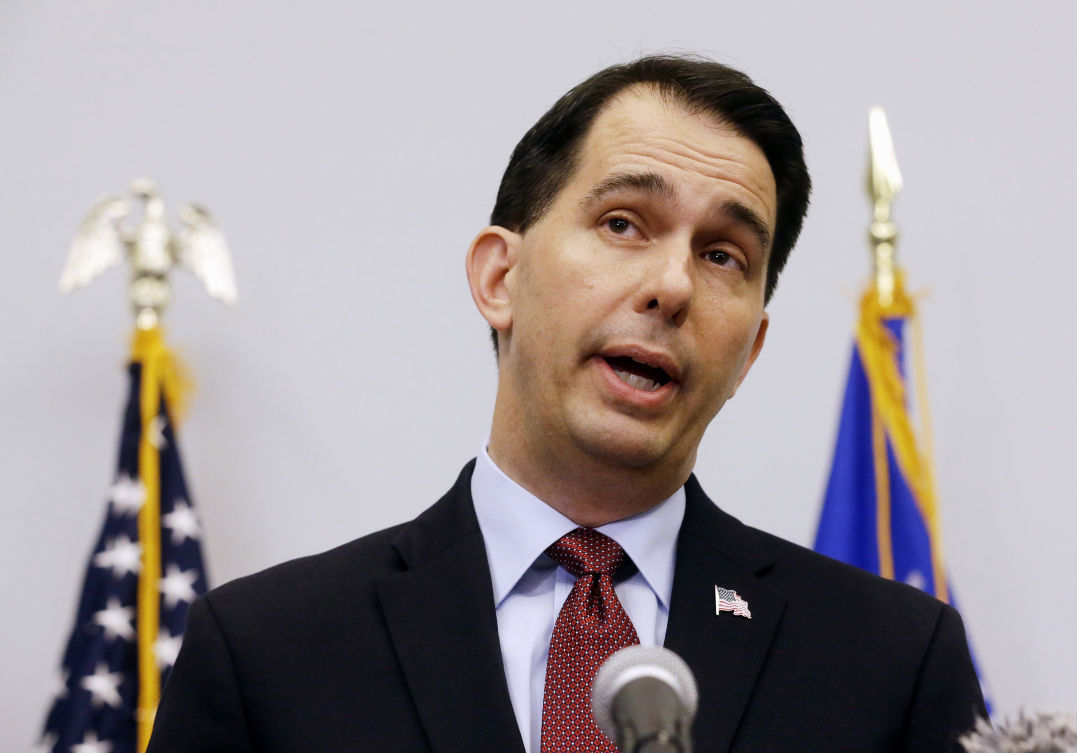 A new batch of leaked documents provides the most complete record yet of how Gov. Scott Walker raised millions of dollars for a supposedly independent, tax-exempt group during the 2011 and 2012 recalls — activity that prompted a now-halted John Doe investigation into whether Walker's recall campaign circumvented state campaign finance law.
The newly revealed donations to the Wisconsin Club for Growth included six-figure sums from a lead producer who later stood to benefit from changes slipped into the 2013-15 state budget.
The more than 1,300 pages of documents were posted online Wednesday by Guardian US, an arm of the British-based newspaper The Guardian. It's unclear how the newspaper obtained the documents, which had previously been held under seal.
An article published by Guardian US based on the documents includes previously unreleased information about the effort by Walker to raise millions of dollars for Wisconsin Club for Growth, a nonprofit group that coordinated the fundraising effort to help Walker and Senate Republicans beat back recall attempts in 2011 and 2012.
The disclosures come weeks before the U.S. Supreme Court is set to consider a petition by prosecutors to overturn a Wisconsin Supreme Court 4-2 decision quashing the investigation.
The documents also provide additional insight into why the prosecutors who have led the investigation argue conservative justices Michael Gableman and David Prosser should have recused themselves from the case.
Walker, in a May 2011 letter to Republican strategist Karl Rove, wrote that his chief political adviser R.J. Johnson ran the efforts to elect Gableman in 2008 and re-elect Prosser in 2011. Johnson was under investigation for his role in coordinating advertising for both the Walker recall campaign and Wisconsin Club for Growth, which is organized as a tax-exempt 501(c)4 group.
"Club for Growth—Wisconsin was the key to retaining Justice Prosser," Walker wrote to Rove.
Johnson affirmed the group's role in a December 2010 email to Club for Growth director Eric O'Keefe, saying "Club is leading the coalition to maintain the court."
Lead industry gives
The documents reveal previously unknown donations to the group, such as $750,000 from Harold Simmons, the deceased billionaire owner of NL Industries, which produced lead used in paint before such paint was banned, given in three checks, two from a company Simmons' owned, Contran Corp., in April and December 2011 and January 2012. He died in December 2013.
The company stood to benefit from laws Walker and the Republican Legislature passed in 2011 and 2013 that granted immunity to lead paint manufacturers from lawsuits seeking damages for lead poisoning.
The Legislature amended the law in a so-called "999 motion" in the 2013-15 budget to apply retroactively. Such motions, passed by the Joint Finance Committee and later adopted by the full Legislature and governor, is a catch-all motion in which the names of the authors aren't disclosed.
The lead paint law was a top priority for the state's business lobby, Wisconsin Manufacturers & Commerce, after a 2005 Wisconsin Supreme Court ruling exposed lead paint manufacturers to liability for damages in lead poisoning lawsuits. The lead author was Democratic appointee Justice Louis Butler, who Gableman defeated in 2008.
Previously released court documents showed mining company Gogebic Taconite gave the group $700,000. Walker and Republicans later eased mining regulations to help the company build an iron ore mine that ultimately fizzled.
The article lists other donations to the group, some of which were previously revealed publicly, such as $15,000 from Republican presidential nominee Donald Trump and $2 million from Eau Claire-based home improvement retailer Menards. It includes new information about Walker visiting Trump's New York headquarters two months before the recall election, a meeting set up by his campaign, and Trump writing a $15,000 check to the Club for Growth on the same day.
Another previously undisclosed check to Wisconsin Club for Growth for $10,000 from finance executive Frederick Kasten Jr. includes a memo line that reads: "Because Scott Walker asked."
The documents show Walker also solicited donations from several wealthy individuals, many of whom or their companies made contributions to the Club, not Walker's campaign. Contributions from Wisconsin donors and companies included $25,000 from Brookfield-based Hammes Co., $25,000 from Green Bay-based Schneider Enterprise Resources; and $100,000 from Ted Kellner, CEO of Milwaukee-based Fiduciary Management.
Among others from whom Walker sought money, the records show, were business magnate T. Boone Pickens and Lowry Mays, then-chairman of Clear Channel Communications.
In an August 2011 email, after the first wave of Senate recalls, Walker asked "did I send out thank you notes to all our (c)4 donors?"
No disclosure key
Just before the recall, Walker's campaign was allowed to raise unlimited donations, however those donations had to be disclosed publicly. Donations to the Club are not required to be disclosed, a point Walker was encouraged to emphasize in his meetings, according to the documents.
The documents confirm that Walker and his campaign were the primary parties under investigation, according to a Milwaukee County investigator's affidavit that launched the John Doe in August 2012. The evidence came from emails obtained as part of a May 3, 2012, search warrant in a prior John Doe investigation.
"The purposes and goals of this John Doe investigation" was to look into "an agreement or understanding related to the solicitation" by Walker and his campaign for contributions to 501(c)4 organizations and determine whether they were trying "to circumvent" Wisconsin campaign finance laws "for a criminal purpose," Milwaukee County investigator Robert Stelter wrote in the previously unreleased court document.
No charges have been filed as a result of the John Doe. A spokesman for Walker's campaign emphasized a 2014 statement from the lead John Doe investigator saying Walker was not a target. However, legal experts have noted a "target" in a John Doe investigation is someone whom investigators are prepared to charge with a crime, distinct from a person who is simply a subject of investigation.
"Several courts shut down the baseless investigation on multiple occasions, and there is absolutely no evidence of any wrongdoing," spokesman Joe Fadness said.
The documents bolster the argument by John Doe prosecutors that Walker's campaign and Wisconsin Club for Growth effectively functioned as a single entity during the recall campaign, said Brendan Fischer, a campaign-finance expert and attorney with the nonpartisan Campaign Legal Center in Washington, D.C.
"Wisconsin Club for Growth truly was not independent, and I think that's something these documents show," Fischer said.
The Wisconsin Supreme Court halted the secret investigation last year saying it was based on an invalid legal theory.
The court also initially ordered all of the evidence be destroyed. The state court later ordered the evidence be turned over to it for safekeeping, though that won't happen until all appeals of its decision are exhausted.
The U.S. Supreme Court is scheduled to review the petition to hear the case on Sept. 26. It could decide whether to accept or reject the case soon after.
Milwaukee County District Attorney John Chisholm said Wednesday in response to the leak "the materials are secret and the release of the John Doe evidence without court authorization is not merely a violation of the John Doe secrecy order; it is a crime under Wisconsin law."
"We support any effort that may be undertaken to determine the source of these newest leaks," Chisholm said.
Law not retroactive?
Assembly Democratic Leader Peter Barca, D-Kenosha, said the documents raise questions about contributors to Wisconsin Club for Growth.
"It raises so many questions about what they asked for in return and what they might have been provided in return," Barca said.
Since the state Supreme Court's ruling, the Republican-controlled Legislature changed state law to clarify that the activities being investigated are legal. Specifically the law allows campaigns to coordinate with so-called issue advocacy groups.
In a court filing last month, first published by conservative website Wisconsin Watchdog, the prosecutors noted that the new law did not include a provision retroactively legalizing activity that was previously prohibited.
"Accordingly, respondents who are subjects of the investigation may yet be prosecuted," Chisholm and his fellow district attorneys wrote.
State Journal reporter Mark Sommerhauser contributed to this report.
Wisconsin Club for Growth donations
John Doe documents published by Guardian US include details about several donors to the Wisconsin Club for Growth. They include:
| Donor | Amount | Date |
| --- | --- | --- |
| Menard Inc. | $1,000,000 | 4/18/2012 |
| Menard Inc. | $1,000,000 | 6/22/2011 |
| Steven A. Cohen | $1,000,000 | 4/13/2012 |
| Paul Singer | $500,000 | 7/1/2011 |
| Contran Corp. | $500,000 | 4/21/2011 |
| Paul Singer | $250,000 | 5/8/2012 |
| Harold Simmons | $150,000 | 1/4/2012 |
| Ted and Mary Kellner | $100,000 | 7/11/2011 |
| MacLean-Fogg Company | $100,000 | 5/14/2012 |
| Contran Corp. | $100,000 | 12/15/2011 |
| Richard Uihlein | $50,000 | 8/11/2011 |
| Devon Energy Production Company | $50,000 | 5/3/2012 |
| David William Hanna Trust | $50,000 | 2/27/2012 |
| Richard W. Colburn | $50,000 | 5/7/2012 |
| Schneider Enterprise Resource | $40,000 | 6/9/2011 |
| Texas EZPAWN | $35,000 | 1/4/2012 |
| HF Securities | $25,000 | 7/28/2011 |
| Schneider Enterprise Resource | $25,000 | 1/12/2012 |
| David G. Herro | $25,000 | 4/12/2012 |
| Keith Colburn | $25,000 | 4/24/2012 |
| Donald Trump | $15,000 | 4/3/2012 |
| Kenneth G. Langone | $15,000 | 4/10/2012 |
| Pilot Flying J Travel Centers | $10,000 | 7/1/2011 |
| J B Hunt Transport | $10,000 | 6/5/2012 |
| Stacy H. Schusterman | $10,000 | 5/1/2012 |
| David G. Herro | $6,000 | 2/11/2012 |