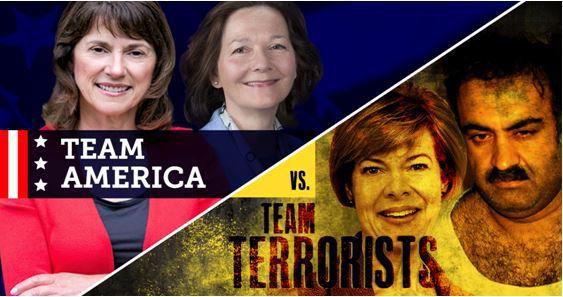 Democratic Sen. Tammy Baldwin's silence on whether she supports CIA director nominee Gina Haspel has led one of her Republican opponents to charge she is on "Team Terrorists."
The move came the same day Republican U.S. Sen. John McCain of Arizona called on the Senate to reject Haspel's nomination because she wouldn't acknowledge the immorality of torture.
State Sen. Leah Vukmir, R-Brookfield, issued a press release Wednesday with an image of Baldwin alongside Khalid Sheikh Muhammed, the man accused of planning the Sept. 11, 2001, terrorist attacks. The image is labeled "Team Terrorists." The image includes photos of Vukmir and Haspel with the label "Team America."
Baldwin has not taken a position on whether she supports President Donald Trump's nomination of Haspel. Her office said Thursday that's because Baldwin has not yet met with Haspel. They are working to schedule a meeting after a previous one was canceled.
Baldwin's campaign is trying to raise money off of Vukmir's attack, saying in an email that it's a "whole new low."
Vukmir faces Republican Kevin Nicholson in the Aug. 14 primary.
Haspel's nomination has stirred controversy because of her involvement in the agency's "enhanced interrogation" effort during the George W. Bush administration.
'Disqualifying'
McCain, chairman of the Senate Armed Services Committee, said Wednesday he wants the Senate to reject Haspel's nomination because he was not satisfied with her responses regarding the interrogation program.
"Her refusal to acknowledge torture's immorality is disqualifying," McCain said in a statement.
The statement came hours after Haspel testified before the Senate Intelligence Committee in both open and closed settings.
McCain, who faced torture during his time as a prisoner of war in Vietnam, said Haspel did not sufficiently confront "the mistakes the country made in torturing detainees held in U.S. custody" after the terrorist attacks of Sept. 11, 2001.
Earlier Wednesday, the path appeared to clear for Haspel's confirmation with the announcement of support by Democratic Sen. Joe Manchin III of West Virginia.
Get Government & Politics updates in your inbox!
Stay up-to-date on the latest in local and national government and political topics with our newsletter.