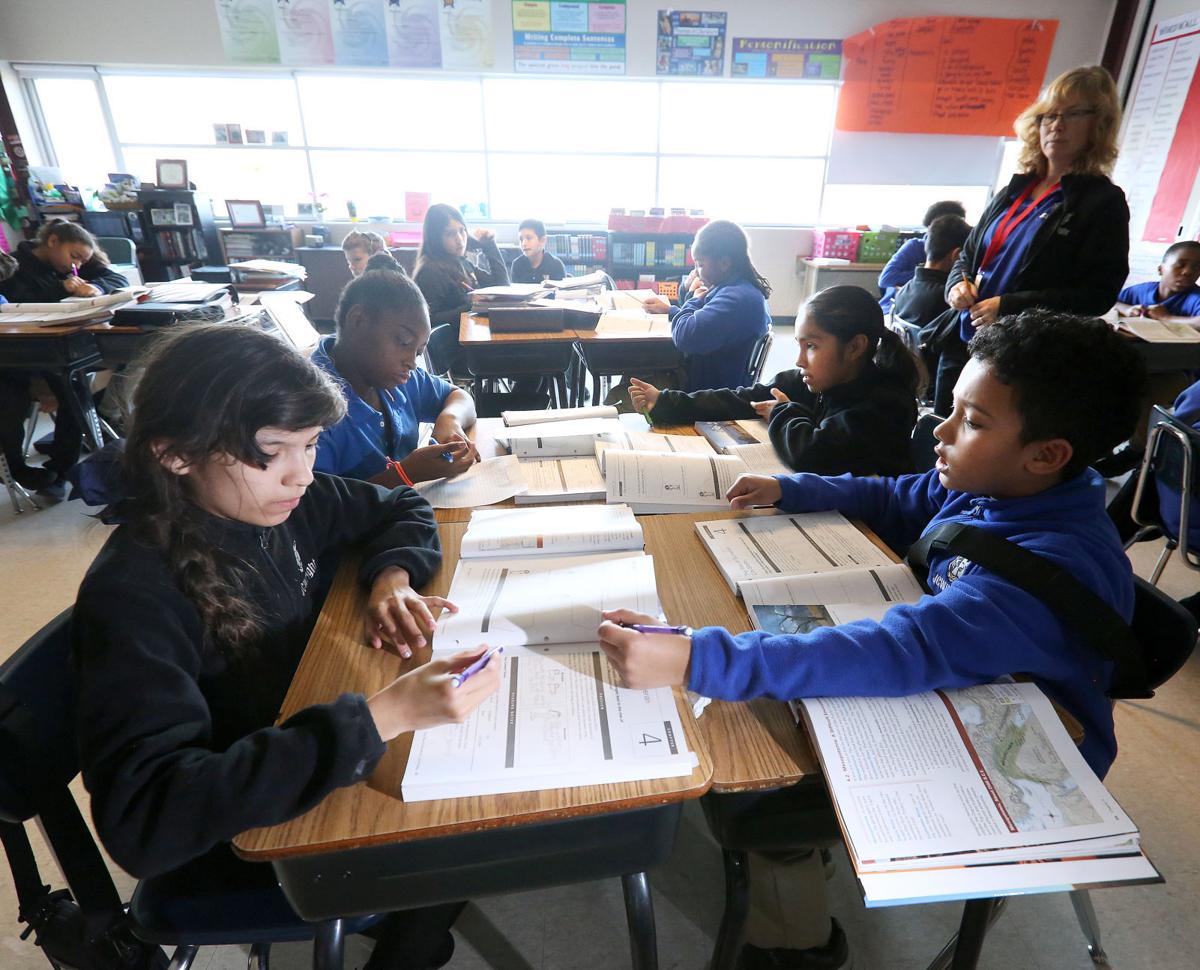 Lawmakers and school officials across Wisconsin are looking at big and small ways to change how the state funds schools — a system created four decades ago.
A commission formed by Assembly Speaker Robin Vos, R-Rochester, headed by two GOP lawmakers with a longstanding interest in K-12 education and composed of Democrats, Republicans, school officials, advocates and educators met for the first time Thursday to begin the first serious review in 20 years.
"I think there's widespread agreement that the current school funding formula in Wisconsin is not working as well as it should," Rep. Joel Kitchens, R-Sturgeon Bay, told reporters ahead of the commission's first meeting.
But the task could be tough — rewriting the state's school funding formula will almost certainly have a hefty price tag if lawmakers want to avoid reducing funding for dozens of school districts.
Kitchens, along with Senate Education Committee chairman Luther Olsen, R-Ripon, are leading the commission and said Thursday that while there is not a fundamental, overarching problem with the formula, there are areas where the system could be improved.
"I think being realistic politically — it's going to cost money," Kitchens said. "If half the districts in the state lose on this plan, we'll never get it passed. So I think that's the expectation — that there's going to be an investment."
Kitchens said the formula could be improved for school districts with declining enrollment, increasing enrollment and small, rural school districts with spending levels capped at below $10,000 per student. Olsen also said funding for open enrollment and charter and private voucher schools could be examined.
In recent years, districts' ability to raise property taxes on their own has been limited by the state. At the same time, more and more school districts are seeking more money through referendums — partially driving the need for the review, Kitchens said.
"Over the years we've continually changed little pieces of the formula and oftentimes it's just to affect a problem in one or two school districts, but too many times when you fix one problem in one place it causes a problem somewhere else," he said, adding he wants to start with a blank slate and go "in any direction that the evidence leads us."
But he also noted Wisconsin's school funding formula is well-regarded "so it may well be in the end we decide to stick with the basic framework and build around that."
In Wisconsin, school districts are funded through local property taxes, state aid and federal funding. Schools receive the largest amount of their state funding through a general fund that distributes money through a formula that gives more to districts with more students with challenges, including those who live in poverty, and less state money to districts with high property values. Districts also receive money from several funding streams including through a certain amount per pupil, currently set at $450 per student.
Olsen said while previous calls to overhaul the funding formula have fallen flat, he intends to recommend substantive changes.
"My No. 1 goal is to not write something that collects dust because I've been around this circus before and a lot of times we do something that sits on the shelf and collects dust," he said.
Commission member Julie Underwood, a school law professor at UW-Madison and the former dean of the university's School of Education, said she wants the commission's work to build not from a total blank slate, but from the state Constitution's requirement of providing a "uniform system of education."
She noted that the system did need an overhaul.
"This is a system that was created in the '70s and we have been adding things to it so that it meets certain needs but it becomes more and more complex and when you think about it, there haven't been many things that have lasted and been really, really useful for the future that we created in the '70s," she said.
The commission heard testimony from the Department of Public Instruction and the Legislative Fiscal Bureau on Thursday to review the current formula. Kitchens said the goal is to have recommendations ready for the next state budget cycle in 2019.
The state spends more than $10 billion on schools in Wisconsin.
No overhaul in decades
Lawmakers have not tackled an overhaul to the state's funding formula in two decades. State Superintendent Tony Evers, who oversees the DPI and the state's 422 school districts, has proposed a funding formula overhaul four times but lawmakers have rejected the plan each time.
In that plan, Evers sought hundreds of millions more in state spending and changes that would help school districts with high numbers of children living in poverty and mitigate school funding losses for districts experiencing enrollment decreases, among other measures.
Evers was not placed on the commission, nor was any other official from the state education office. He is running for governor as a Democrat.
Other lawmakers on the commission are Sens. Howard Marklein, R-Spring Green; Alberta Darling, R-River Hills; Kathleen Vinehout, D-Alma; Reps. Cody Horlacher, R-Mukwanago; Romaine Quinn, R-Rice Lake; Sondy Pope, D-Cross Plains; and Jason Fields, D-Milwaukee. Vos, R-Rochester, and Senate Majority Leader Scott Fitzgerald, R-Juneau, made the appointments.
Ted Neitzke, head of a Cooperative Educational Service Agency based in Oshkosh, Green Bay School District Superintendent Michelle Langenfeld, Grantsburg School District Superintendent Joni Burgin, Wisconsin Association of School Boards lobbyist Dan Rossmiller and Lori Saqer, director of business operations of Messmer Catholic Schools, and Bill Hughes, chief academic officer for Seton Catholic Schools, both based in Milwaukee, also are on the commission.
No representatives from Madison schools are on the commission. A spokeswoman for the Madison School District declined to comment.