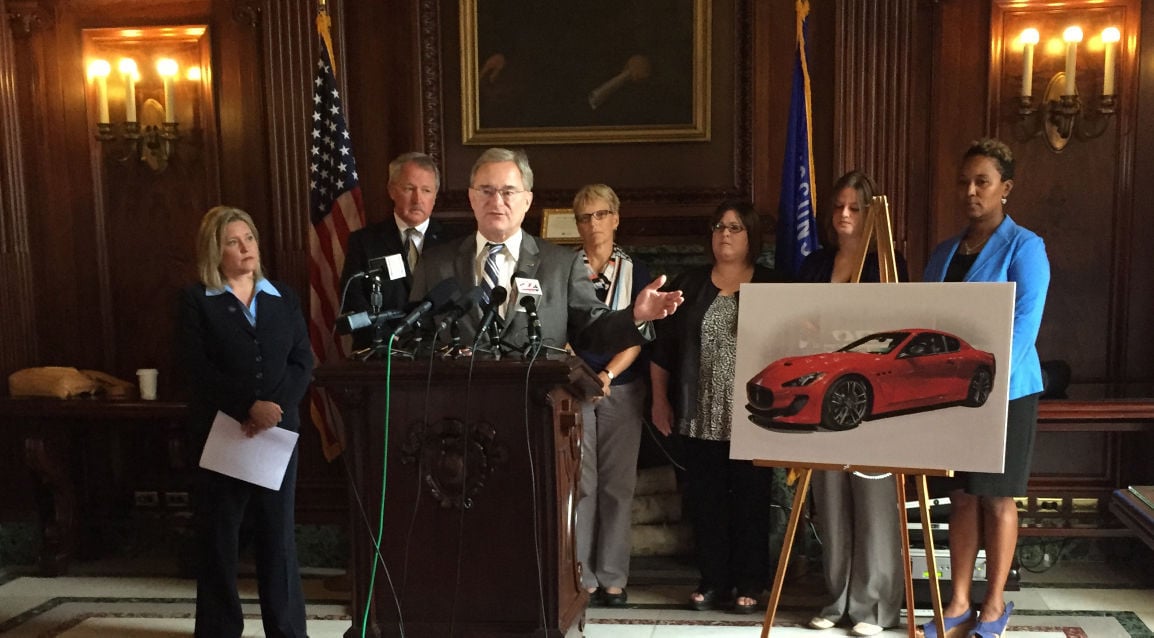 A bipartisan proposal making it a felony to defraud the Wisconsin Economic Development Corp. was reintroduced Friday, almost two years after the Wisconsin State Journal reported on a failed $500,000 loan to a Milwaukee businessman who lied on his application.
The bill, co-sponsored by Rep. Samantha Kerkman, R-Salem Lakes, and Sen. Dave Hansen, D-Green Bay, would make defrauding the state's flagship job-creation agency a Class E felony punishable by up to 10 years in prison and five years of extended supervision and/or a $50,000 fine. Offenders and their companies would also be ineligible for WEDC benefits for seven years and could be liable for damages.
A similar bill passed the Assembly last session but never received a hearing in the Senate Committee on Economic Development, Commerce and Local Government. The previous chairman of that committee, former Sen. Rick Gudex, died last year. His successor, Sen. Dan Feyen, R-Fond du Lac, didn't respond to a request for comment.
The previous bill faced opposition from the Wisconsin Economic Development Association, which warned the bill could have a chilling effect on legitimate businesses seeking financial aid but worried inaccurate projections about job creation would be punished.
The bill includes a provision that was added as an amendment to the previous bill stating "a person is not guilty of an offense under the bill if his or her predictive statements regarding future events are not realized, unless he or she knows that a statement is false when made."
"It doesn't matter if it's fraud against FoodShare or against unemployment compensation or WEDC," Kerkman said. "Taxpayer dollars shouldn't be defrauded."
You have free articles remaining.
The State Journal reported in May 2015 that WEDC had given a $500,000 loan to a struggling Milwaukee construction company in 2011 without a thorough review and at the urging of Gov. Scott Walker's top aides, including then Administration Secretary Mike Huebsch.
The company had been sued three times in the previous five years, though owner William Minahan claimed in an application for $4.3 million in WEDC funds it faced no lawsuits. Minahan also misrepresented the extent of his partnership with a La Crosse company and UW-Milwaukee.
Minahan had stiffed creditors, including a luxury car dealership that leased him a Maserati, and told them he could pay them back with money he was getting from the state. The loan was supposed to fund a business venture to make energy efficiency upgrades to credit unions.
WEDC successfully sued Minahan's now-defunct company Building Committee Inc., but the loan has not been repaid. Minahan has not been charged with a crime.
In another 2011 case, the state loaned $1.2 million to Green Box LLC owned by De Pere-area businessman Ron Van Den Heuvel to help the company create 116 jobs as part of a more than $13 million project to turn fast-food wrappers and other waste paper into synthetic fuel and paper products while producing zero waste.
Van Den Heuvel, who now faces unrelated bank fraud charges, falsely told WEDC he hadn't faced any lawsuits in the previous five years. A Brown County Sheriff's Office investigator testified Van Den Heuvel used the money to pay off personal and business debts, such as Green Bay Packers box seats, trips to Las Vegas and $2,000 weekly alimony payments to his ex-wife.
When Walker and the Republican Legislature created WEDC in 2011, they didn't create specific criminal penalties for defrauding WEDC similar to laws against bank fraud.
Walker voiced support for the previous bill in January last year, saying "if people give out fraudulent information there should be consequences." His spokesman didn't respond to a request for comment Friday.
Get Government & Politics updates in your inbox!
Stay up-to-date on the latest in local and national government and political topics with our newsletter.