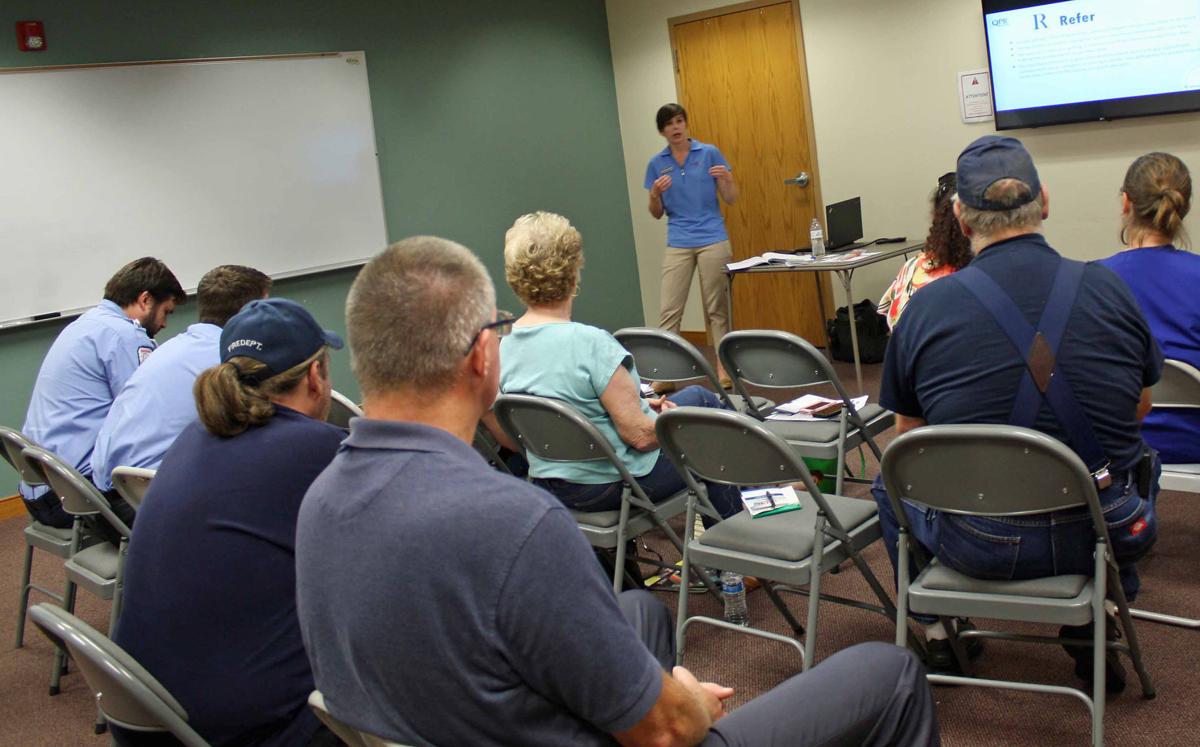 A bipartisan legislative committee looking into suicide prevention is recommending bills that would invest close to $1 million annually in various suicide prevention grants, coalitions and programs.
A report from the Assembly Speaker's Task Force on Suicide Prevention obtained by the Wisconsin State Journal includes 10 bills. Recommended legislation includes grants for suicide prevention programs, the addition of two full-time employees in the Department of Health Services — including a director of suicide prevention — and the release of funding originally budgeted for the Center for Suicide Awareness.
One of the recommendations includes releasing funds for the Center for Suicide Awareness, which runs the state's text-based suicide prevention hotline Suicide HOPELINE. The center was approved for $220,000 in the biennial budget, but center executive director Barb Bigalke told the State Journal the organization has yet to see those funds.
The Republican-controlled budget-writing committee has the discretion to release the money, but committee leaders have said they should wait until the task force's recommendations are released. It could be months before the center sees those funds if a new bill is required, as some lawmakers have suggested.
You have free articles remaining.
Vos' spokeswoman Kit Beyer said Vos had not received the report as of Tuesday afternoon. The task force's recommendations will be discussed with the caucus, she said.
"Speaker Vos appreciates the bipartisan work on this important issue," Beyer said.
On Wednesday, Rep. Joan Ballweg, R-Markesan, chairwoman of the task force, and Rep. Steve Doyle, D-Onalaska, task force vice chairman, plan to hold a press conference to discuss the recommendations.
The bipartisan suicide task force was created earlier this year to address mounting concerns about suicide, which had been identified as the 10th-leading cause of death in the state, according to the task force's website.
Proposed bills in the report include:
Charging the Department of Health Services with the creation of a suicide prevention program to create awareness for issues related to suicide prevention, build community networks and conduct training for law enforcement, health care providers and school employees. The bill would authorize the appropriation of $250,000 annually to carry out the tasks and add two new full-time positions at DHS, including a director of suicide prevention.
Appropriate $500,000 biennially to DHS for grants toward suicide prevention programming. Grants of up to $10,000 would be allowed to an organization or coalition that makes a match of at least 20% of the grant.
Award a grant of $110,000 annually to the Center for Suicide Awareness, which runs the state's text-based suicide prevention hotline Suicide HOPELINE. The center also would be directed to share data it collects with the state.
Biennially appropriate $150,000 for grants for preventing suicide by firearm. Funds would be used to train staff at a firearm retailer or range on how to avoid selling or renting a firearm to someone who may be considering suicide, as well as provide those locations with suicide prevention materials. The grants also would help provide firearm storage. Grants of up to $5,000 would be awarded with at least a 20% match.
Provide $250,000 annually to the Department of Public Instruction for competitive grants to high schools to support peer-to-peer suicide prevention programs.
Provide $70,000 this fiscal year and $200,000 in fiscal year 2020-21 to the Wisconsin Safe and Healthy Schools Center. The WISH center provides prevention and intervention programming for alcohol, tobacco and other drug abuse and mental health programs.
Require state educational entities, including public and private schools and the University of Wisconsin System, to include suicide prevention information on student identification cards.
Provide $100,000 biennially for tuition assistance grants for low-income farmers who enroll in a course on farm or business management.
Direct the Psychology Examining Board to issue an interim psychologist license to qualified individuals in an effort to increase services in areas of need. The individual would be able to provide psychological services under qualified supervisors.
Require a number of professionals within the state to complete at least two hours of suicide prevention training every two years. Professions include substance abuse counselors, physicians and social workers.