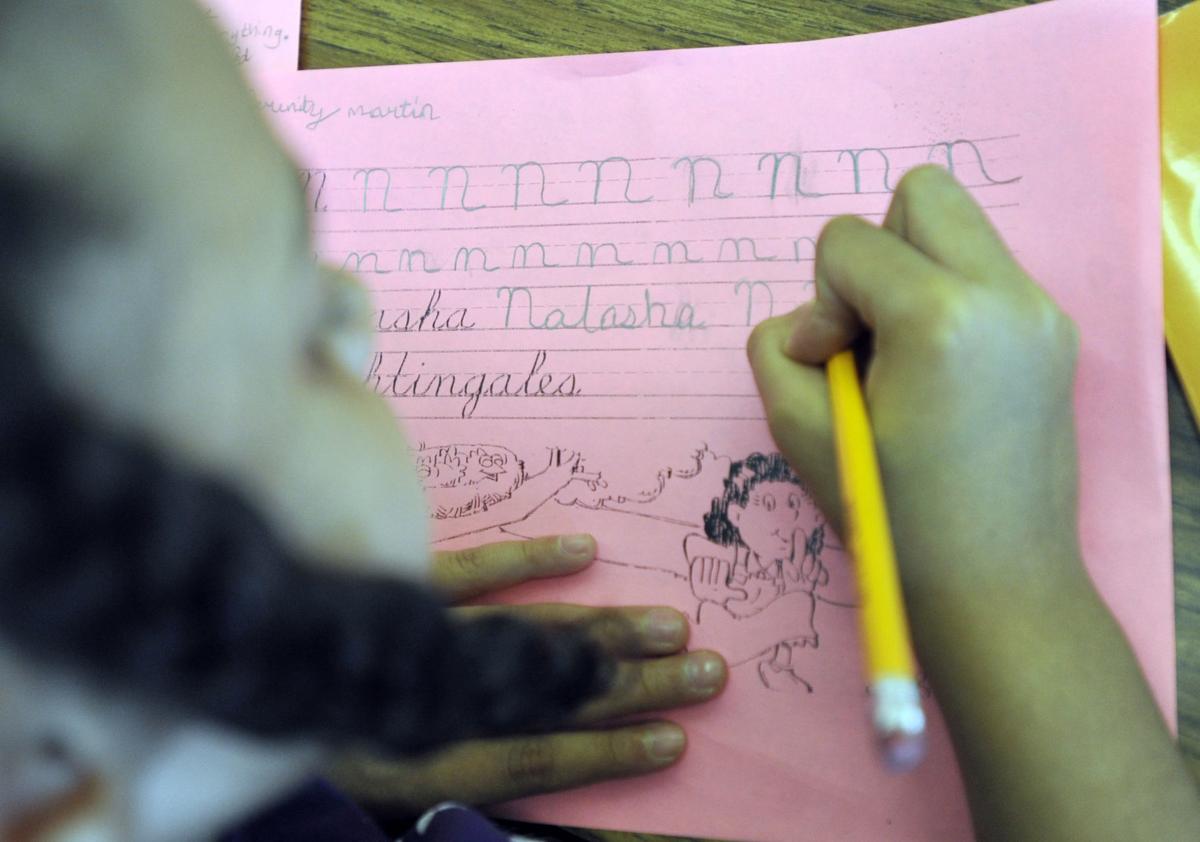 A bipartisan bill requiring all schools to teach cursive writing has been estimated to cost as much as $6 million, but not all supporters of the proposed mandate think the state should help foot the bill.
While members of the Senate Committee on Education on Tuesday agreed with the value of learning cursive writing skills, some raised concern that the bill — which does not include funding to public or private schools to offset the cost of implementation — would provide Wisconsin schools with yet another unfunded mandate.
"I think that we are consistently playing Rumpelstiltskin with the schools, we are saying here's the straw, spin it into gold and not only that, I'm going to make you spin more gold," said Sen. Janet Bewley, D-Mason. "They are being asked to do more and more and more with less money."
A Department of Administration fiscal estimate for implementing a statewide cursive program projects the per-student cost at $10 to $35 a year and the per-teacher cost at $25 to $160 annually.
The maximum projected cost of the bill among public schools ranges from $1.7 million to nearly $6 million annually for pupil materials and another $250,000 to $1.6 million for teacher training and materials, according to the report.
It's difficult to know the full impact of the bill, however, as the state Department of Public Instruction does not collect information on which schools already teach cursive. The full cost would be determined by how many schools would need to add cursive to their curriculum.
Sen. Chris Larson, D-Milwaukee, suggested an amendment to the bill that would include some form of funding assistance for schools, which bill co-sponsor Sen. Luther Olsen, R-Ripon, said may jeopardize the legislation's success.
"Yeah, it would be nice to throw some money in here, but we didn't," Olsen said. "If you want to add an amendment to do it, go right ahead, but I'm afraid that may kill the bill."
Sen. Stephen Nass, R-Whitewater, said he was not interested in adding state funds to the bill, but added that if money is necessary, it could come out of DPI's budget.
You have free articles remaining.
"The schools brought us this problem by eliminating cursive, they can correct this problem," Nass said.
Nass also questioned DOA's estimated cost of implementing a statewide cursive program.
"The fiscal note does not make me flinch at all," Nass said. "The $6 million is basically grabbed out of the sky as far as I'm concerned."
Dan Rossmiller, director of government relations for the Wisconsin Association of School Boards, said in a letter to committee members that the association generally opposes any unfunded mandates on schools.
Achieving mastery of cursive writing can take an "enormous amount of instructional time," Rossmiller said in the letter.
"In a world that is increasingly moving away from paper communications toward digital and electronic communications, we question the value of spending a significant portion of instructional time in third or fourth grade on cursive writing," Rossmiller said in the letter.
The Wisconsin School Administration Alliance also has opposed the bill.
Bill co-author LaTonya Johnson, D-Milwaukee, said cursive writing would benefit all students, but especially those in some of the state's most impoverished schools.
The National Assessment of Educational Progress test results released last month showed that declining scores for the lowest-performing students resulted in Wisconsin again having the widest achievement gap of any state, according to the state Department of Public Instruction.
"I don't see this as an unfunded mandate even though it very well may be," Johnson said. "I see this as a responsibility … to teach our kids that there are other forms of learning such as cursive."