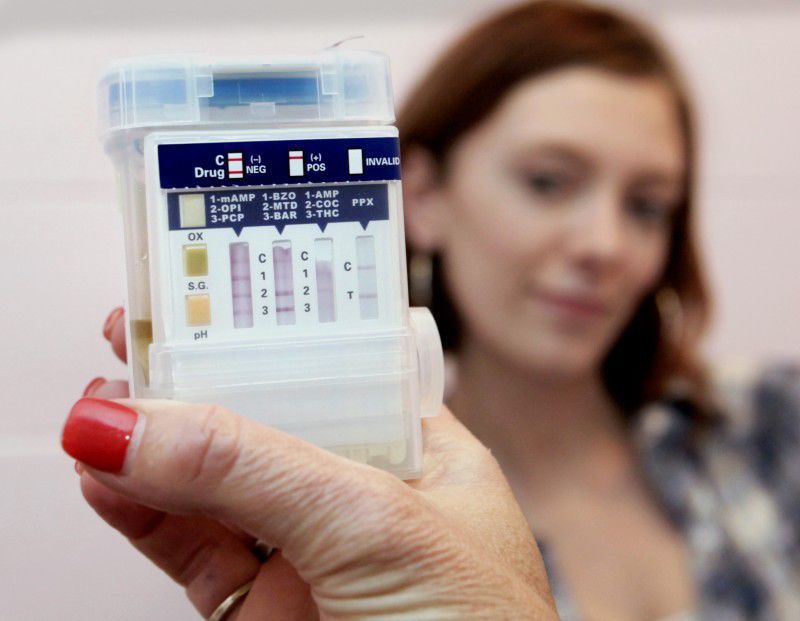 All Wisconsin high school students participating in extracurricular activities would be subject to random drug testing under legislation being drafted by a Republican lawmaker.
The bill would also require random testing for students who want to park vehicles on school grounds.
Rep. Joel Kleefisch, R-Oconomowoc, said that when lawmakers reconvene next year he will introduce a bill that requires private and public schools to have policies requiring random drug testing for students participating in voluntary activities.
The bill also would require the state Department of Public Instruction to develop a model policy to guide school districts.
The proposed legislation is one of a handful of anticipated bills emerging from a committee of lawmakers, educators, law enforcement officials, health care workers and religious officials convened by Kleefisch to seek ways to combat heroin use.
A spokeswoman for Kleefisch declined to release a copy of the draft drug-testing legislation.
School districts across the country have discussed or developed similar policies for years and it's unclear if any other state has a law that requires all schools to randomly drug test students participating in other voluntary activities.
State supreme court rulings on the constitutionality of suspicionless drug testing have been mixed but the U.S. Supreme Court ruled in 2002 that randomly drug testing students who are participating in voluntary, competitive activities is legal and does not violate Fourth Amendment rights.
A handful of Wisconsin school districts have implemented similar policies, according to Wisconsin Association of School Boards lobbyist Dan Rossmiller, including schools in Arrowhead, Crivitz and De Pere.
The cost of the legislation and how it would be paid for is also undetermined.
Kleefisch acknowledged Tuesday at the committee's last meeting that the legislation would likely be "for lack of a better term, a tough pill to swallow" for some.
"But if we're going to attempt to actually make a difference, we need to know who those using or supplying the heroin at school functions are and this is one way to do that," said Kleefisch, who added the bill would not outline any punishments for students who tested positively.
Cost, implementation questions
About one-third of the Coalition to Combat Heroin committee members are from Oconomowoc, where in 2015 the School Board approved a policy that would require students in middle and high school to consent to random drug testing in order to participate in extracurricular activities.
Wisconsin Interscholastic Athletic Association spokesman Todd Clark said the association has not been contacted about the proposed legislation.
"That is a local district or school decision," said Clark. "There is no present or imminent consideration of a plan by the association to require random drug testing, which would impose an expensive unfunded mandate that many member schools may struggle to afford."
He said the WIAA's position is to educate and raise awareness about drug use.
Mike Vuolo, associate principal of Kettle Moraine High School, said Tuesday at the meeting that the school district is in the process of developing its own policy regarding random drug testing.
He said in that process, questions of cost and consequences must be thoroughly addressed before implementing a policy. "When we discover these students, 'Then what?' becomes a big question," Vuolo said.
The Arrowhead Union High School District has been performing random drug testing for a couple years on students who participate in extracurricular activities, which is 84 percent of the district, said Superintendent Laura Myrah. She said the only complaint she has received since being hired a year and a half ago was from a student randomly selected three or four times.
Rep. Cindi Duchow, R-Delafield, and Sen.-elect LaTonya Johnson, D-Milwaukee, said at the committee meeting the bill could have unintended consequences on students' emotional states.
"I don't think our kids need to be treated like criminals," said Duchow.
Duchow and Johnson said requiring students to provide a urine sample in front of school staff or law enforcement could be traumatizing. "To watch a child — a child— urinate into a cup is trading one form of trauma for another," Johnson said.
Schools police themselves
Duchow said it's not difficult to figure out who is selling and taking controlled substances and that schools already do a good job of policing themselves without additional regulations from state lawmakers.
"I do not like to mandate anything to our schools," Duchow said. "Another mandate — and another unfunded mandate — I don't think they need."
Susan Opper, Waukesha County district attorney, said the legislation targets students who are under the influence and "it's virtually impossible to tell."
"It's the ones that nobody — the parents, the teachers — nobody has a clue what they're up to," Opper said. "I've met too many families and too many parents who say I wish I would have known and drug testing is the way to know."
Kleefisch said he would draft the bill in a way that would require the testing be done at a time that does not significantly affect a student's academic instruction.
"I think the thought of them being pulled and being watched as they give a sample is horrifying, but I think when students die of opiate overdose is equally if not more horrifying," Kleefisch said.
Kleefisch said the committee also discussed whether random drug testing would be appropriate for students who are facing suspension or expulsion, or for students who are receiving failing grades, but that it's unconstitutional to do so.
The Wisconsin chapter of the ACLU opposes such requirements. In 2015, when Oconomowoc school officials were discussing drafting their policy, the state chapter released a statement saying random drug testing "intrudes upon students' privacy and communicates a school's profound distrust of the children they are teaching."
"Although the U.S. Supreme Court has upheld drug testing of students who voluntarily participate in sports and extracurricular activities, that doesn't mean such testing makes sense," their statement said.
DPI spokesman Tom McCarthy said generally, DPI is supportive of Kleefisch's work to combat opiate abuse but would wait to see bill specifics to comment further.