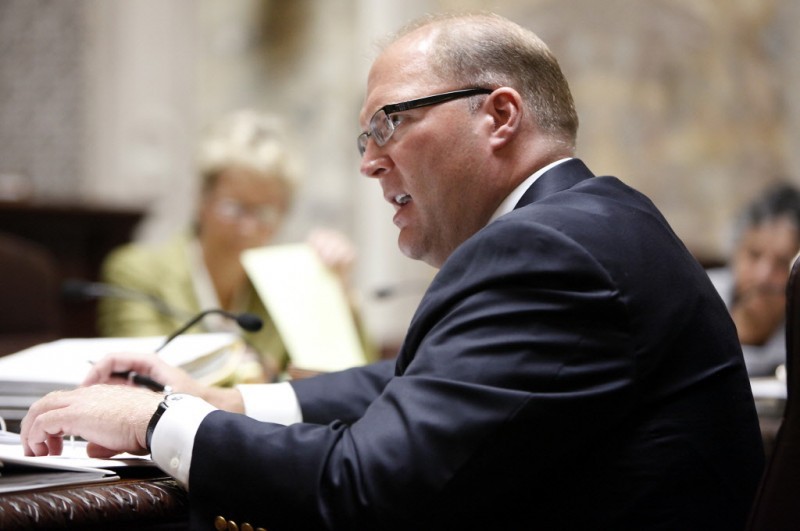 A Democratic lawmaker is calling on the Legislature to remove Wisconsin Supreme Court Justice Michael Gableman from office, citing his decision to sit on 11 cases involving a law firm that gave him free legal services.
But the resolution by Rep. Kelda Helen Roys, D-Madison, appears unlikely to succeed since removal of the conservative justice would require a two-thirds vote of the Senate and Assembly, where Republicans hold majorities.
Such a move also would be unprecedented, said James Alexander, executive director of the Wisconsin Judicial Commission, which investigates alleged judicial ethics violations, including a pending complaint against Gableman for his financial arrangement with Michael Best & Friedrich.
"There was an impeachment trial in the 19th century in which the judge prevailed," Alexander said. "I know of no other legislative attempts at impeachment or address of the Legislature."
Roys, who is running to replace U.S. Rep. Tammy Baldwin, D-Madison, in Congress, is proposing removal by "address," which entails presenting the allegations to Gableman and allowing him "an opportunity to be heard." Impeachment requires a trial before the state Senate.
You have free articles remaining.
Roys' resolution alleges that Gableman's receipt of free legal services between July 2008 and July 2010 is misconduct that violates both state law and the state Code of Judicial Conduct. The resolution lists 11 cases in which the firm represented a party before the Supreme Court since Gableman began receiving free legal services. Gableman did not recuse himself nor reveal his potential conflict of interest in those cases.
An email message left with Gableman's Washington, D.C., attorney, Viet Dinh, wasn't immediately returned.
Roys said Gableman's acceptance of free legal services "undermines the public's confidence in the judiciary."
"It's a serious step, and were it not for the seriousness of the misconduct, I would not be taking this step," Roys said.
John Jagler, spokesman for Republican Assembly Speaker Jeff Fitzgerald, scoffed at the resolution, calling it "nothing more than a political stunt." Andrew Welhouse, a spokesman for Senate Majority Leader Scott Fitzgerald, also dismissed the idea, saying, "They're already trying to overturn a statewide election with (gubernatorial and senatorial) recalls, and now they're trying to overturn another statewide election by ousting Gableman."
The free-fee arrangement stems from attorney Eric McLeod's defense of Gableman in a previous ethics complaint. That matter was dropped after the Supreme Court, minus Gableman, deadlocked 3-3 on whether to discipline him for running a misleading campaign ad during his 2008 run for the high court.
State Journal reporters Clay Barbour and Mary Spicuzza contributed to this report.