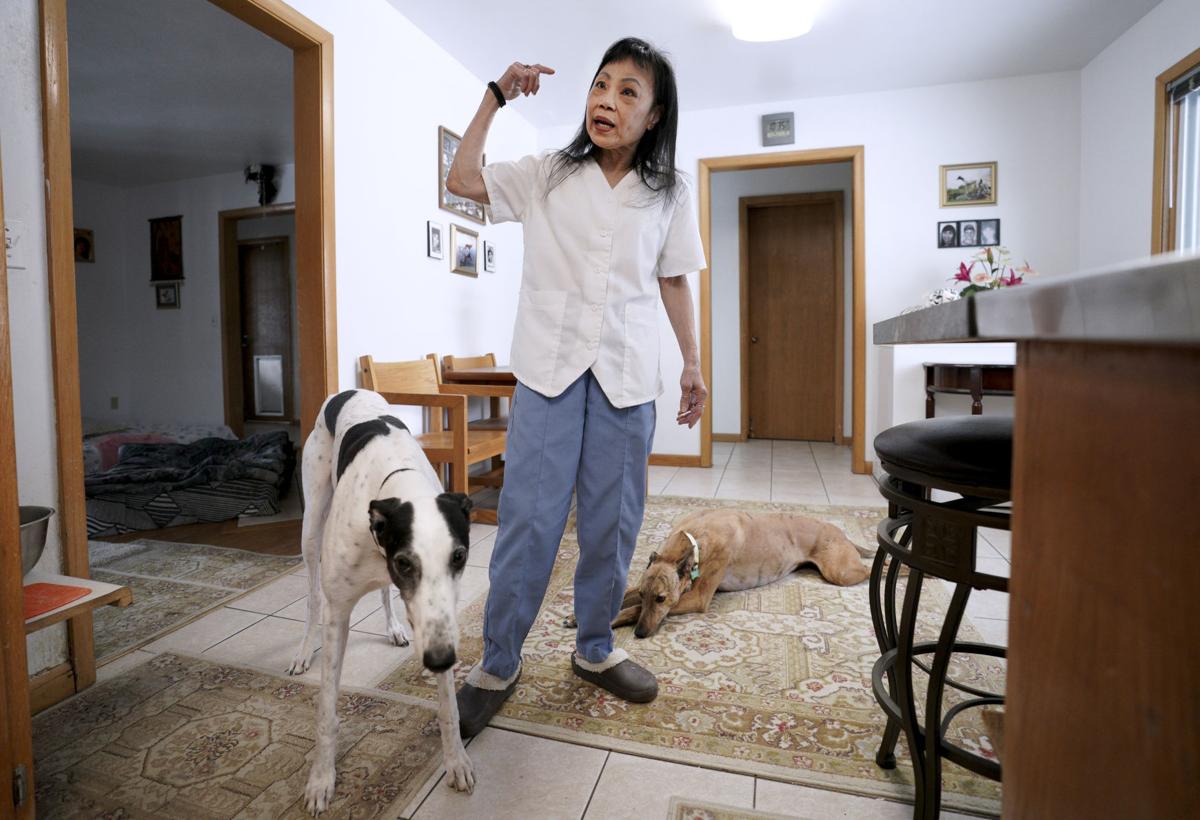 Pranee Sheskey emigrated from Thailand in 1972 and in the subsequent 49 years has become a citizen, an elections worker, a community volunteer and the owner of purebred greyhounds — the last of which was inspired by the sleek racing dogs' resemblance to some of the players of her favorite sport, American football.
Sheskey, 67, is retired and has lived for more than two decades with her husband, Gary, in a North Side house with a large, fenced-in yard that provides a bit of running room for FarRell, EnRon and a foster dog named VeNito. She's had six greyhounds since 1994, but never to race; she considers the sport cruel.
A poll worker since 2008 and a volunteer interviewer for the Fire Department since 2017, Sheskey said she's enjoyed being part of making government and democracy work.
"When they see somebody they know that works at the polls, they have more trust in you," she said.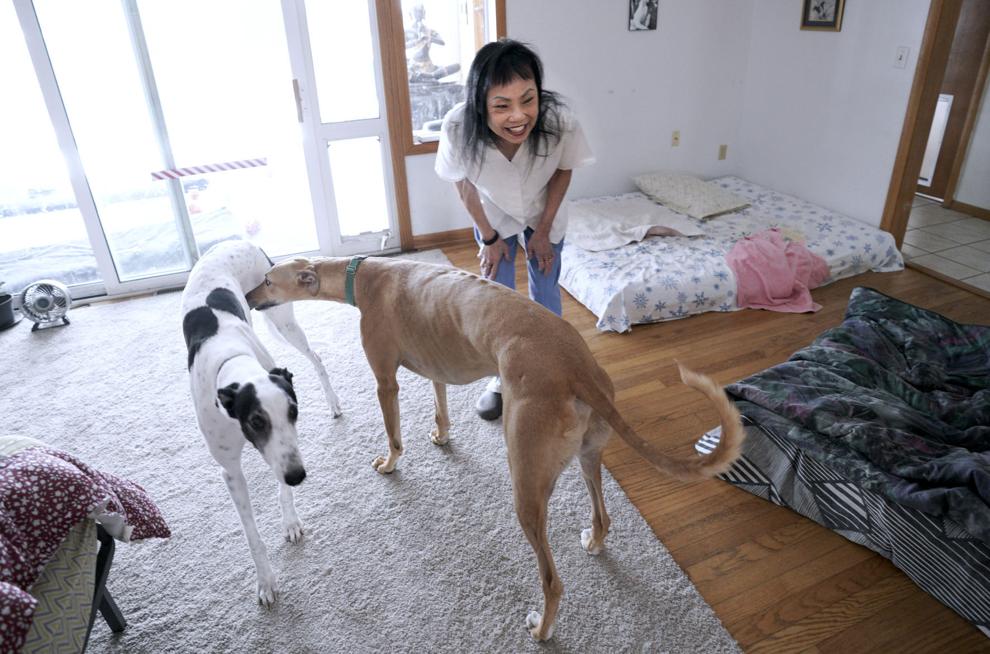 a poll worker?I didn't know anything about elections or the process and then one day while I was working the state sent out an email looking for poll workers. And I said, well, this is very interesting. An African American man is running, and I wanted to be part of the history if (Barack Obama) made it. I wanted to be part of the process of this man making history.
year for elections.Starting in April, August and November, that was crazy. There were a lot of preparations because more people applied for absentee ballots. There was a lot more work. I think I did everything in all capacities. I worked from Sept. 2 all the way through Election Day.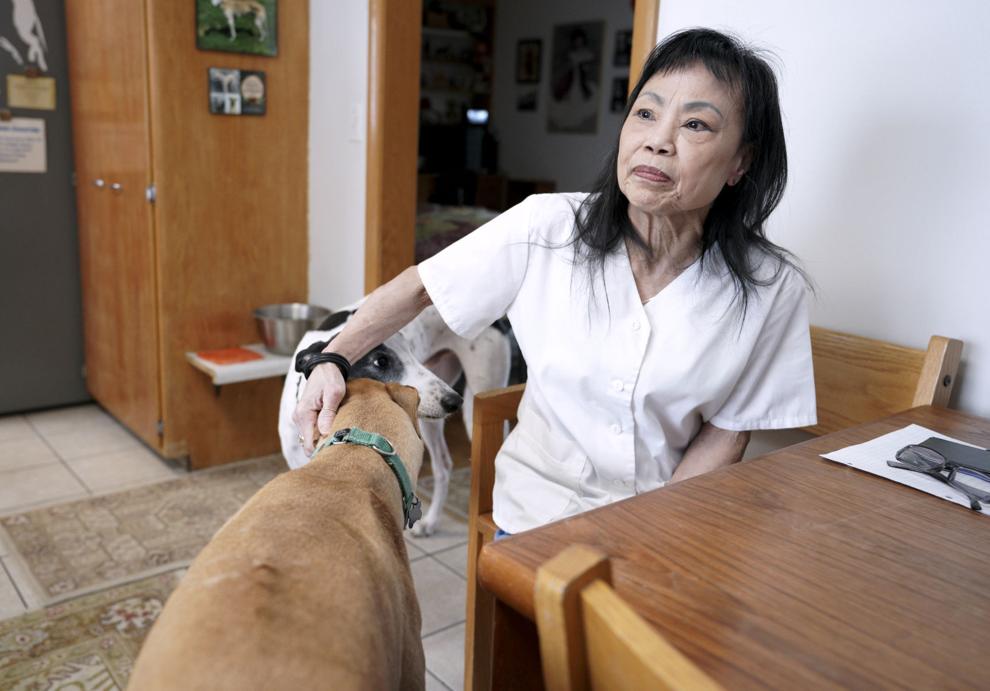 Given that, did the elections run smoothly?Yes. They hired a lot of hourly people and we started early. And then we had people who were concerned about how we return the cast ballots. They were all concerned about voter fraud and all that.
Yes, about those allegations ...There is no fraud. It's not like you can just pick (a bag of ballots) up and go shopping. I think these people are concerned because they don't know the process. People were making comments on (Nextdoor). I think the Nextdoor app is people just wanting to say anything and everything just because they're not busy. I'm like, "Do you want to take my dog for a walk?" They just complain about anything and everything. It's just like somebody needs to get a new job or a new hobby.
What should people know about greyhounds?Have you heard this thing that they call a 45-mile-an-hour couch potato? They can sprint up to 45 mph. They get all excited and frisky and then they go into couch potato (mode). They like to sprint; they don't like to walk. We have a big yard; they like it much better when it's fresh snow because they think it's sand. At the racetrack it's all sand.
What got you interested in the breed?I never did like dogs because in my country all dogs are stray dogs. I was bitten by dogs a few times. And then a friend of mine wanted to go to Wisconsin Dells to see dog races. I said no, I don't want to go, so they just scooped me off the ground and threw me in the van. While they were having fun I was sitting in the corner pouting. When they fired the gun, all the dogs just popped right out and I looked at them and they were so graceful. I love football; I love wide receivers. And it just reminded me of wide receivers when they catch the ball and reach out. Since that day, I told people I hate dogs but if I'm ever going to have a dog it's going to be a greyhound. (Later), a girlfriend was out traveling and she didn't want (her boyfriend) to be alone on Father's Day. So she asked me to take him out on her behalf. The next thing I know he just pulls up at the dog track adoption center at Wisconsin Dells. A few days later, I sent in an application.
Have you ever felt you were treated differently in Madison because of your ethnicity?Really nobody bothered me, other than at my job. I felt that I was discriminated against by my employer twice. Whatever I say is not right. Whatever I do is not right. So I told them to do it themselves. So one day I got really mad and pulled up my sleeve and said, "just because I'm brown, just because I've got slanted eyes, just because I've got an accent, you're no better than me." I'm not a minority because I'm minority; I'm a minority because there are less of me than your kind. As far as up here (points to head) there is no such thing as minority.
Tell me about your work with aspiring firefighters?Every two years they recruit firefighters. Once they pass a written exam, the city of Madison invites them for an interview. We are the first panel to interview these people, and there are seven or eight panels and it's all day long, five days a week. What I look for is, do I want this person to come and give me CPR? What kind of demeanor do they have? There was one year three of the people I interviewed were hired. I was so happy.
---
Know Your Madisonian 2020: a collection of profiles from our weekly series
"There is no fraud. It's not like you can just pick (a bag of ballots) up and go shopping. I think these people are concerned because they don't know the process."