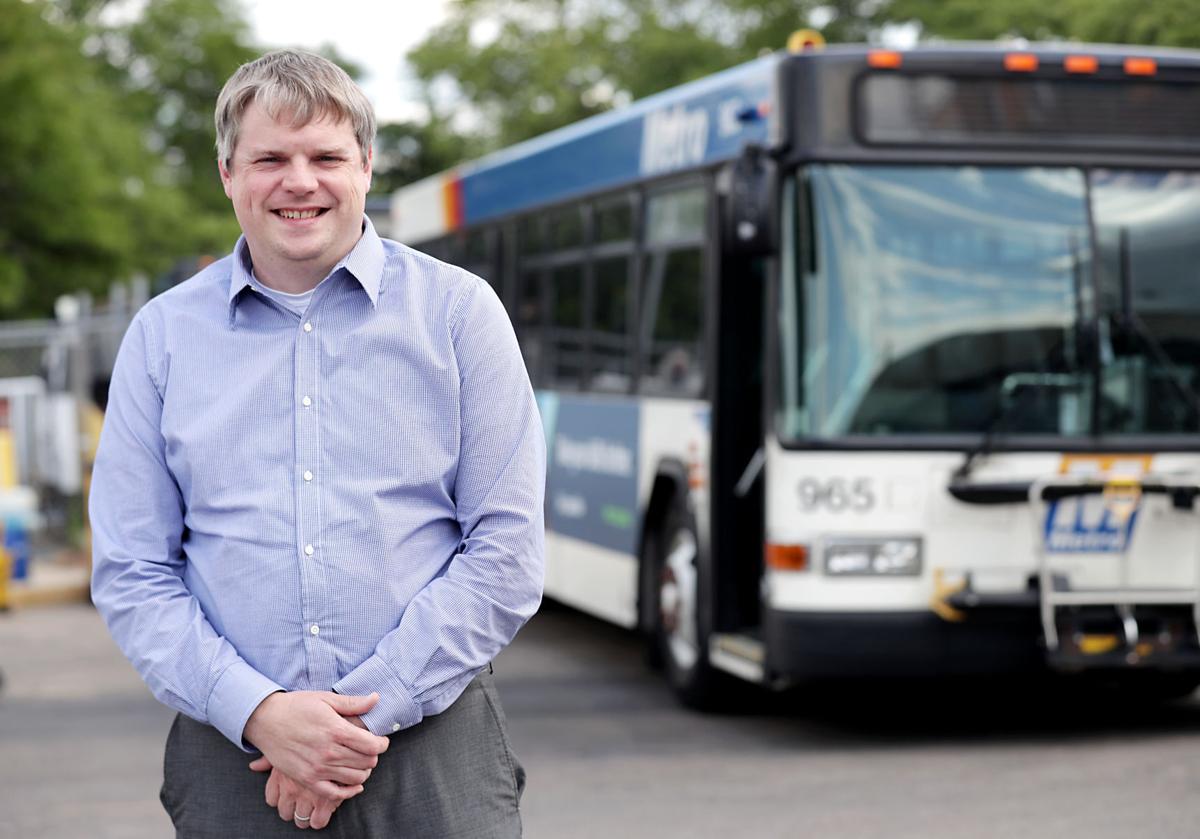 Born and raised in a small farming community in western Illinois, Madison's new Metro Transit general manager had never used a public bus until he went to college.
But when Justin Stuehrenberg, 38, left tiny Carthage, Illinois, to attend the University of Illinois, he was impressed by the efficiency and value of a good bus system and used it frequently.
But transit wasn't Stuehrenberg's first career. After graduating with a bachelor of science degree in mechanical engineering, he began his professional life as an engineer designing aircraft components. After several years he felt unfulfilled and, after a trip to Europe and seeing how public transit provides "enormous freedom," he earned a master's certificate in transportation engineering and planning from the Center for Urban Transportation Research at the University of South Florida in 2009.
Then he served as a transportation engineer/planner for the consultant HNTB in Indiana from 2010 until 2013, when he became a city engineer in Bloomington, Indiana. He also co-founded two businesses, including Indy Up Properties, a real estate firm that redeveloped historic buildings. In 2014, he became director of special transit projects for the IndyGo system in Indianapolis and Marion County, Indiana, and in 2017 was promoted to vice president of planning and capital projects for the organization, where he led the team implementing the Red Line bus rapid transit (BRT), building one of the largest electric bus fleets in the country, and implementing a new fare collection system.
In April, after a nationwide search, Mayor Satya Rhodes-Conway named Stuehrenberg Metro's new general manager, one of the city's high-profile jobs, responsible for the bus system during the COVID-19 pandemic and Madison's planned BRT in coming years. The general manager, who makes $142,000 annually, oversees a $59.4 million budget with about 460 employees, including 310 bus drivers, for 2020.
He and his wife, Katie Bannon, have two boys, and enjoy travel and spending time outside hiking and biking.
You've arrived at the onset of a pandemic and budget crisis. What are the special challenges facing the Metro Transit system?
Certainly my number one priority is keeping people safe and minimizing the spread. Included in this is trying to keep ridership down to just essential trips and mask wearing.
Have you been able to keep drivers, other staff and riders safe?
We've been enforcing a passenger limit on the bus, are still not collecting fares to minimize interaction with the drivers, and are now requiring masks. We've had a few positive cases but with effective quarantines have been able to prevent any spread from those cases. We are working on installing Plexiglas shields between the driver and the aisle so that we can resume fare collection (starting Sept. 1). We've been sanitizing the buses daily. Our biggest challenge going forward will be maintaining our limits on the number of passengers on the bus once UW reopens.
What have been the main actions that have allowed you to succeed so far?
We've built a good partnership with the union to identify what needs to be done. We've also been fortunate to have received CARES Act funding to allow us to offset lost revenues, allowing us to continue operations for essential trips without worrying about fare collection.
What are your biggest concerns?
Number one, that we have another outbreak in Madison and/or within the Metro ranks. Number two, that with capacity limits we cannot meet the travel demand once the UW reopens.
How does the bus system increase service and build ridership under these circumstances?
On Sunday, we will restore some service, going back to roughly 85% of the pre-COVID service level, in anticipation of UW reopening. This builds a service plan around the actual staffing levels and gives us some flexibility to meet spot-demand issues. As for ridership, we really don't know what to expect, and at this time we really aren't trying to encourage riders to come back for anything other than essential trips. Once our capacity limits have been lifted, we can start talking about building ridership for the long term.
What have equity studies told you about the system?
Communities of color are more heavily weighted towards the outer ring of Madison. Because of the nature of transit service, that typically means that communities of color have less frequent service, have longer trip times, and have to make more transfers. We are starting a comprehensive study later this year that will reexamine the entire route network, with the intent of minimizing those impacts. Our team is also working to conduct more robust equity analyses as we move forward on future service changes.
What are the most exciting innovations coming to Metro?
The network redesign study, the BRT system, technology improvements and electric vehicles.
Can the city still pursue BRT?
Yes, BRT is still moving forward. BRT is really an investment in service that can offset future operating costs because we can move more people with each hour of driver time, by using larger and more efficient vehicles and moving those vehicles faster. This will allow us to keep growing our capacity without continuing to grow our costs at the same pace. In many ways, the city of Madison needs to make this investment in BRT in order to continue growing because we can't add roadway capacity, and traffic congestion will eventually choke off the ability to grow. With BRT, especially BRT in dedicated lanes, we can move more and more people by simply adding a few more buses to the route.