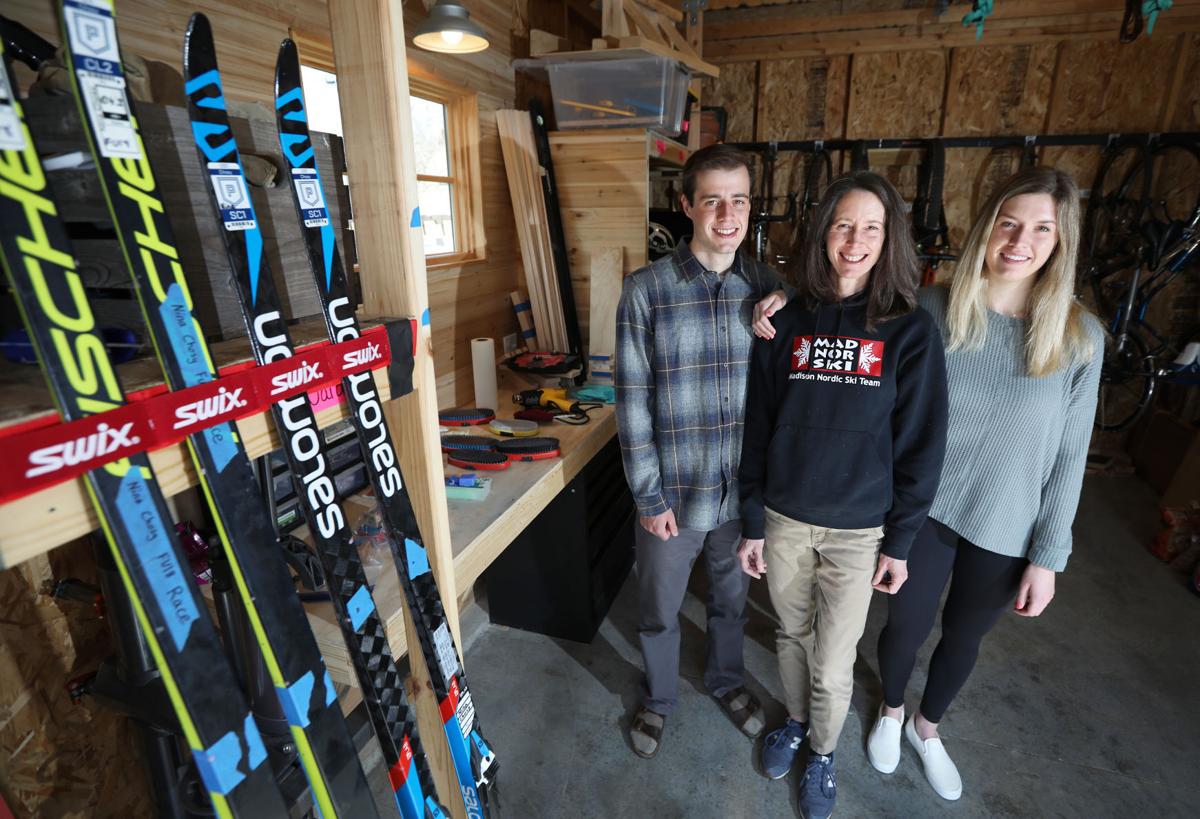 Tamara Bryant has come a long way from her hometown of sunny Los Angeles in terms of both geography and her chosen sport: cross-country skiing.
Bryant, 56, serves as youth chair for the Madison Nordic Ski Club, or "MadNorSki," where she oversees youth programming and coaches. Bryant organized youth programming during an especially busy year for Nordic skiing, caused in part by a COVID-19 pandemic-driven interest in finding ways to get outside. Bryant said interest in the sport increased so much this year the organization needed 36 coaches, double the usual number.
For Bryant, cross-country skiing is a family affair, with two of her three children — Nina Chosy, 17, and Cullen Chosy, 22 — and her husband, John Chosy, 55, heavily involved in the sport. Her oldest daughter, Madeline, 24, was involved in downhill skiing.
Both Nina and Cullen are skilled Nordic skiers, both having won state championships.
Bryant wasn't the first in her family to take up cross-country skiing. It wasn't until Cullen and Nina decided to pursue cross-country skiing with MadNorSki that Bryant got the Nordic skiing bug. After a couple years of her children's involvement in the sport, Bryant started helping out as team manager and improving her own skiing, as well.
"You never know where your children are going to lead you, and I think it's been fun now that both Cullen and Nina pursued Nordic skiing, and it's really opened up a great activity for our family, so I think we'll always be skiing," Bryant said.
Besides skiing, Bryant, who comes from a teaching background, has kept busy home-schooling all three of her children, a schooling option she said paired well with the heavy traveling required for her family's skiing schedule. Bryant's home-schooling culminated in Madeline and Cullen attending Stanford University for graduate and undergraduate programs, while Nina will attend Bates College in the fall.
How did you get involved in Nordic skiing?
When (Cullen) would go on these races, we'd go to these beautiful trails up north, and I thought, "Well, I'm not going to just sit on the sidelines," so my husband bought skis, I bought skis, so we just started doing it as a family. (My children) were getting a lot of instruction, so when we would be skiing, they would be giving me tips. Through MadNorSki I took a number of lessons, because MadNorSki members can take adult lessons for free, so I signed up for a couple of those, and just started skiing.
I started out classic skiing, and then a couple of years ago I thought, you know, I'm going to start skate skiing as well. So I bought a pair of skate skis and just kept working at it and just have really enjoyed the activity. We've all really taken to it. My husband, he does the Birkie now, and he's like a marathon runner from the past, so this is right up his alley as well.
What do you enjoy most about the sport?
I think the connection to the outdoors. It gets me outside in the winter. To be outdoors in the fresh air in the sunlight, or even at practice in the evening, it's really revitalizing.
I feel like it's kind of like hiking in the woods, but it's on skis. I'm a runner in the offseason, so I like running and I feel like it's even better than running because it's a little bit gentler on your joints.
How would you describe the cross-country ski scene in Madison?
With MadNorSki, there's this nice community, it's very supportive. For example, MadNorSki had to revamp a lot of its programs this year (due to) COVID. They decided to do mentorship, so they lined up all these new skiers with club members, and they either met virtually on Zoom and talked about skiing and showed videos. Some people even videotaped themselves and sent it to their mentor and then they gave them tips. Other mentor/mentee partners met in person and then had lessons, but it was just a way to make it safer during COVID, not to have a big group.
On our website we have trail conditions, so it definitely feels like a community. When we hosted the state sprints in mid-March, people who aren't even connected to the team came out and volunteered for that.
How were snow conditions this winter?
It was great. What's nice is that we started making snow at Elver (Park), so we were able to get on snow by mid-December. Once we started getting all the natural snow, boy, our groomer was super busy all season. It was on the Sunday of our state sprints in mid-March, that was the 100th day that we'd been skiing consistently on snow, so the snow loop extended our season, but we had definitely 12 weeks of consistent, natural snow, which is really unusual.
There were parts of Elver some our kids had never skied before, and it was so well-groomed. It was a fortunate year to have such great snow, because one of our concerns was if we don't have natural snow, if we're just on the snow loop with all these people that want to be out skiing, it's going to be so crowded. And yet we had all the natural snow, we had great grooming at Elver, and we had great grooming at Odana and at McCarthy Park and Blue Mounds, so it spread everyone out. I think it was really a gift.
How has COVID-19 impacted Nordic skiing?
We really had to shut down all of our programs over the summer because everyone was trying to figure out what the situation was, but in the fall we kind of thought, let's see what happens if we do a roller ski program. The youth committee started working with the city of Madison and the public health department to start brainstorming this plan: small pods (of skiers), everyone's going to wear masks. We said we'll have 10 (people) max: two coaches to the group and maybe eight skiers.
We bought 30 pairs of roller skis because we had this huge interest — we had all these kids with no cross-country (running), or their swimming was canceled, or they didn't feel comfortable doing swimming. We saw that level in the fall, and so we bought all the roller skis and started our fall roller ski program and then again in winter our numbers went up 50%. I think over the winter we had 180 skiers in our youth programs, which is a lot. We hired a head coach, it was a team effort.
Did you see a surge in the popularity of the sport this year?
Yes, it was so amazing to see the natural snow and everyone out enjoying it. I would pull up to the Elver parking lot, and it was packed. Like on a weekend, it was crazy busy. The line for rentals would be wrapped around the building. People were just hungry for how to get equipment and to get out there skiing.
You notice that there's probably more people out there, but you never felt like it was too many once you get out on the trail.
What advice do you have for people who want to try cross-country skiing?
I think just start on flat ground. Start slow, and that's how you get fast. Do it with friends, get your buddies together and ski together. It's more fun when you have other people to do it with.
Where's your favorite place to ski?
I would have to say Elver — it's where our team practices. You go up the hill and you get on top of this ridge, and there's kind of a loop at the top, and there's a point where you can ski to where when you look back, you can see the (state) Capitol at night when it's lit up. The pod that I was coaching, we'd always go up there and stop and see if we could see the Capitol, and usually it was lit up, and it was just beautiful. There was this one night we took a picture and there was a full moon. It's very magical.
Shining stars: Meet the Madison area's Top Workplaces
Make no mistake about it: The effects of the COVID-19 pandemic have left painful scars. But this year's Top Workplaces project shows that many employees across the Madison region remain resiliently upbeat and are clinging to their workplace cultures, even from a distance.