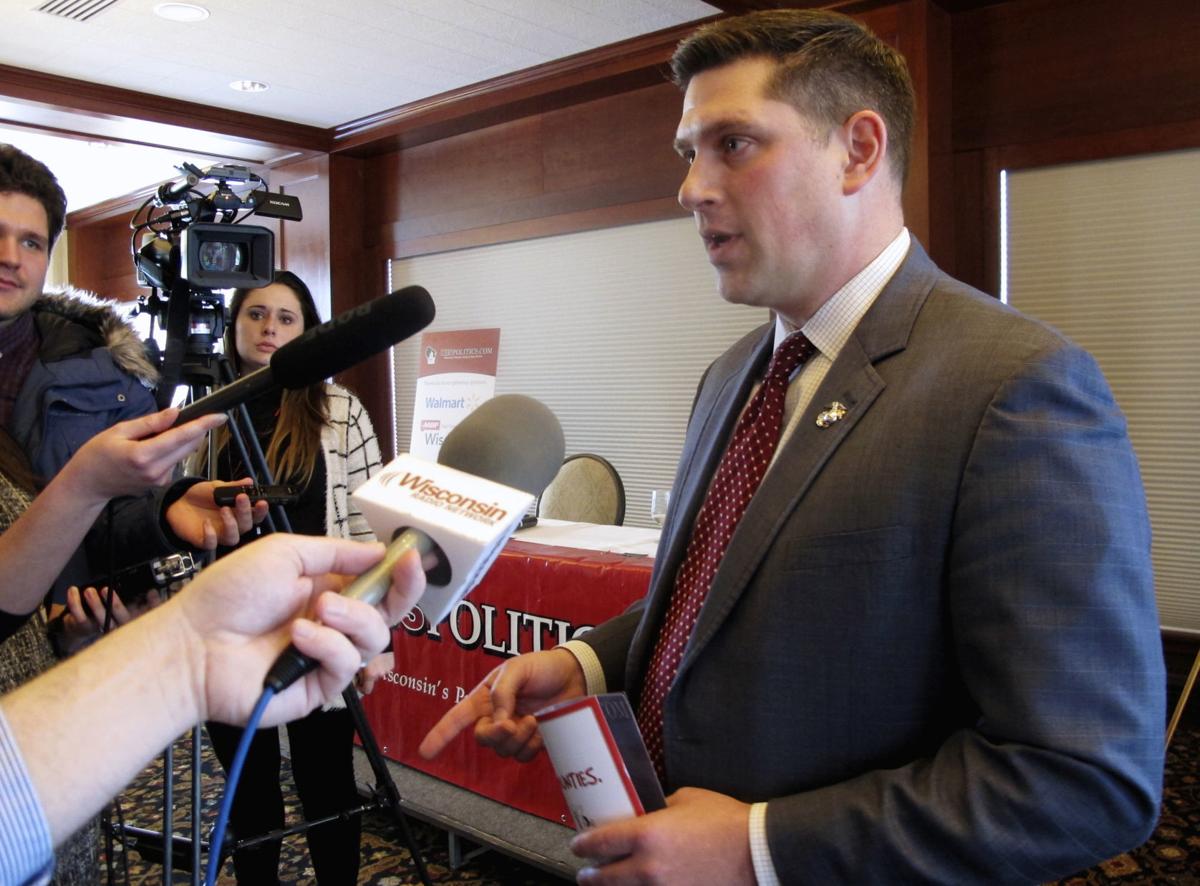 Republican U.S. Senate candidate Kev in Nicholson consulted for more than two dozen companies since 2016, half of them financial firms, according to his latest disclosure to the U.S. Senate Ethics committee.
The disclosure helps fill in a key piece of Nicholson's biography: his business career as a management consultant, currently for the Chicago firm ghSMART.
A political newcomer, Nicholson is vying with state Sen. Leah Vukmir for the GOP nod to face Democratic U.S. Sen. Tammy Baldwin in November.
Half of the 26 clients Nicholson disclosed are financial firms: private equity firms such as New York-based American Securities or Boston-based Berkshire Partners, or investment advisers such as Los Angeles-based Ares Management, LLC. The others span a range of industries, including manufacturing, technology, IT, oil and gas, and a self-storage provider.
Until now, Nicholson declined to name his consulting clients. When initially filing his required financial disclosure report in November with the Ethics committee, Nicholson did not disclose his clients, as some other U.S. Senate candidates who worked as consultants did.
Now, Nicholson has released the client list following "guidance from the committee," according to his spokesman, Brandon Moody.
Government watchdog groups said it's good Nicholson has revealed which companies paid him during the last two years. Such disclosure would be key, they say, to identify possible conflicts of interest should Nicholson take office — such as if he were to do something to benefit a past client.
Nicholson's clients include "some big-name companies that have a history of engagement with the federal government and could potentially stand to benefit by having someone like Nicholson — whom they've had a working business relationship with — in a position of power," said Alex Baumgart, a researcher at the Center for Responsive Politics. The nonpartisan center tracks money in politics and government and operates the popular opensecrets.org website.
Leaders of some of the companies Nicholson consulted spend heavily on political contributions. One example is the Chicago-based investment company Citadel, the CEO of which is GOP mega-donor Kenneth C. Griffin. Griffin was one of the top 10 donors to conservative outside campaign groups in the 2016 campaign, giving more than $11 million.
Paul Friga, a University of North Carolina professor who has written two books on McKinsey, the consulting firm that employed Nicholson before he worked at ghSMART, said Nicholson's client base shows diversity in the sectors in which he has consulted — with a focus on finance.
"He seems to have a client base in some financial sectors," Friga said.
Candidate disclosure
U.S. Senate candidates and first-time filers are required to disclose to the Senate Ethics Committee all sources of more than $5,000 compensation in the two preceding calendar years and the current year.
When Nicholson initially filed his financial disclosure, Moody said a stumbling block to disclosing clients was that ghSMART signs agreements with its clients to keep their work confidential.
Speaking Friday, Moody declined to clarify if Nicholson was required to disclose his client list or did so voluntarily.
"We have been working hand in hand with the Senate Ethics Committee throughout this process to ensure that Mr. Nicholson was able to meet his disclosure obligations while also satisfying the terms of ghSmart's agreements with their clients," Moody said.
As a management consultant, the fact that Nicholson was not eager to disclose his clients is unsurprising, Friga said.
"Consultants traditionally will keep their client lists private," Friga said.
Companies might hire a management consultant to advise them on leadership and management techniques, Friga said. In the case of private equity companies, they might hire management consultants to research a potential business acquisition and determine what changes could be made, post-acquisition, to make the business more profitable, he said.
A Bloomberg profile of ghSMART says it "offers its services in the areas of CEO succession, acquisition diligence and integration planning, leadership selection, leadership coaching and development, talent and organizational strategy, team effectiveness, board effectiveness, and executive learning."
Business experience
Nicholson previously reported to the committee that he collected $362,417 in salary and $808,180 in commissions from ghSMART since 2016.
Nicholson has made his business career, alongside his military service in the wars in Iraq and Afghanistan, central to his candidacy. Before joining ghSMART in 2015, Nicholson was an associate at McKinsey & Company, one of the world's top management consulting companies.
In a November interview, Nicholson said, "I've worked for a wide swath of companies and industries."
"You can sit down, assess a series of complicated issues, and then help people work through problems," Nicholson said. "Talk about good training for a role like the U.S. Senate — I mean, that's it."
His campaign did not respond to a request for Nicholson to personally discuss his business background.
Democratic Party of Wisconsin spokesman Brad Bainum said it's good Nicholson disclosed his client list.
But Bainum said Nicholson should go beyond the disclosure requirements to offer up more about the nature of his work for the companies.
"The lack of detail only inspires more questions about the nature of Nicholson's consulting work for a complex maze of shady hedge funds and private equity firms," Bainum said.
Vukmir's campaign didn't immediately respond to a request for comment.