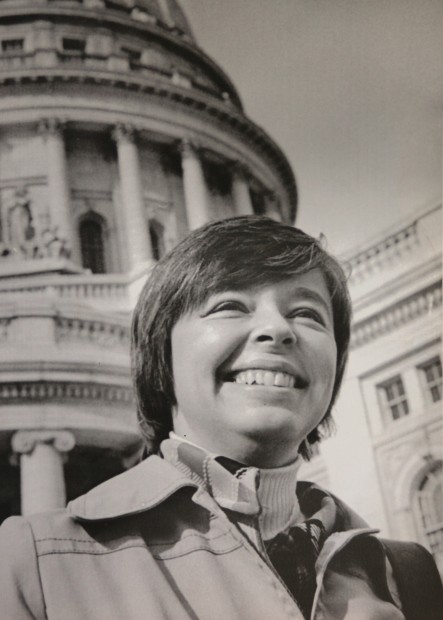 On Jan. 6, 1975, Capitol onlookers burst into applause when Kathryn "Katie" Morrison's name was called to take the oath of office. The cheers erupted again when she signed her name in the official register and again with each subsequent mention of her name. In Wisconsin's nearly 127 years of statehood, it finally had its first female state senator.
Morrison died Sunday at Agrace HospiceCare in Fitchburg after a battle with breast cancer. She was 71.
A Madison native, Morrison graduated from East High School before earning a bachelor's degree and Master's of Business Administration from UW-Madison.
In 1974, Morrison was working as an economics professor at UW-Platteville when she went to the Capitol to do some lobbying.
"I watched those guys (the legislators) and said, 'My god, I can do that,'" she said during a Wisconsin Women's Political Caucus workshop held the Saturday after her swearing-in ceremony.
She filed papers to run for Senate in the 17th District, where three-term incumbent Gordon Roseleip, R-Darlington, had won by margins of 60 percent or more in each election he ran. Few saw Roseleip as vulnerable. Despite famously flunking a butter-oleo taste test on the Senate floor, his resistance to
lifting the color ban on oleo scored major political points in the largely agricultural district.
But Morrison's focus on economics and targeting of students and seniors put her on track to victory in November. Sixteen had graced the floor of the state Assembly since 1925, but Morrison's win made her the first to reach the state's upper house.
"It was a pretty big shock. Everything about it was historic. She was the first woman elected to the Senate and the state Senate had not been controlled by Democrats for 82 years," said Sen. Tim Cullen, D-Janesville, who was part of the same freshman class.
At the time, the Capitol had no women's bathrooms near the Senate chambers, but Morrison made sure a men's restroom was converted, recalled Sen. Fred Risser, D-Madison.
With medical malpractice insurance rates skyrocketing in 1975, Morrison shepherded through the Senate a malpractice bill that placed limits on court awards and attorney fees, amid massive lobbying from doctors, lawyers, insurance companies and consumers.
Morrison saw through passage of bills that reduced the inheritance tax on widows and widowers and established no-fault divorce. She also was an advocate for expanded transportation in her district, obtaining funds to expand Highway 18-151 between Dodgeville and Mount Horeb.
On women's issues, Morrison led a successful fight against 13 amendments aimed to weaken a 1975 bill to bring gender equality to state laws.
"She wasn't there to just walk around the room. She was there to make a difference," Cullen said. "She was always supportive of women's issues, but didn't see that as her only purpose."
In 1976, Morrison was elected by her caucus to the budget-writing Joint Finance Committee, the same year she was named Woman of the Year in State Politics by the Wisconsin State Journal.
Morrison lasted only one term in the Senate. She was ousted in the 1978 general election by Fennimore-area cattle and dairy farmer Richard Kreul.
After the defeat she went on to a lengthy career in health care. She was appointed as administrator of the state Division of Health in 1983 after previously serving in the U.S. Department of Health and Human Services during Jimmy Carter's administration and working as an economics specialist for the Wisconsin Regional Geriatrics Center in Milwaukee.
In 1987, she became chief financial officer for the New York City Health and Hospitals Corp., which oversees the city's 17 public hospitals. Three years later, she took the same job at the national March of Dimes headquarters, where she worked until retiring in 2004.
Longtime friend and former University of Wisconsin System president Katharine Lyall, who hosted Morrison in Madison for the past three years after her cancer diagnosis, said she spent her retirement traveling abroad and collecting folk art.