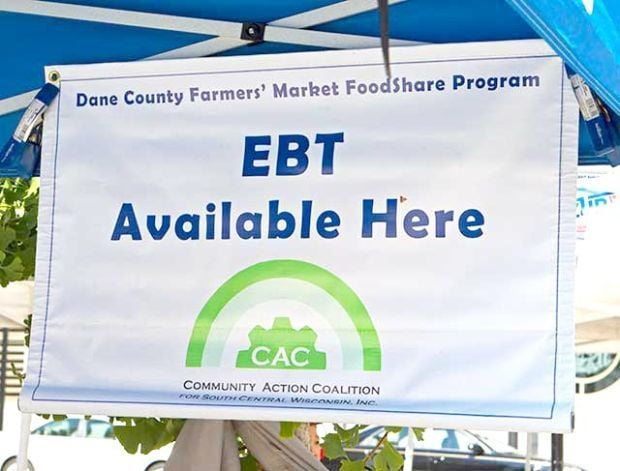 Nearly 15,000 people lost access to food stamps in the first three months of a new law that requires some recipients to seek employment, new state data show.
The Department of Health Services figures were released to the State Journal after a request under the state's open records law. The agency subsequently published the data on its website.
The 2013-15 state budget created a rule for some recipients of the state's food stamp program known as FoodShare: If you're an able-bodied adult without children living at home, you must work at least 80 hours a month or look for work to stay in the program.
That rule went into effect in April, and between July and September, about 25 percent of the 60,000 recipients eligible to work were dropped from the program when the penalty took effect, according to DHS data.
Meanwhile, about 4,500 recipients found work through a new job training program for FoodShare recipients.
Participants can get three months of FoodShare benefits before being kicked out of the program if they decline to look for work.
The data provide the first look at the effect of the work requirement, which lawmakers approved in 2013.
"They will bankrupt our food banks," said Sherrie Tussler, executive director of the Milwaukee-based Hunger Task Force, a supplier of food pantries, soup kitchens and homeless shelters with emergency food.
In Wisconsin, about 770,000 people receive FoodShare benefits as of September, according to DHS.
The law automatically enrolls eligible recipients in a program designed to help them find employment called the FoodShare Employment and Training program.
Since the new law took effect, just 7 percent of recipients in Milwaukee County — where about half of the able-bodied childless adult recipients live — that were referred to the program were placed in jobs, state data show.
When lawmakers considered the proposal, the nonpartisan Legislative Fiscal Bureau estimated that 63,000 adults without dependents were expected to have to work or participate in training at least 20 hours a week to get full FoodShare benefits, and that about half of such recipients likely would drop out.
Tussler sent a letter to DHS secretary Kitty Rhoades, Gov. Scott Walker and lawmakers in late October asking that the time limit to find work be waived because Milwaukee County has an unemployment rate that is high enough to qualify for a waiver under federal rules, and because of how the number of recipients being dropped from the program compares to the number who found employment through the state program.
In her letter, Tussler said the number of people losing access to food stamps could cause massive food shortages in food pantries.
"The Department of Health Services must understand that a substantial increase in the need for emergency food caused by a loss of food buying power (FoodShare) will result in wide scale shortages in Milwaukee," she wrote.
DHS responded on Nov. 17 saying based on anecdotal information from U.S. Department of Agriculture, which oversees the federal food stamp program, roughly 60 percent of eligible recipients lost access to food stamps under rules similar to Wisconsin's, and 10 to 30 percent found jobs.
Lawmaker: FSET working
Rep. Mark Born, R-Beaver Dam, chairman of the Assembly's committee on public benefit reform, said in a statement that the work program and requirement is working as intended.
"The FSET program was created to help guide able-bodied adults back into the workforce, or put them on the path to gainful employment while remaining on FoodShare," he said.
"So far we have seen thousands of individuals follow the FSET program and secure employment as a result," Born said. "It is important we continue to enact reforms and transition people from reliance on government to independence."
The job training program costs about $35 million in the first budget, with programs set up in regions across the state to track compliance with the requirement. The state expected to apply for an estimated $20 million in federal funding to offset the cost, according to a memo from the nonpartisan Legislative Fiscal Bureau.
In response to the data, Senate Minority Leader Jennifer Shilling, D-La Crosse, said Republicans should "expand economic opportunities" instead of "driving families further into poverty."
When lawmakers approved the FoodShare work requirement, Walker made the argument that it would help those on the public dole become self-sufficient.
According to Walker's office, more than $50 million over two budgets were put toward the training program.
Laurel Patrick, a spokeswoman for Walker, said the "entitlement reforms" in the 2013-15 budget "help childless adults transition into the workforce."
Patrick said the rules are "part of our continued focus on moving people from government dependence to true independence and ensuring they are workforce ready."
She said no one will be kicked off the FoodShare program if "they are actively participating" in the employment training program or meeting the work requirement.
Changes to FoodShare
The requirement for childless, able-bodied recipients is one of several changes made to the program since Walker took office in 2011. The federal food stamp program requires able-bodied recipients to work, but many states — including Wisconsin — waived that requirement for years.
As of 2015, most states have eased work requirements for the Supplemental Nutrition Assistance Program (SNAP), also known as food stamps. Thirty states have waived the work requirement for SNAP and 14 waive the requirement in areas of high unemployment, according to the USDA.
In November, the Assembly passed a slate of bills that seek to crack down on food stamp and unemployment fraud. The proposals aim to prevent FoodShare recipients from selling or sharing the program's debit cards used to pay for food, and ban recipients of unemployment benefits who are found to have lied twice on their applications from getting benefits for several years.
And the 2015-17 state budget includes a requirement for FoodShare recipients to undergo drug screening. If they fail the screen, they must go through drug testing and treatment. The measure is being challenged in federal court.
Editor's Note: This story has been clarified to reflect the number of Wisconsin residents on Food Share in 2015 through September.