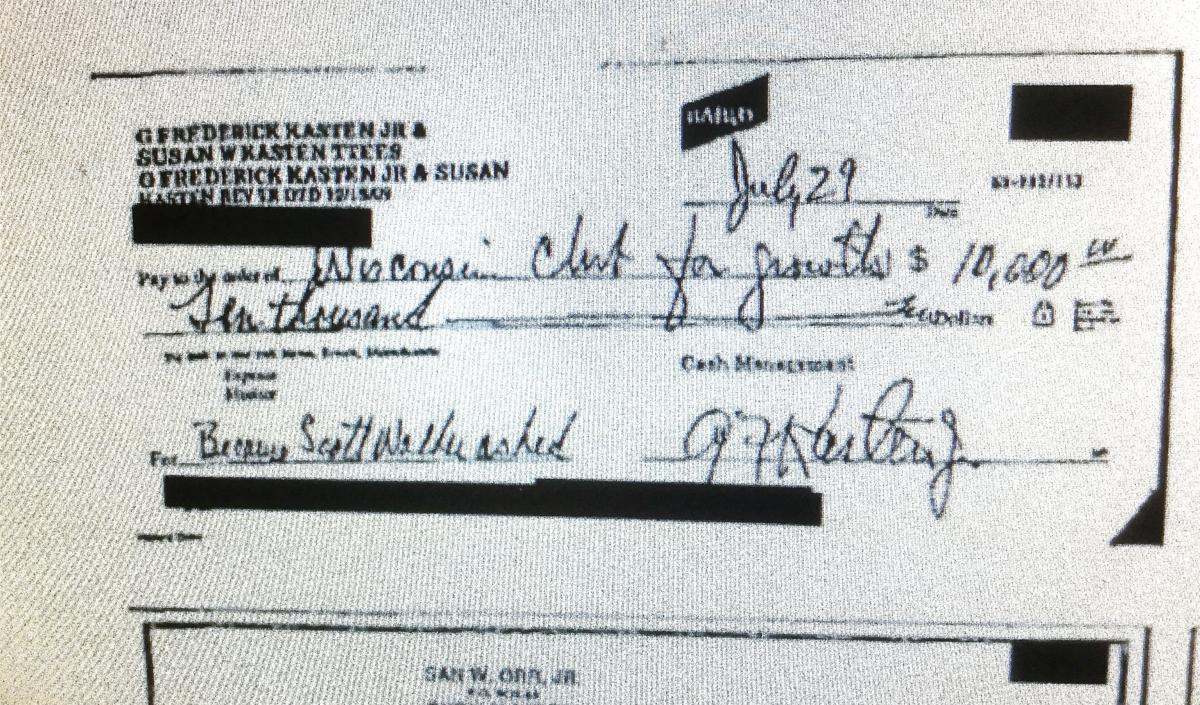 The state Department of Justice is recommending disciplinary action, but no criminal charges, after completing a probe into leaked records from a now-shuttered John Doe investigation into Gov. Scott Walker's 2012 recall campaign.
In an 88-page report, Republican Attorney General Brad Schimel lays bare the actions of staff at the former Government Accountability Board as they dug into what is described as a previously unknown, secret "John Doe III" investigation into several GOP officials and staffers who were suspected of campaigning out of taxpayer-funded offices.
DOJ's review of the evidence collected "did not indicate any unethical or illegal behavior by any state official, employee, or other Wisconsin Republican apparently targeted in John Doe III."
Rather, the report criticizes the "breathtaking" sweep of the three John Doe investigations, which included 218 warrants and subpoenas. DOJ found the John Doe investigators obtained and categorized several private emails unrelated to campaigns, including 150 personal emails between Sen. Leah Vukmir and her daughter that included health information, and placed them in a folder labeled "Opposition Research" — a term that refers to political dirt collected on opponents.
"DOJ is deeply concerned by what appears to have been the weaponizing of GAB by partisans in furtherance of political goals," Schimel wrote.
Walker and Republican lawmakers shut down the nonpartisan elections and ethics agency in late 2015, replacing it with separate bipartisan ethics and elections commissions.
Schimel's inquiry stems from the leak of documents to the U.S. affiliate of The Guardian newspaper, which published a report shortly before the U.S. Supreme Court decided not to review the Wisconsin Supreme Court's decision to shut down the second John Doe investigation.
Schimel's investigation didn't identify who leaked the documents, but concluded the leak was a crime, it originated from the former GAB offices, rather than the courts or a district attorney's office, the motive was to influence the U.S. Supreme Court's decision, and the partisan atmosphere at the GAB contributed to the leak. However, because the records were kept in an unsecured location in the basement of the GAB offices, it's not possible to prove beyond a reasonable doubt who leaked them.
Schimel is recommending former GAB lawyer Shane Falk, whose hard drive that likely contained the leaked documents is still missing, be referred to the Wisconsin Court System's Office of Lawyer Regulation for discipline, and John Doe Special Prosecutor Francis Schmitz, six former GAB employees, including former GAB chief Kevin Kennedy, and three Milwaukee County district attorney employees be held in contempt of court for violating orders of the John Doe judge and Wisconsin Supreme Court.
'Pervasive mishandling'
"As this report describes in detail, the systemic and pervasive mishandling of John Doe evidence likely resulted in circumstances allowing the Guardian leak in the first place, and now prevents prosecutors from proving criminal liability beyond a reasonable doubt," Schimel wrote.
The report doesn't specify why Schmitz should be held in contempt, but references his knowledge of investigators continuing to review subpoenaed documents after a judge quashed the subpoenas in January 2014.
The report also notes several John Doe documents were located by DOJ investigators after Schmitz was supposed to have collected all records and turned them over to the Supreme Court.
Schmitz issued a statement saying he "was completely surprised to hear about" the contempt recommendation.
"I cooperated with officials from the DOJ at the outset of the investigation and had no further contact with them," Schmitz said.
Falk and others who Schimel recommended be held in contempt — former GAB employees Kennedy, Molly Nagappala, Jonathan Becker and Nathan Judnic; Milwaukee district attorney employees James Krueger and Robert Stelter; and retired Milwaukee Assistant District Attorney David Robles — either declined or did not respond to a request for comment.
Stelter and Robles were involved in the first John Doe investigation into Walker's Milwaukee County office, which netted six convictions, including two for campaigning on taxpayer time. Evidence from that investigation led to the second John Doe focused on Walker raising millions of dollars for the Wisconsin Club for Growth, which investigation records showed acted as a Republican campaign hub during the 2011 and 2012 recall elections.
The leaked documents provided the public with the most complete record to date of the activity of the Wisconsin Club for Growth, a supposedly independent, tax-exempt group.
The documents revealed donations to the Club for Growth including six-figure sums from a lead company owner who later stood to benefit from changes slipped into the 2013-15 state budget.
The more than 1,300 pages of documents, which had been held under seal, were posted online in September 2016 by Guardian US.
In response to the Guardian report, Democrats called for an investigation into Walker's fundraising activities, while Republicans called for an investigation into the leak.
On Wednesday, John Doe Judge William Hue unsealed the final report of the yearlong DOJ investigation.
Private emails, IP info
The Schimel probe found John Doe investigators obtained the personal email accounts and IP login information for 35 GOP aides and political operatives, including Vukmir, R-Brookfield, plus hundreds of thousands of private emails they exchanged with Walker, Assembly Speaker Robin Vos, U.S. Sen. Ron Johnson, former U.S. Senate candidate Terrence Wall, former RNC chairman and chief of staff to President Donald Trump Reince Priebus, U.S. Congressman Sean Duffy, state Sens. Van Wanggaard, R-Racine, and Howard Marklein, R-Spring Green, State Treasurer Matt Adamczyk, Walker campaign chairman Joe Fadness and certain legislative staff members.
No charges were ever filed. A John Doe judge quashed the subpoenas in January 2014 after targets whose homes were searched in October 2013 objected that the warrants were overly broad. The Wisconsin Supreme Court shut down the investigation in July 2015 saying the legal theory underlying the investigation — that campaigns can't coordinate with independent issue advocacy groups — was invalid.
Schimel concluded the GAB staff didn't act in "a detached and professional manner" and that it was reasonable to infer "they were on a mission to bring down the Walker campaign and the Governor himself."
He pointed to a November 2013 email in which Falk encouraged Schmitz, who was having doubts about the GAB's legal theory, to "stay strong."
"Remember, in brief, this was a bastardization of politics and our state is being run by corporations and billionaires," Falk wrote. "This isn't democracy to say the least, but due to how they do this dark money, the populace never gets to know. The cynic in me says the sheeple would still follow the propaganda even if they knew, but at least it would all be out there so that the influences on our politicians is clearly known."
Vukmir now a U.S. Senate candidate, issued a statement Wednesday saying the findings in the report are "absolutely appalling" and that they underscore the importance of dismantling the GAB.
"This criminal behavior is inexcusable, and the individuals involved in this belong in prison," Vukmir said.
Get Government & Politics updates in your inbox!
Stay up-to-date on the latest in local and national government and political topics with our newsletter.