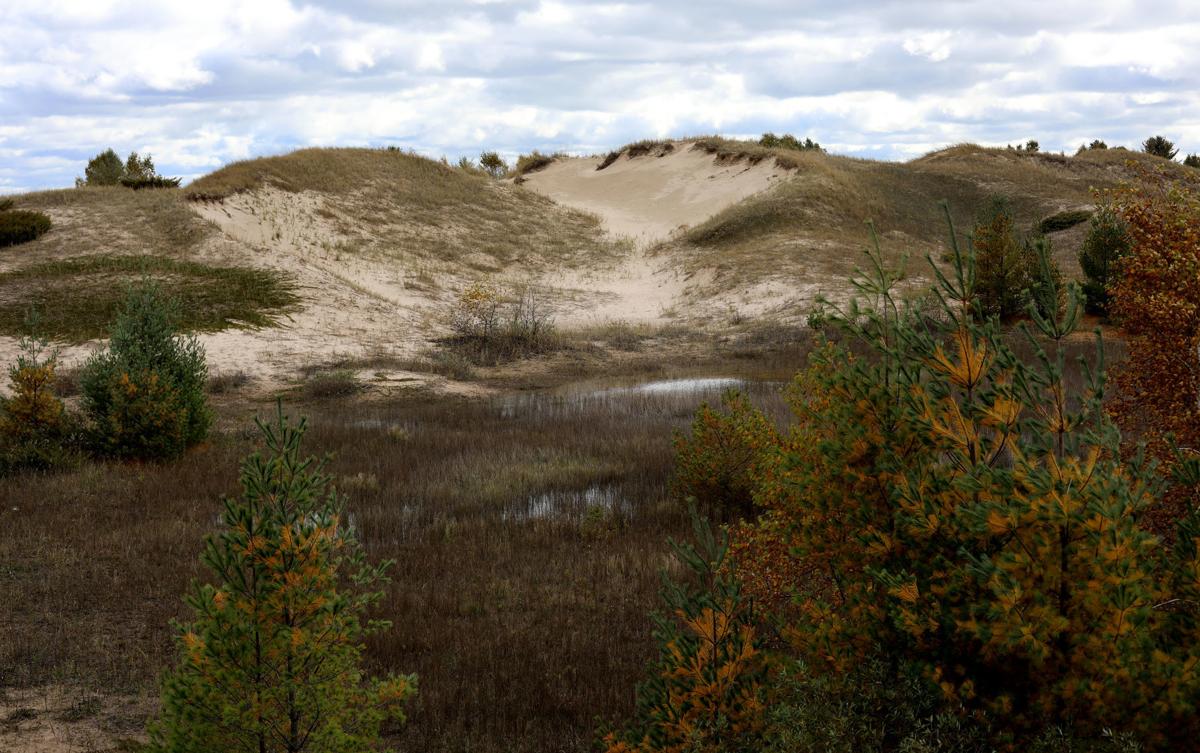 A judge has blocked Kohler Co.'s plans for a new golf course because the Wisconsin Department of Natural Resources approved the development in sensitive sand dunes and wetlands without enough information to gauge environmental harm.
The permit is one of two the DNR has issued since 2017 that were reversed based in part on testimony about department managers ordering approval against the advice of staff members who said the projects wouldn't satisfy state law protecting wetlands.
Kohler wants to build an 18-hole "championship" course on 247 acres of wooded Lake Michigan beachfront in Sheboygan County just north of Kohler-Andrae State Park. The woods and about 44 acres of wetland pockets provide unique habitat for rare wildlife species and a significant stop-over for migratory birds.
"The department should be making decisions based on completed plans, not trusting that management plans that will be prepared will adequately protect the groundwater and wetlands," Kaiser wrote in his 26-page decision. "Once the golf course is constructed the adverse impact will be permanent and irreversible."
Kohler has been planning the golf course since 2015. It applied for permission to fill less than 4 acres of wetlands on March 6, 2017. For months, the DNR asked Kohler for more details about its plans for maintaining woodlands, grading ridges and swales, controlling erosion and stormwater, and protecting water from fertilizer and pesticide.
Those are all critical components of determining how much damage would be done to additional wetlands, groundwater and wildlife, DNR program personnel testified during a five-day hearing before Kaiser.
But staff members and front-line managers said they were directed to approve the permit before Kohler gave them complete and accurate information. "We've been directed to issue a notice of complete application by Oct. 27," supervisor Pam Biersach told staff members in an Oct. 18, 2017, email.
The DNR certified the application as complete in early November, but it still hadn't been able to review key information about groundwater.
Kohler representatives testified that the application review was unusually long and thorough while conceding that some information it submitted was inaccurate and missing significant data, Kaiser said in his ruling.
"The process has been long, but it was still incomplete at the time the Department closed the application process," Kaiser said in his ruling.
"We are grateful for this decision, which thoroughly addressed the adverse, irreversible impacts of the proposed golf course," said Mary Faydash, president of Friends of the Black River Forest Inc., the group that challenged the permit.
A Kohler company spokesman maintained that the permit was lawful and expressed disappointment in the ruling.
"The DNR staff put a lot of scrutiny into our wetland application, including nearly three years of analysis, many public meetings, extensive public commentary, and a detailed and comprehensive environmental impact review of our project," said Dirk Willis, who directs the company's golf group.
Would be third
The course would be the company's third in the Sheboygan area. Blackwolf Run and Whistling Straits have attracted major tournaments. Kohler Co. chairman Herbert V. Kohler Jr. was a political supporter of Republican Gov. Scott Walker and is one of the richest residents of the state.
The DNR said it was reviewing and would abide by the administrative law judge's decision.
"We received the ALJ decision on Friday afternoon and our technical and legal staff are reviewing the details," said department spokesman Andrew Savagian. "We will abide by the ALJ decision. Other parties will likely evaluate their legal options."
Under state law, environmental permitting decisions may be challenged before judges in the state division of hearings and appeals. Rulings can be appealed to a county circuit court.
Water and ecology
Kohler has estimated it would remove about half of the trees on the land, but that it had worked hard to minimize wetland disturbances. DNR staff told the judge that without complete information it was difficult to be precise, but it was clear that the project would alter the flow of water and the ecology of the land in ways that would adversely impact far more than the 3.69 acres of wetlands Kohler was permitted to fill.
Kohler also wanted an easement for about five acres of parkland and planned to use the park entrance drive as the golf course entrance.
Meteor case
Georgia-based Meteor wanted to build on 16 acres of wetland in Monroe County, and had promised to replace a portion of the site that held a rare white pine-red maple swamp. But the DNR retirees testified that the company's plan wasn't plausible.
Rare plants and insects in a white pine-red maple swamp are nurtured by very specific soil structures created over thousands of years in places where there's just enough water, and little margin for error, a former DNR scientist testified.