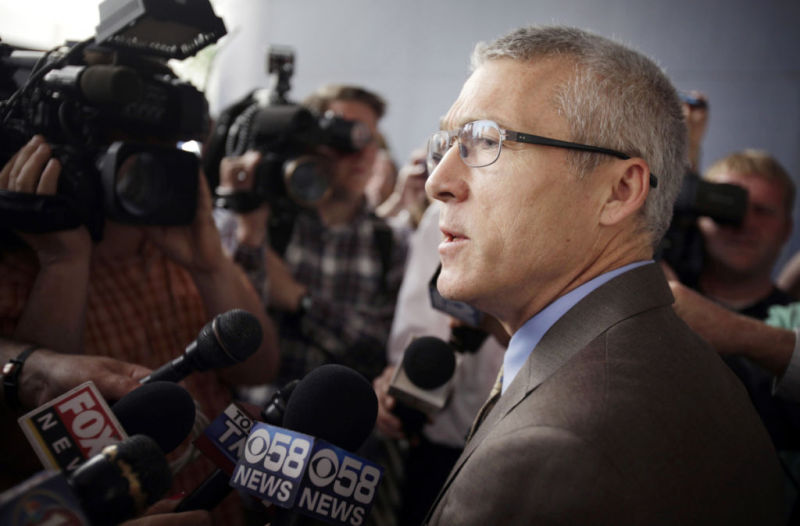 A federal judge on Friday put a halt, at least temporarily, to same-sex weddings in Wisconsin after she ordered state officials to stop enforcing the 2006 state constitutional amendment that outlawed gay marriage.
U.S. District Judge Barbara Crabb, who a week ago declared the state's marriage amendment to be unconstitutional, issued a permanent injunction Friday blocking enforcement of the law. But she also ordered that her rulings last week and Friday be stayed while the state appeals.
"After seeing the expressions of joy on the faces of so many newly wedded couples featured in media reports, I find it difficult to impose a stay on the event that is responsible for eliciting that emotion, even if the stay is only temporary," Crabb wrote. "Same-sex couples have waited many years to receive equal treatment under the law, so it is understandable that they do not want to wait any longer. However, a federal district court is required to follow the guidance provided by the Supreme Court."
Crabb also considered whether to stay not only Friday's injunction but her decision issued last week that found the law to be unconstitutional. She decided she had to stay her entire decision.
"Although I remain dubious that it is necessary to 'stay' declaratory relief" — the finding that the amendment was unconstitutional — "I understand that there has been much confusion among county clerks regarding the legal effect of the declaration," she wrote. "To avoid further confusion among the clerks, I will issue a stay of all relief."
Dane County Clerk Scott McDonell said based on the decision he will stop issuing same-sex marriage licenses immediately. He said the more than 210 licenses issued since last Friday should still be recognized as legal documents.
"I wish she hadn't put a stay on it," McDonell said. "But she knows the federal system better than I do."
Attorney General J.B. Van Hollen said Friday that he was pleased that Crabb stayed the entirety of her ruling.
"By staying this ruling, she has confirmed that Wisconsin's law regarding same-sex marriage remains in full force and effect," Van Hollen wrote. "The state and all of its agencies and subdivisions must follow and enforce Wisconsin's marriage law. County clerks do not have authority under Wisconsin law to issue same-sex marriage licenses. Judge Crabb's stay makes this abundantly clear."
On June 6, Crabb ruled that the state Marriage Amendment unconstitutionally barred an entire class of citizens from the right to marry.
But Crabb did not immediately issue an injunction barring enforcement of the amendment, creating a dispute between state lawyers and several county clerks about whether the clerks could issue marriage licenses to same-sex couples.
By Friday, however, 60 of Wisconsin's 72 counties were accepting marriage licenses from same-sex couples, and at least 670 licenses had been applied for around the state.
The state will appeal Crabb's decision, Van Hollen said.
States waiting for Supreme Court
Wisconsin's case will join more than a dozen likely headed for the U.S. Supreme Court, which last year overturned a portion of the federal Defense of Marriage Act. Most if not all of the court decisions on state laws banning same-sex marriage have cited that decision and a dissent by conservative Justice Antonin Scalia, which predicted that the decision would be the basis for overturning state bans around the country.
Crabb's order on Friday specifically bars county clerks from denying a marriage license to a same-sex couple, bars state registrar Oskar Anderson from refusing same-sex marriage licenses and requires that he furnish and distribute forms that permit same-sex couples to marry.
It also orders Gov. Scott Walker to direct state department heads, agency heads and others to treat same-sex couples the same as different-sex couples in processing marriage licenses or determining rights, protections, obligations or benefits of marriage.
Crabb declined to include in her injunction Friday proposed language that would have required both spouses in same-sex marriages to be listed as parents on birth certificates. She said the plaintiffs had not raised the issue earlier in the case.
Crabb refused to include Van Hollen in the injunction, which the ACLU had sought because of a statement Van Hollen had made regarding the possible prosecution of county clerks who issued marriage licenses to same-sex couples.
An issue that remains is the status of licenses issued to same-sex couples during the past week.
Tamara Packard, a Madison lawyer who has represented clients in same-sex marriage cases, said the people who have been married over the last week are in the same boat as the people who went to other states and got married.
"The state of Wisconsin isn't going to recognize those marriages any more than the same-sex couples who got married in Iowa until the appeal is over and this decision is upheld," Packard said.
Rick Esenberg, president of the conservative Wisconsin Institute for Law and Liberty, said the marriage licenses that have already been granted are in limbo until the U.S. Supreme Court rules. If Crabb's ruling is affirmed, no one will be able to challenge their validity, he said. If she is overturned, then those marriage licenses would have never been valid in the first place.
"I suppose somebody could take the position that they're invalid," Esenberg said. "But it seems to me that whether they're invalid or not is going to turn on what the higher courts do."
Packard said she expects the U.S. Supreme Court to rule on the issue by June 2015, though there are several other state cases that are close to receiving judgments at the appellate level that will likely form the basis for that opinion.
"I don't think the Wisconsin case will be the one that goes to the U.S. Supreme Court because it's so far back in the list," she said.
Once the Supreme Court rules on another state's case it would be relatively easy for the court to dispose of the other outstanding state cases, she said.
State Journal reporter Matthew DeFour contributed to this report.
Get Government & Politics updates in your inbox!
Stay up-to-date on the latest in local and national government and political topics with our newsletter.