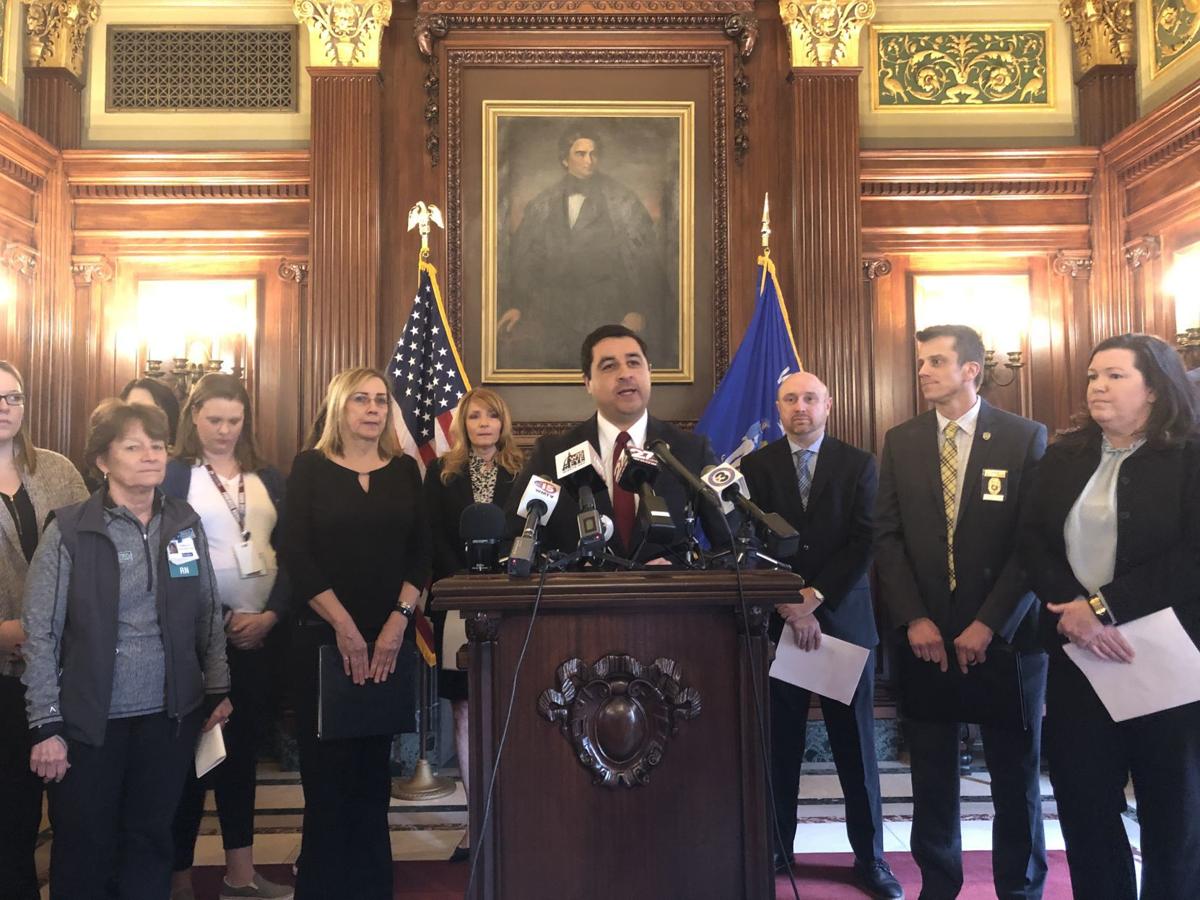 Democrats made a last-minute push on Wednesday for a bill that would seek to prevent backlogs of sexual-assault kits as sexual-assault victims and prosecutors blasted Republican lawmakers for putting up roadblocks to the bill's passage.
Democratic Attorney General Josh Kaul and a coalition of sexual-assault victim advocates called on Assembly Republicans to take up and pass a bill introduced more than eight months ago that would create the first statutory guidelines for how to process sexual-assault kits, which could help preserve physical evidence to aid in prosecution. The Senate passed the bill, but the effort has stalled in the Assembly.
Assembly Republicans have declined to advance the bill supported by criminal justice professionals and instead have moved in a different direction, opting to introduce legislation that includes many of the same measures Kaul and Democrats want, but with added controversial provisions related to private-school vouchers and immigration that Democrats reject, putting the entire effort in peril.
A spokeswoman for Democratic Gov. Tony Evers said Republicans "are now putting on a pretty gross and disappointing political display."
Advocates accused Republicans of playing politics with people's lives.
"This is how you kill a bill," said Ilse Knecht, director of policy and advocacy for the New York-based Joyful Heart Foundation, a sexual-assault victim advocacy group. "We've been involved in reform laws across the country, and I will tell you I have never experienced party politics being injected into this issue in this way."
Steffen's revision
Last Thursday, Rep. David Steffen, R-Green Bay, who introduced bipartisan sexual-assault kit legislation alongside Democratic Attorney General Josh Kaul last year, came out with the new bill to give his fellow Republicans another option to consider as the end of the legislative session nears. During a hearing on the bill Wednesday, Steffen explained he introduced the new bill to ensure more GOP support. He said the change was meant to secure at least 50 votes within the Republican caucus before moving a bill to the floor.
The bill's introduction came after Rep. Joe Sanfelippo, chairman of the committee tasked with advancing the bipartisan legislation, expressed opposition to Steffen's first bill and wouldn't commit to a public hearing. That bill, which has widespread bipartisan support, would create statutory requirements for who should collect and store sexual-assault kits, and when.
Sanfelippo, R-New Berlin, provided a number of objections to the bill, chiefly that it adds more regulation without doing enough to prevent future backlogs. Kaul said such criticisms were unfounded and that the bill makes great strides in mandating law-enforcement agencies comply with new requirements.
Sanfelippo said he supports the new bill, which also would create timelines for collecting and storing sexual-assault kits but creates more compressed requirements in some areas.
Kaul said he had several issues with the bill.
"This bill is a mess and the Legislature should vote it down," Kaul said.
Republicans said the private-school voucher provision aims to allow children who are sexually assaulted to leave the school where they may have been victimized. Steffen said a provision requiring authorities to report immigrants in the country illegally was meant to protect illegal immigrant women by creating a new deterrent for sexual predators. Kaul also took issue with the bill for mandating a sexual-assault kit tracking program without providing funding for it.
'Do your job'
Veronica Figueroa, executive director of Unidos, a group combating domestic violence and sexual assault, said the immigration and voucher provisions don't belong in the bill. She said the immigration measures do little to prevent sexual assault because perpetrators who are deported can find their way back to the United States.
"We put you in that seat," Figueroa told committee lawmakers. "Do your job and support your communities and stop playing with the lives of survivors."
Jacqueline Jaske, an advocate and survivor of sexual assault, criticized Republicans for employing what she called stall tactics to prevent a bill from moving forward.
"All of these messages tell victims that they don't matter," Jaske said. "This isn't a political issue for me. I considered myself a Republican and I cannot support this solely Republican bill or the politics replacing victims' rights for justice with a win for their team."