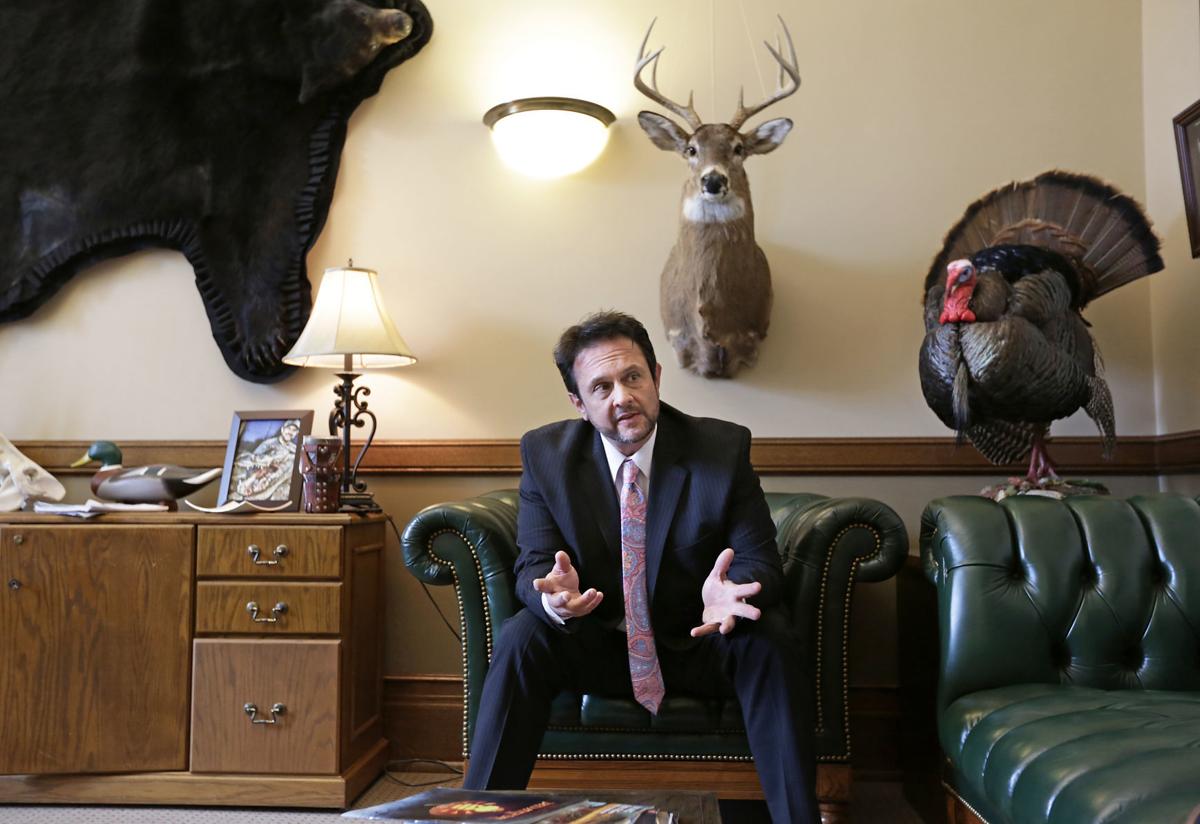 Veteran lawmaker Joel Kleefisch said Monday he won't seek an eighth term in the state Assembly.
Kleefisch, 46, is the most prominent lawmaker in a string of Republicans who have opted not to seek re-election amid mounting enthusiasm among Democrats seeking to recover losses they have incurred in the Legislature over the last eight years.
But Kleefisch said he's not stepping away from the Legislature — a seat he's held for 14 years — because of any threat of losing his seat or a tough re-election bid.
"My children have never known a parent outside of elected office," Kleefisch, R-Concord, told reporters. "It's time that they get at least one parent without a target on their back."
Kleefisch, who is married to Lt. Gov. Rebecca Kleefisch, said he probably won't seek another elected office and is looking forward to working in the private sector and spending time with his daughters, who are 15 and 12.
"My first priority is to give my children a father outside of elected office," he said. "As far as my future career, I see myself working in the industries that make Wisconsin great."
Kleefisch would not directly comment on what his specific future plans are, but did indicate his wife may have aspirations beyond her current position.
"Rebecca Kleefisch is an unbelievably remarkable woman and it would not surprise me if her talent and expertise doesn't one day tempt her into a run for the governor's office or beyond," Kleefisch said.
Kleefisch's announcement comes the day after candidates running in November's general election could begin seeking signatures on nomination papers and about 10 days after Gov. Scott Walker set off alarm bells within the state party by warning of formidable Democratic enthusiasm heading into the fall elections.
The warning came after Supreme Court Justice-elect Rebecca Dallet, who was backed by liberals, beat her conservative-backed opponent by double digits, and after Democrats won a state Senate district in January that they had not held since 2001.
Barry Burden, a UW-Madison political science professor, said Kleefisch's district — the 38th, which covers far western Milwaukee suburbs — is a reliably conservative area in a conventional election year and likely will be in November.
But he also noted that though President Donald Trump won in that district by a healthy margin, 56 percent to 37 percent, Sen. Patty Schachtner, D-Somerset, also recently won in a district that voted for Trump by a similar margin.
"The general election in November might not be as favorable to Democrats as recent special and off-year elections have been, but Schachtner's victory and Dallet's victory in the Supreme Court election indicate that Republicans ought not take the 38th District for granted. Governor Walker has warned as much," Burden said.
But Kleefisch said those results didn't factor in his decision. And Republican strategist Brian Fraley tweeted Monday the seat is a "solid GOP seat" and will likely draw a competitive primary.
"I survived the last blue wave in spades. That is not a concern," Kleefisch said, referring to winning re-election in 2008 when former President Barack Obama won his first term and Democrats increased majorities in both houses of Congress.
Fraley said there's no indication Kleefisch's announcement "is part of a trend" or signals concern about November.
"If we were to see three or four more veteran Republicans announce their retirements in the next week or so that would be something different, but I take this for what it is. A personal decision," Fraley said.
Kleefisch said he leaves the Legislature without anything "left on the table," and said his proudest accomplishments have been legislation that creates a GPS monitoring system to track convicted pedophiles and legislation that addresses abuse of opioids and human trafficking.
In recent years, Kleefisch also put a priority on drafting legislation with Democrats — including the first bill the state Legislature passed to address the alleged abuses at the Lincoln Hills School for Boys and Copper Lake School for Girls in Irma. The legislation required youth prison staff to be mandated reporters of child abuse.
His legislation also drew a fair amount of controversy — including in 2013 when he proposed to limit high-income parents' child support payments. The bill sought to ban judges from using income above $150,000 to calculate child-support payments — an ultimately unsuccessful bill that was co-written by a wealthy, divorced campaign donor.
The bill was at least the second time Kleefisch introduced legislation aimed at helping multimillionaire businessman and GOP donor Michael Eisenga reduce what he pays in child support: a minimum $15,000 a month for his three children.
As for his biggest regret since first being elected, Kleefisch said it was allowing alcohol to be "as important as it was" before he became sober seven years ago.