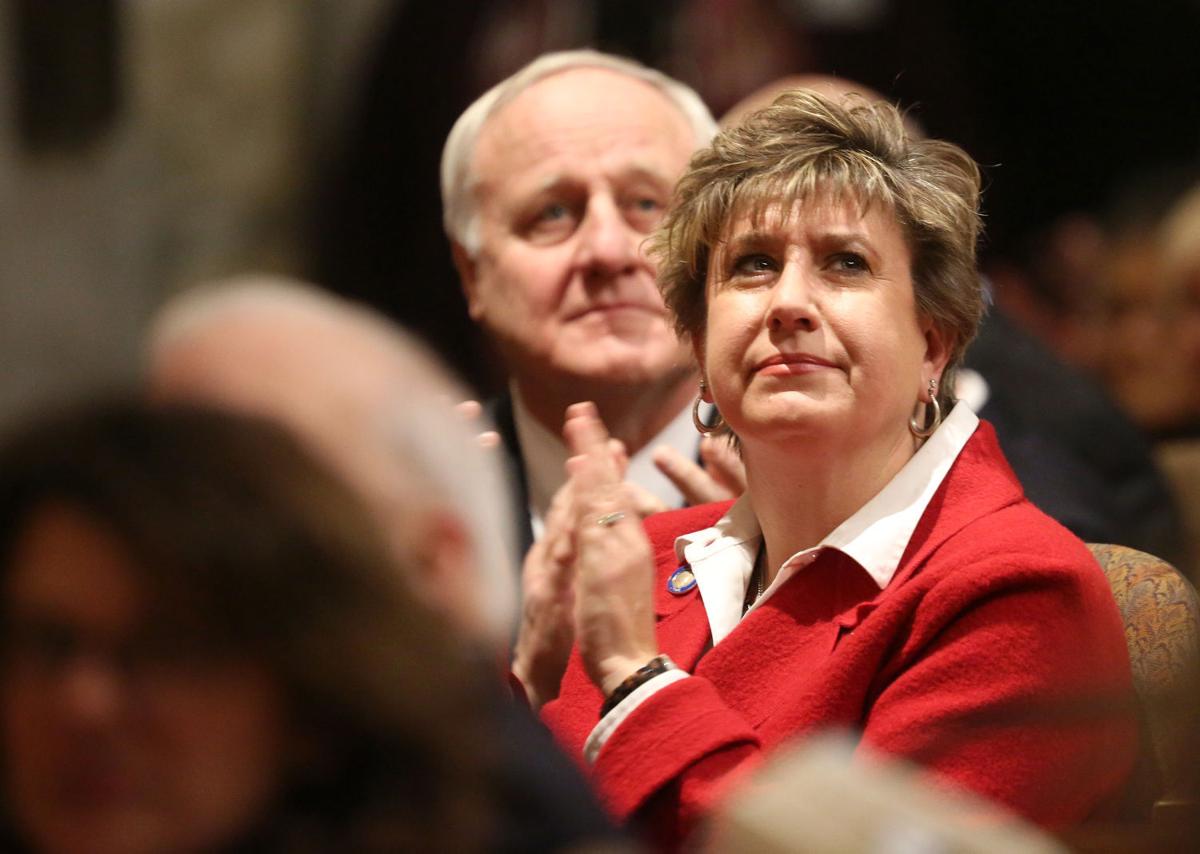 Sen. Jennifer Shilling of La Crosse was again elected leader of the Democratic caucus in the state Senate on Tuesday, the same day her most-recent challenger announced he would seek a recount in the race that earned Shilling a second term.
Shilling ran unopposed for the position of Senate Minority Leader, a spot she's held since 2015. 
She will lead a smaller caucus after the defeat of Sen. Julie Lassa, D-Stevens Point, in the general election. Meanwhile, the Nov. 8 election provided historic Republican majorities for Senate Majority Leader Scott Fitzgerald, R-Juneau, and Assembly Speaker Robin Vos, R-Rochester.
The Republican victories came at the same time voters in Wisconsin elected a Republican president for the first time since 1984 and re-elected Republican U.S. Sen. Ron Johnson of Oshkosh over Russ Feingold, a Middleton Democrat who held the seat for years before Johnson unseated him in 2010.
Voters' choices in the presidential and Senate races -- for which polling indicated Democrats would prevail -- indicate a need for Democrats to reconnect with the electorate, Shilling acknowledged on Tuesday.
Shilling said while "Republican gerrymandering and national factors" limit Democrats, the party needs to do a better job of connecting with voters. 
Also elected on Tuesday was Sen. Janet Bewley, D-Ashland, as assistant minority leader and Sen. Mark Miller, D-Monona, to the position of caucus chairman. 
"It is clear we need to make sure we are connecting with rural parts of the state," Shilling said to reporters after the election. She said her re-election to the position of minority leader and Bewley's election as her assistant "reflects that recognition" because the two are from areas. 
Shilling and Bewley said the Democrats intend to be more visible to voters and communicate about the kind of legislation their caucus puts forward. Shilling said part of that job is to remind voters which party is in charge. 
"If voters continue to feel frustrated and continue to feel the majority or government are out of touch with them -- the Republicans control everything," she said.
Bewley expressed frustration at the dynamic in the Legislature, which rarely provides for opportunities to "cross the aisle." 
"One of the challenges of a Republican adminstration in a state that is so split is the Republicans don't have a mandate," said Bewley. "My Democratic colleagues want to be able to produce for the people of Wisconsin and in order to do so, we need to be able to cross the aisle ... And yet we're gridlocked on so many of the important issues."
Shilling won her race against Dan Kapanke by just 56 votes out of more than 89,150 cast in the 32nd District in a race that pitted the Senate minority leader against the Republican she unseated in a 2011 recall.
County clerks estimate a recount could take five to 10 days.
Crawford, La Crosse, Monroe and Vernon counties would all have to hold recounts, although about 70 percent of the votes were cast in La Crosse County.