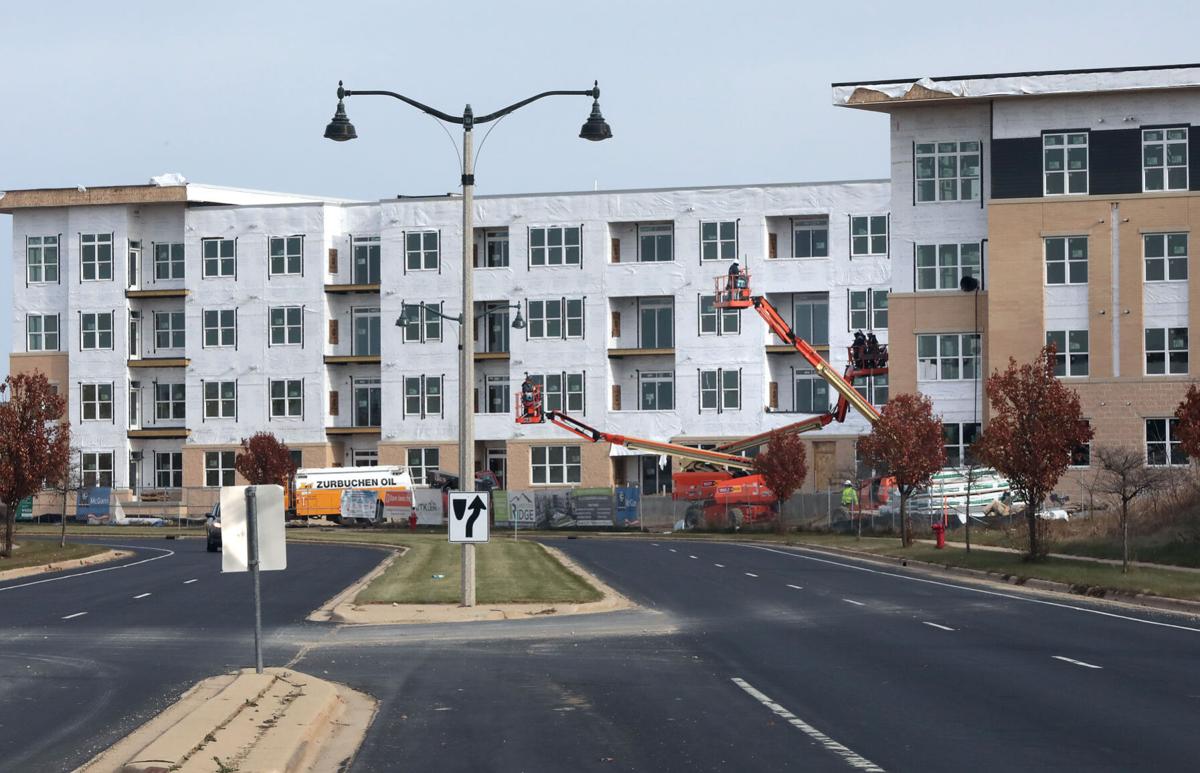 In the last year, a group of local employers and contributors has raised nearly $12 million to help developers include low-cost units for poor, working residents in new housing projects in Dane County.
The Economic Stability Council, the group of local employers and funders chaired by Rich Lynch, chairman of J.H. Findorff & Son, and Madison Development Corp. established the Dane Workforce Housing Fund in October 2020 to help create housing for working adults whose incomes fall between 40% and 80% of Dane County median income, or $37,120 to $71,950 for a family of three.
"The need for affordable housing close to an employee's workplace is ideal and still in short supply," Lynch said. "The numerous 'market rate' apartment projects that you see going up around Dane County are also needed, but do not match up with the income of so many everyday workers that fill a need in so many of our local companies, large and small."
The goal is to help create 500 low-cost housing units in the county in three years and to keep them affordable for at least 15 years.
The fund, managed by the development corporation MDC, loaned $2.9 million to two projects in Fitchburg and Middleton in 2020 and $1.3 million to two projects in Mount Horeb and Waunakee this year to help support a total of $57 million in development with 256 housing units — 241 of them for those making 80% of county median income or less.
The idea is to invest in sound projects where the developer is unable to secure the necessary cash, equity or debt to include subsidized units in a project, especially amid higher construction costs brought on partially by the COVID-19 pandemic.
"The gaps in financing are there for both nonprofit and for-profit developers, said Lorrie Heinemann, president and CEO of MDC, which provides low-cost housing for 348 tenants in the greater Madison area, makes loans to startup and early-stage businesses and now lends to developers creating the housing.
The investors have committed $11.85 million to the fund, expecting only a modest rate of return. The initial investors include Monona Bank; UW Health; Oscar Rennebohm Foundation; Madison Gas and Electric Foundation; CUNA Mutual Group Foundation; WPS Health Solutions; Exact Sciences Corp.; First Business Bank; Oak Bank; Summit Credit Union; Park Bank; BMO Harris Bank; Madison Development Corp.; UW Credit Union; and MDC.
So far, the projects and the loans awarded are:
Wisconsin Housing Preservation Corp.:
$900,000 for the $7.6 million Kestrel, with 39 units, all subsidized, at 6118 University Ave. in Middleton.
$2 million for the $24.7 million Limestone Ridge, with 116 units, all subsidized, at 6270 Limestone Lane in Fitchburg.
Cohen-Esrey Affordable Partners and Preserving US:
$800,000 for the $11.2 million Village on Main, with 50 units, including 40 subsidized units, at 701 W. Main St., Waunakee.
$500,000 for the $13.7 million Landsby Ridge, with 51 units, including 46 subsidized units, at 44 W. Garfield St., Mount Horeb.
"As a society, we have a moral duty to provide good, quality, affordable housing to those hardworking individuals who provide services and goods for us," said attorney Ronald M. Trachtenberg, who sits on MDC's board of directors and chairs its loan committee.
Next, MDC will be looking to invest the remainder of the original fund, $7.65 million.
Given the success of the fund, MDC will be looking to raise a second round of funding in late 2022 or early 2023, Heinemann said. The Dane Workforce Housing Fund welcomes new institutional investors — the fund is not open to individual investors — with an expected minimum investment of $1 million, she said.
"We are deeply grateful for the investors who took a chance on a new fund to help address community needs," Heinemann said. "We believe we are making a positive difference by adding more workforce housing in the region."
Editor's note: This story has been updated to correct the name of WPS Health Solutions.