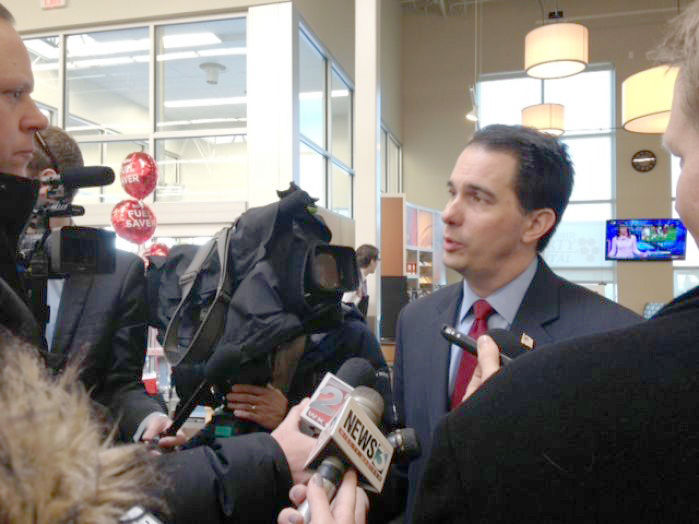 A national procurement expert said Wednesday that inside information on a county real estate deal provided by top Milwaukee County officials to the treasurer of Gov. Scott Walker's gubernatorial campaign was "highly unethical" and made a "fraud of the entire process."
Roughly 16,000 emails released Tuesday and collected during an investigation into Walker's Milwaukee County office revealed the back channel assistance that Walker and his top aides gave to John Hiller. Hiller, a real estate broker who at the time was Walker's longtime campaign treasurer, was quietly working for one of three bidders seeking to provide office space and purchase an aging building known as City Campus owned by Milwaukee County, where Walker was county executive.
In an email sent Aug. 21, 2010, top Walker appointee Cindy Archer outlined details that Hiller should put in his "best and final" bid. Archer urged Walker and fellow county official Tim Russell: "The rubber is meeting the road on this issue. If you can help Hiller, now is the time."
In the end, the county rejected all three bids for cost reasons and moved employees into existing county-owned space. Although six former Walker aides and associates were convicted in the investigation, no charges were issued in connection with that incident.
John M. McKeller, a senior lecturer at UW-Madison's Grainger School of Supply Chain Management, said secretly providing information to one bidder "goes against everything that the government procurement process is supposed to preserve for the taxpayers." In a process involving bidding or requests for proposals, all bidders should be given the same information to preserve fairness, transparency and competitiveness, he said.
"Do I think that it was wrong? Absolutely. There's no question," said McKeller, who has spent nearly 40 years in the procurement field and has trained major corporations in best practices. "It was highly unethical, at a minimum. ... It makes a fraud of the entire process."
Brendan Conway, a spokesman for Milwaukee County Executive Chris Abele, referred questions about the legality of the process to the district attorney's office. Assistant District Attorney Bruce Landgraf declined to say why no one was charged in the incident, which was investigated as part of the now-closed John Doe probe.
During a campaign stop in Milwaukee on Wednesday, Walker declined to discuss the detailed financial information that was provided to Hiller by Archer, then-director of administrative services for Milwaukee County, and Russell, a Walker confidant who ran the county's housing department.
Archer now works for the state Public Defenders Office. As of last week, she was on an extended leave of absence. Russell was convicted of theft from a veterans' fund run out of Walker's office as a result of the John Doe and sentenced to two years in prison.
You have free articles remaining.
Walker said Democratic Milwaukee County District Attorney John Chisholm "looked at this issue for two years 20 months ago (and) closed that case because he didn't find any reason to go forward. I think that speaks volumes."
"You've got the biggest district attorney's office in the state led by a Democrat who's been more than able and willing to look into other areas looked at that and realized in the end, in that particular case, I opted to go with county property," added Walker, appearing before a firefighters' group and two Milwaukee Police organizations to accept their endorsements Wednesday. "None of the bidders that ultimately bid on it got the bid because we felt the best deal for the taxpayers of the county at that time was to go with county property."
During a conference call with reporters, Democratic Party of Wisconsin executive director Mike Tate decried the latest revelations.
The first John Doe investigation ended in early 2013. A second investigation, launched in 2012 and currently stalled because of court challenges, is probing coordination between Walker's campaign and more than two dozen Republican and conservative groups during the 2011 and 2012 recalls.
"Scott Walker seems to operate as if the law doesn't apply to him," Tate said. "The real question is, is this what people want in their governor?"
Walker is in a tight re-election campaign against Democratic challenger Mary Burke.
Many of the emails released Tuesday, including many involving the City Campus building, were conducted on private accounts and not those maintained by Milwaukee County.
During the campaign stop, Walker reiterated that his state administration was not conducting any state business by private email, although the records released Tuesday included thousands of messages between Walker and his top aides and campaign officials discussing Milwaukee County business on their private email accounts.
"There is not and has not been any state business conducted that way," Walker said Wednesday.
State Journal reporter Matthew DeFour
contributed to this report.
Get Government & Politics updates in your inbox!
Stay up-to-date on the latest in local and national government and political topics with our newsletter.