Wisconsin's first African-American lieutenant governor, Mandela Barnes, told a crowd Monday that his historic election means little if it doesn't translate into progress toward racial equity.
Barnes, speaking at UW-Madison, also waded into the viral social media controversy about an encounter near the Lincoln Memorial between a group of white teenagers wearing "Make America Great Again" gear and a Native American man.
Barnes called the Native American, Nathan Phillips, an "American hero" and the teenagers a "mob" who surrounded and taunted him — although information that surfaced after the encounter caused some to temper their initial condemnation of the teens.
Barnes was the keynote speaker at the campus' Martin Luther King Jr. Day event. He spoke shortly after Gov. Tony Evers attended MLK events in Milwaukee and at the state Capitol.
The second African-American to win a statewide executive office after former Secretary of State Vel Phillips, Barnes, a Democrat, said his election is about "more than making history; it's about making a difference." He cited Wisconsin's racial disparities in areas including education and incarceration, which rank among the worst in the country.
"It's no point in getting elected just for the sake of getting elected, to get my picture in a blue book," Barnes said, referring to the reference book for state government.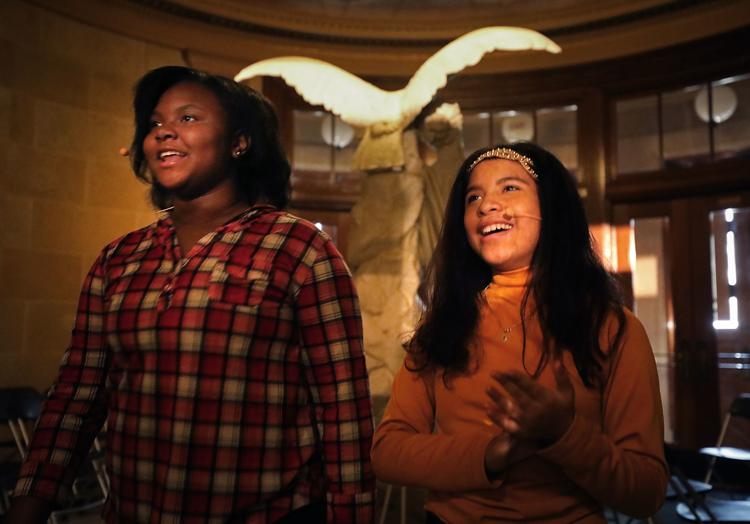 "It's about what we're going to do with this moment," he continued. "It's about how do we bring the radical change necessary to change the way that the state of Wisconsin looks and the way that the state of Wisconsin operates?"
Barnes touched on the controversy that dominated social media over the weekend — the Friday encounter in Washington, D.C., between a group of white teens from a Catholic high school in Kentucky and Phillips, who was protesting for Native American rights.
Barnes, while discussing what he described as work still to be done, said: "Unfortunately, America can still be a mob of high school students wearing red hats, inspired by what they see in the nation's highest office."
You have free articles remaining.
Register for more free articles
Stay logged in to skip the surveys
"The audacity of surrounding and taunting a Native American Vietnam war veteran!" Barnes continued. "We're going to say his name: Nathan Phillips, an American hero."
Video from the encounter appears to show some of the students from Covington Catholic High School in Park Hills, Kentucky, laughing at Phillips' Native American group and mockingly singing along with him. A viral image showed one of the teens face-to-face with Phillips, smirking.
But debate about the encounter continued Sunday as more video footage surfaced, and as some of the teens contended they had been unfairly portrayed as provocateurs.
Phillips came forward Sunday to clarify that it was he who approached the high school students, not the reverse. Phillips said he intervened to defuse an exchange between the teenagers and a small group of Black Hebrew Israelite protesters, whom video footage showed hurling incendiary insults and vulgarities at the teens and other bystanders.
During his remarks, Barnes cited Wisconsin civil rights pioneers, saying many of the goals for which they fought still have not been attained. He mentioned Ezekiel Gillespie, a Wisconsin man and former slave who tried to vote in 1865, was rejected, sued for the right to vote and ultimately won a landmark ruling before the state Supreme Court.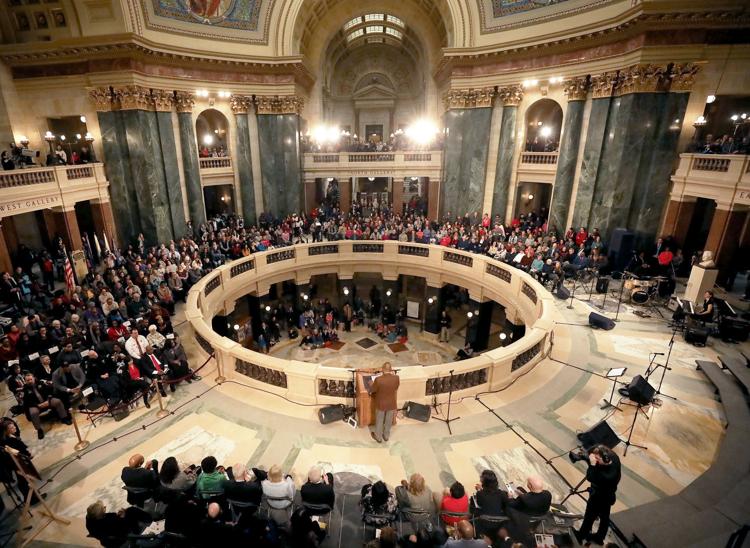 More than a century later, "voting rights and accessibility are still under attack," Barnes said.
But Barnes said there are signs of progress, including a more diverse U.S. Congress elected in 2018.
"While we have yet to manifest the dreams of the movement, I'm happy to say that we are mid-stride in the march for justice, and for equality," Barnes said.