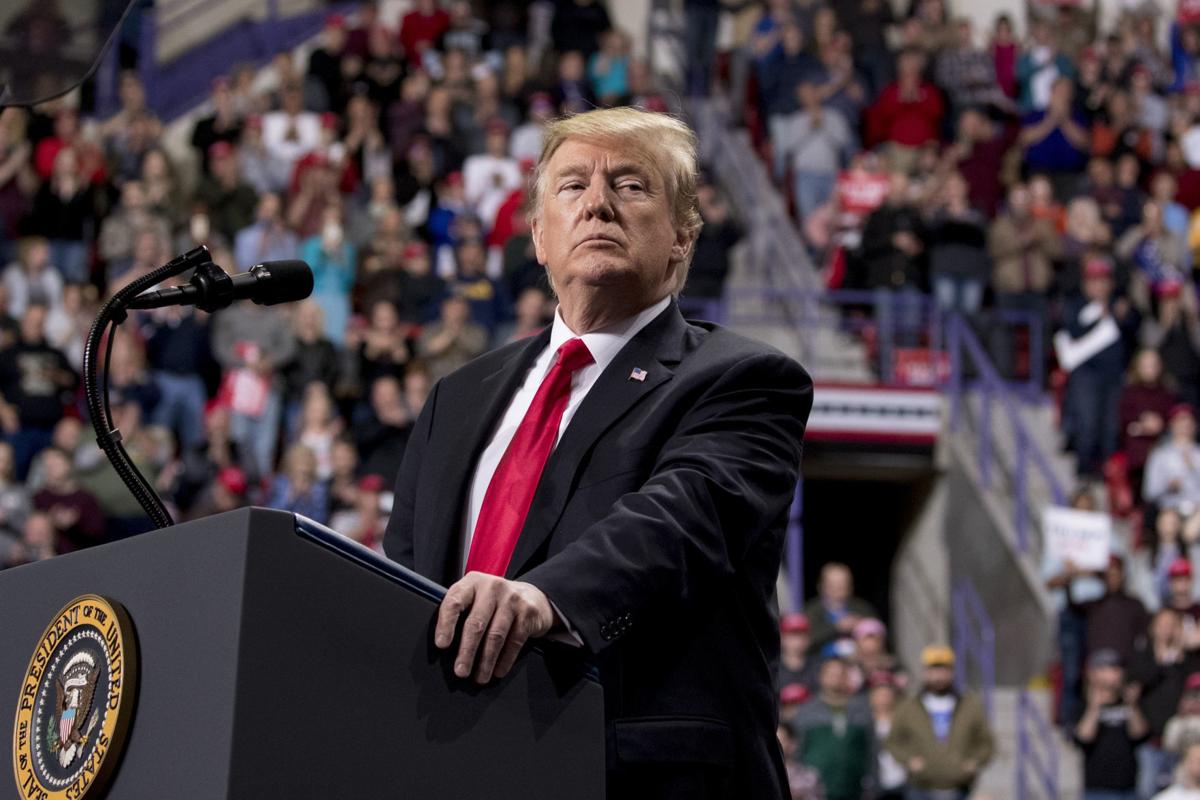 GREEN BAY — President Donald Trump touted the robust economy and cast himself as a guardian of U.S. interests during a rally here Saturday, his first of the 2020 campaign in a state that, perhaps more than any other, could decide if he is re-elected.
Some prominent Wisconsin Republicans once viewed Trump skeptically, but the party since has been recast in his likeness.
Maintaining a hold on the state's GOP voter base is crucial for Trump as he seeks to replicate his 2016 razor-thin win here , one of the linchpins of his national Electoral College victory.
Trump told a capacity crowd at the Resch Center Saturday that his election was a blow to "stupid" and "dishonest" people he said betrayed the American people.
"You took back your country with that great election 2½ years ago," Trump said. "You've been loyal to this country. Now you finally have a president who is loyal to you."
Trump crowed about the findings of the recently released report by Special Counsel Robert Mueller on Russian interference in the 2016 elections. He said Democrats "put all their hopes behind their collusion delusion, which has now been exposed to the world as a complete and total fraud."
The report found Russia systematically interfered in the 2016 election in favor of Trump but did not find a criminal conspiracy with the Russian government by the Trump campaign. It presented evidence but did not issue a verdict on whether Trump obstructed justice in the Russia investigation, saying Congress instead may seek to do so.
Trump took aim Saturday at familiar targets such as the news media. He mocked those who he said speculated he could seek to remain president after the constitutional limit of two terms.
"I promise you at the end of six years, I'll be very happy. But you'll be left with the strongest country you've ever had," Trump said.
Trump criticized Wisconsin Gov. Tony Evers, without naming him, for pledging to veto a GOP bill that would ensure life in prison for doctors who do not provide medical care to babies who are born alive after a failed abortion attempt. Evers has said he will veto the measure because of protections that already exist in state law.
In a shot at Democratic rivals, Trump said he is defending the U.S. from attempts to bring socialism here.
"We say tonight that America will never be a socialist country," Trump said.
GOP recast in Trump's image
Trump has been a frequent visitor here since launching his first presidential bid in 2015, having made at least 20 stops around the state dating back to the week before the April 2016 primary that he lost to Texas Sen. Ted Cruz.
There's every reason to think Trump will keep it up. For both parties, the presidential stakes in Wisconsin could not be higher. Charles Franklin, director of the Marquette Law School Poll, said there's a good chance Wisconsin will be the "tipping point" state of the 2020 Electoral College — meaning it would be the state most likely to determine the winner.
"Are we the sort of epicenter of 2020? Certainly in terms of partisan balance and a history of close elections, yes we are," Franklin said.
As was the case four years ago, Trump remains deeply polarizing. He continues to be viewed unfavorably by a majority of Wisconsinites, polls show. The intensity of Democratic voters' disdain for Trump could help unify them after what could be a fierce Democratic presidential primary.
Still, the shift in views of Trump among Republican-leaning voters from four years ago is striking.
It's also notable because during the 2016 cycle, Wisconsin had an out-sized presence of so-called "Never Trump" Republicans who opposed him. Since then, Trump appears to have placated concerns many such voters had about his temperament and commitment to conservatism.
Even as late as October 2016, days before the election, the Marquette poll found a quarter of self-described Republican likely voters viewed Trump unfavorably, while 70 percent viewed him favorably.
Fast forward to the most recent Marquette poll in April: 91 percent of GOP voters viewed Trump favorably, compared to just 9 percent who did not.
For Wisconsin GOP strategist Brian Fraley, who has at times been critical of Trump, the change is due to Trump's electoral success. He was the first Republican to turn Wisconsin red in a presidential election since Ronald Reagan. Another factor is Trump now has a track record on tax cuts, business deregulation and judicial appointments, Fraley said.
You have free articles remaining.
"He has governed as a conservative," he said. "That has brought some people back into the fold."
Democratic party ID edge gone
Another shift also weighs in Trump's favor. From 2012 to 2016, Democrats had a five-point edge among voters in party self-identification. Forty-eight percent of respondents to the Marquette polls identified as Democratic or Democratic-leaning, compared to 43 percent Republican or Republican-leaning.
From 2017 on, that edge has evaporated, with self-identified Republicans and Democrats making up 45 percent apiece of survey respondents. The share of independent voters in the state stayed constant at 9 percent. A recent poll by the Democratic firm Public Policy Polling had similar findings.
Another shift is seen in the state's political map, though it's thus far unclear if it favors either party. The Milwaukee suburbs, while still solidly Republican, have become slightly less so in the Trump era. Most of northern Wisconsin, meanwhile, has become more GOP-friendly, largely due to Trump's strength with white male voters without a college degree.
Rep. Jim Sensenbrenner, R-Menominee Falls, said Trump's 2020 path in Wisconsin follows his blueprint in 2016. Sensenbrenner said that effort was "kind of a two-pronged thing" that reflected differences between sparsely populated, blue-collar northern Wisconsin and the more affluent, educated Milwaukee suburbs.
In the suburban 5th Congressional District that Sensenbrenner represents, he said he sees evidence voters have warmed to Trump.
"My town hall meetings have turned from 'Hate Trump' the last two years, to 'How come Trump hasn't been able to get more of what he wants passed?'" Sensenbrenner said.
'Resentment only goes so far'
Sachin Chheda, a Milwaukee-based Democratic strategist, said Trump and Republicans have formed a "cultural bond" with rural Midwestern voters that may not be durable. He thinks measures such as the 2017 GOP tax overhaul, which disproportionately benefited wealthy taxpayers, will be difficult for GOP candidates to justify to blue-collar rural voters in 2020.
"Resentment only goes so far," Chheda said. "The Trump economic agenda is not actually aligned to get them what they want."
In the Democratic primary in Wisconsin, Sen. Bernie Sanders of Vermont — its 2016 winner — likely starts the 2020 cycle with a modest advantage, said UW-Madison political science professor Barry Burden.
Sanders has tweeted in recent days attacking the Foxconn development, to which Trump was instrumental in brokering. The Sanders campaign took out a front-page ad in the Green Bay Press-Gazette accusing Trump of "lying to Wisconsin workers."
However Republicans frame their case to voters in Wisconsin, it's clear Trump will be at the center of it, Burden said.
Done, Burden said, is the so-called "Cheesehead Revolution" that saw Wisconsin Republicans such as Paul Ryan, Scott Walker and Reince Priebus become key national figures in the GOP. Ryan, in particular, sometimes pushed back on Trump's rhetoric and policies, and even disinvited him from a campaign event in early October 2016 after the release of a recording in which Trump made predatory comments about women.
Now little of that tension remains. From his outsized personality to his views on immigration and trade, Burden said, the party has become a platform for Trump.
'I've learned to have respect for him'
One of Saturday's rallygoers, Jeff Graupner of Mountain, said he didn't start as a Trump supporter. He voted for Sen. Ted Cruz in the 2016 presidential primary and voted Trump in the general election because he said he didn't want Democratic nominee Hillary Clinton picking U.S. Supreme Court justices.
But Graupner said he has come around to Trump. He's pleased with Trump's Supreme Court picks, his stance on funding the U.S. military and that he pulled the U.S. out of the Paris Agreement to fight climate change.
"I wasn't a big fan of his in the beginning," Graupner said. "I've learned to have respect for him even though his mouth gets him in trouble."
Graupner said he's likely to vote Trump again in 2020. He doesn't rule out voting for a Democrat but says he doesn't see any of them running now that he'd support.
For Graupner, supporting Trump means coming to terms with a president he feels sometimes crosses the line. When Trump ridiculed the late Sen. John McCain's war service in 2015, Graupner, a U.S. Army veteran, said he nearly ruled out voting for Trump.
"He speaks his mind. Sometimes I cringe and say, 'Why did he say that?' But sometimes he says things that needed to be said," Graupner added. "He's not afraid to say 'No more!'"