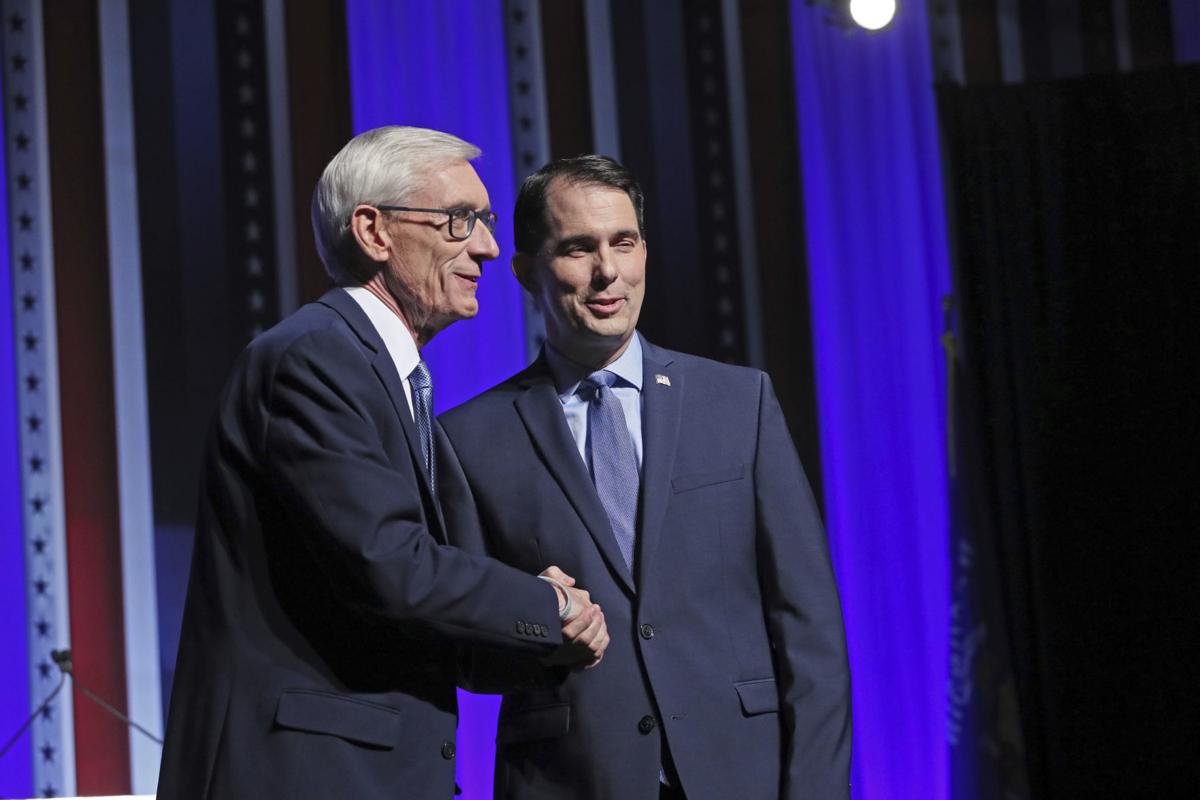 Democratic gubernatorial candidate Tony Evers said during Friday night's second and final debate with Republican Gov. Scott Walker that Wisconsin could increase its minimum wage to $15 an hour by the end of his first term.
Meanwhile Walker defended his $3 billion subsidy package to lure electronics maker Foxconn to Wisconsin during the debate at UW-Milwaukee and moderated by WUWM-FM and WTMJ-TV in Milwaukee.
Evers noted his support for a $15-an-hour minimum wage, saying, "I think by the end of my first term we will be there." He has said he supports gradually phasing in such a wage increase, which would more than double the minimum wage from $7.25 an hour.
Asked about economic development, Evers said the state should avoid giving "tax breaks to foreign corporations" — an apparent jab at the Foxconn package, which Walker negotiated.
Walker later defended the subsidy, saying Foxconn only gets the money if it hits benchmarks for job creation and capital investment.
"When it comes to Foxconn, they don't earn any of those tax credits over the next decade-and-a-half unless they actually have actual job creation and investment," Walker said.
Evers said during the debate that his plan to cut the state's prison population in half refers to those prisoners currently behind bars. He has not given a time frame for when to accomplish the goal.
Walker has attacked Evers by saying he would release violent criminals as part of the plan. Evers responded by saying violent criminals "will always be behind bars" while noting some GOP states are focusing on alternatives to incarceration, especially for nonviolent offenders.
During the debate Walker was pressed about protecting people with pre-existing health conditions. He has authorized the state's participation in a coalition of states suing to overturn the federal health care law known as Obamacare, which ensured people with such conditions couldn't be denied coverage or charged more on the basis of their condition.
Walker cited his support for a state bill that would give certain protections to people with pre-existing conditions if Obamacare were repealed or struck down in court.
The bill falls short of giving such people the level of protection ensured by Obamacare. It passed the state Assembly but fell short in the state Senate last session, and it's unclear if there is support among Republican senators to pass it.
Both candidates were asked what they would do to address climate change.
"I believe in science," Evers responded. "We have to start making decisions based on science."
Evers said he'd prioritize renewable energy development and empower the state Department of Natural Resources in part by making its secretary an "independent appointment." The secretary currently is appointed by the governor. Evers did not specify in the debate how he would change that process.
Walker responded that when you look at "changing effects of weather patterns here and around the world, it's a combination of things, and the actions of human beings are one piece of a larger puzzle."
He said his administration has provided incentives for energy efficiency.
Get Government & Politics updates in your inbox!
Stay up-to-date on the latest in local and national government and political topics with our newsletter.