A plan that could add sidewalks to nearly nine more miles of street in Monona is sparking some sharp responses in a city where pedestrians have long had little choice but to walk through front yards or alongside vehicle traffic.
Monona Mayor Mary O'Connor and city administrator Bryan Gadow are careful to note that the City Council would only be "accepting" — not "approving" or "adopting" — the city's new Pedestrian and Bicycle Improvements Plan, and that any of the specific recommended projects therein would need separate OKs from the council. The earliest the council would accept the plan is Aug. 19, and it's likely no work would start until 2021.
Still, some of the plan's projects, if ultimately approved, would represent a significant change in a community in which sidewalks only exist on one or both sides of 13.3 out of 44.3 miles of street — not including the Beltline, which is not open to pedestrians anyway.
"It's a huge deal and there's arguments going both ways," said PJ DeCamp, who moved to Monona about a year ago from Chicago and has been watching the debate play out among residents in an online forum.
"By no means are we putting sidewalks in all over Monona," O'Connor said, and the proposed plan is "not a mandate for anything."
But there are a lot of new families with children moving into the city of about 8,100, which is wedged between Madison's Southeast Side and Lake Monona and cannot annex any more land for development. Some residents have told her: "I love living in Monona; I wish you had sidewalks."
The plan, crafted over 18 months by an ad hoc citizens committee, identifies 25 distinct projects separated into three categories according to priority level and involving changes to dozens of streets over the next 20 years. In addition to sidewalks, other proposed changes include street striping, traffic signals, improvements to intersections and railroad crossings, multi-use paths and "speed tables," flat-topped raised areas in the road that are longer than speed humps.
Winnequah Road
The project getting the most attention concerns about a 9/10-mile stretch of what is perhaps Monona's best-known thoroughfare — Winnequah Road, which largely follows the twists and turns of the Lake Monona shoreline for about 3 miles from Monona Drive on the north to Pirate Island on the south.
Winnequah is a popular part of the loop-the-lake route for bicyclists and is known for its views of Lake Monona, mature trees, well-maintained lawns and decidedly residential feel — but not for sidewalks. On-street bike and pedestrian lanes only appear on less than half of it, and sidewalks are essentially nonexistent.
The 4,600 feet of South Winnequah from Schluter to Bridge roads is identified as the city plan's top priority, and as part of a larger reconstruction is being eyed for sidewalks on one or both sides of the street, additional striping, the removal of a handful of "bump-outs" where the street briefly narrows, and the addition of two raised intersections.
Mixed reviews
Opinions on changes to Winnequah and on Monona's less-than-cozy relationship with sidewalks were varied in interviews with residents along Winnequah last week.
Pat Howell, a member of the city's Parks and Recreation Board and a resident since 1990, said Winnequah is a multipurpose thoroughfare popular with walkers and bicyclists "and it's tough to make everybody happy with that."
Although the section of the road where she lives is not slated for sidewalks, she said she wouldn't mind if they were put in — but preferably only on one side of the street and only if care were taken to route them around trees.
"I have four grandkids and they're here a lot," she said. "We walk down to Schluter beach, we go the ice cream shop and we are constantly looking over our shoulder. You really have to be careful. It's not a comfortable walkway."
DeCamp is sympathetic to the concerns about safety but is not interested in seeing more sidewalks go in because it would require the removal of trees — one of the city's main amenities.
She suggested speed humps "from end to end" on Winnequah and other changes to slow the traffic.
'OK and safe'
Meg Foley, who lives on Midwood Avenue a block east of Winnequah and has two children under the age of 4, said the lack of sidewalks "honestly doesn't bother me a whole lot."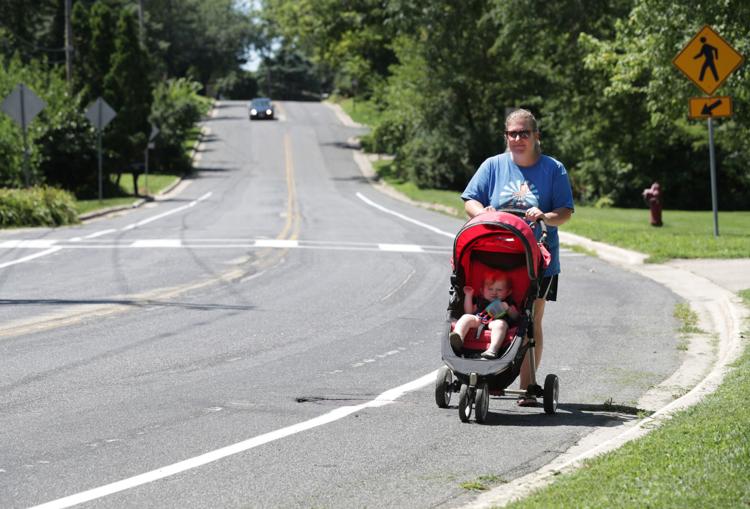 "I feel that this is wide enough," she said, gesturing to the bicycle and pedestrian lane where she was pushing one of her children in a stroller, "and people are aware enough that I have felt OK and safe."
She emphasized that she's not anti-sidewalk and wouldn't be up in arms if they're put in.
"I just want it to be a thoughtfully planned-out decision that takes into account the beauty Monona offers as well as safety for its residents," she said.
[Editor's note: This story has been updated to reflect a correction. The original version erroneously described Monona's geography. The city cannot annex any more land for development, but it is not landlocked.]