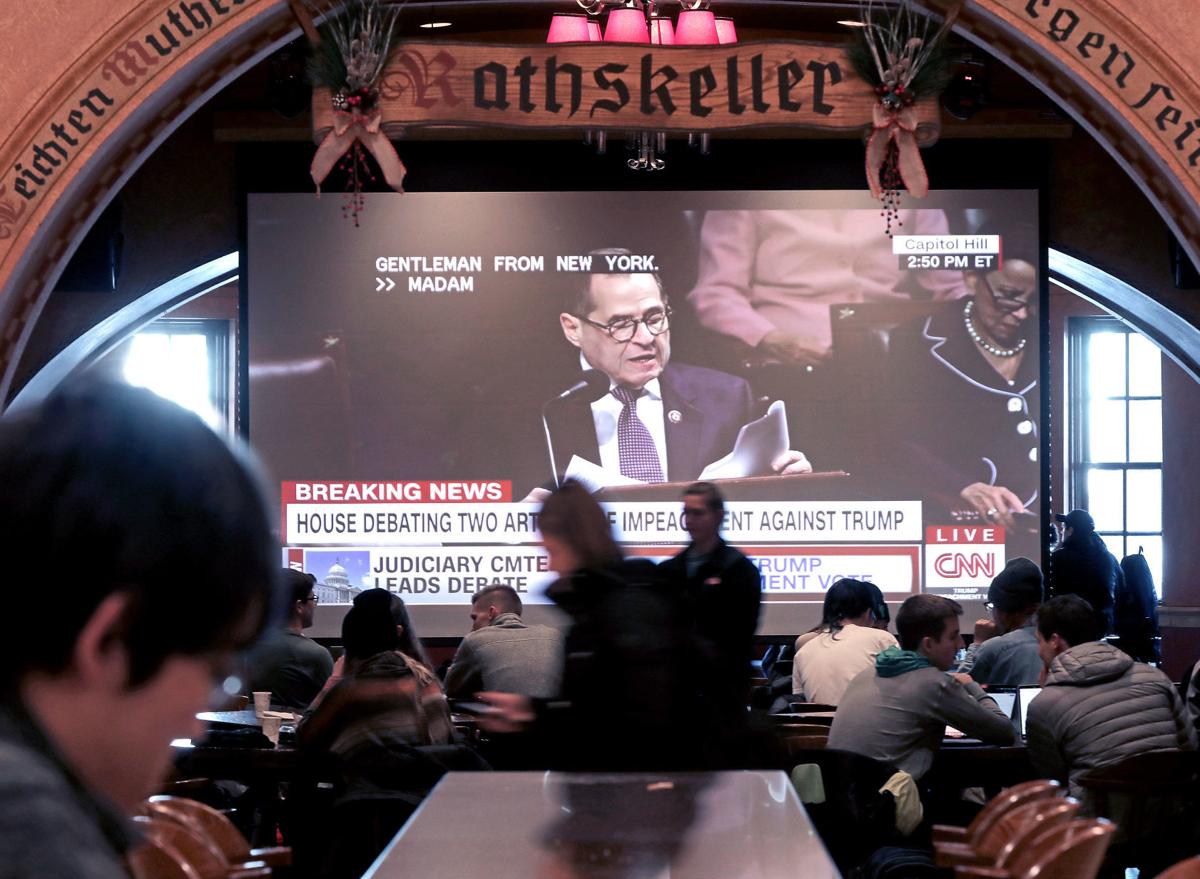 With TV and radio stations airing nonstop coverage of Wednesday's House debate on two articles of impeachment against President Donald Trump, many people in Madison were focused on more immediate concerns.
Work. School. Connecting with friends.
While some felt the historic weight of the six hours of deliberations ahead of the vote that marked the third time in history that a U.S. president was impeached by the House of Representatives, others played cards or pool, studied for finals or worked — tuning in only briefly to the debate, if at all.
Even those with strong feelings about Trump weren't taking time out of their day to listen to the debate.
They've heard the arguments, again and again. Faced with competing narratives, some could no longer say who was right. They saw how entrenched the two sides were and recognized there was no middle ground.
As political theater goes, there wasn't a lot of suspense.
Many people were just tired of it.
"It's notable as a historical event and something that rarely happens in our democracy, but it's not like I'm watching this with any expectation to hear anything that I haven't already heard," said Jeff Scholl, 29, who was watching briefly during a lunch break at the Kwik Trip on Monroe Street.
Ronald Aschenbrenner, 76, of Middleton, caught some snippets throughout the day, but said he didn't really think it was a "big deal."
"I think people are bored with it," he said.
'Don't impeach,' and deal the cards: President derailed, city life rolls on
Other activities
A pair of TV screens broadcast the hearings at VFW Post 1318, but nobody was watching.
John Baker said he's been following the process "day and night," but on Wednesday the 79-year-old Navy veteran was taking a break to focus on his twice-weekly nickle-ante poker game.
At Wiggie's Bar, 1901 Aberg Ave., the television was tuned to the Hallmark Channel.
"We don't do politics," owner Angie Wiganowsky said from behind the bar.
"It's Christmastime," added a patron. "I come to the bar to get away from that."
Wiganowsky, who declined to offer an opinion on the president or the impeachment proceedings, said she's tired of politics.
"The most news that's on is to hear the weather," she said. "Nobody wants to listen to it no more."
At The Jefferson, a retirement community in Middleton, the impeachment trial was turned off for a while so residents could play bingo. Randy Clawson, 72, was the only one to turn it back on.
"Nobody is above the law, not even the president," Clawson said, explaining that a president shouldn't use his power to dig up dirt on political opponents.
While Clawson watched the debate by himself in the first-floor community room, Loren Lippitt, 71, played pool upstairs with a friend.
You have free articles remaining.
Lippitt had been following the impeachment inquiry up until that point and thought Democrats should "get him out of there." But Wednesday he didn't watch at all because of his "hot date with a pool table."
Mary Frickenstein, 64, had a different reason for not watching. She said the impeachment process was confusing and hard to keep up with. She also has been busy with a family illness.
Frickenstein said she didn't think Trump should be impeached.
"I feel this country has gotten stronger since he's been in office," she said.
Mixed interest
On UW-Madison's campus, many students had already left for winter break, and those still left had their heads buried in their laptops, studying for finals.
Neither the College Republicans nor College Democrats chapters on campus organized a listening session to hear the historic testimony. All of the TVs in the Sett at Union South had on sports.
While the TV on the first floor of College Library ran the presidential election in 2016 late into the evening, Wednesday afternoon the screen had library announcements, not the impeachment.
In the Rathskeller at Memorial Union, many were focused on eating lunch with their friends or studying, but a few were tuned in to the 15-foot screen showing the impeachment proceedings.
Jason Vangalis, 29, who lives on the East Side, was working remotely at the Rathskeller so he could have the impeachment on the big screen in the background.
"To be able to witness the impeachment of a president is something that is a once-in-a-lifetime opportunity," Vangalis said.
Skye Cooper, 23, who was at the Rathskeller with her mom, Kelly DeHaven, said they had been listening to it all morning. They watched together while stopping for lunch.
"We've never seen anything like this before," Cooper said. "History is being made."
DeHaven, 63, said Trump has done nothing but provide "reasons for concern and impeachment" since he took office. Cooper said Trump needs to be held accountable for his actions in Ukraine and that she has been frustrated by his racism and misogyny.
"Democracy is at stake," Cooper said.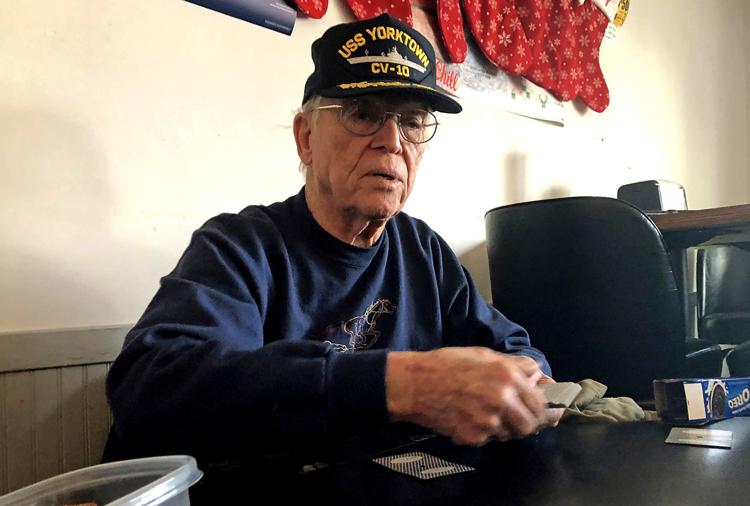 Frustration felt
Ric Poole, 63, said he tuned in briefly, but listening more wasn't high on his priority list because "I already know the outcome."
Many predicted the Democrats in the House would vote to impeach, and the Republicans in the Senate will vote to keep Trump in office.
Aschenbrenner, who did not specify his political views, said House Speaker Nancy Pelosi has been going after Trump ever since he was elected. He thought the reasons for impeachment were ambiguous but said he was planning to do more research.
Baker, the Navy veteran, who said he is not a Trump supporter, said the process is as much about the Republican party as the president.
"It's actually scary what this says about our Democracy," Baker said. "I think if the Republicans refuse all the information that has been provided … and allow the president to stonewall … this circumvents the Constitution."
As Scholl sat in the Kwik Trip on the Near West Side before returning to work, he said he didn't expect to be surprised by the outcome of the impeachment.
"To me, it's more of a commentary on the partisan gridlock and the state of our democracy as a whole," Scholl said. "Our country right now is so divided. It's disheartening, honestly."
"Our country right now is so divided. It's disheartening, honestly."

Jeff Scholl, 29