Dane County officials plan this fall to revive a difficult community discussion about how to keep enough water in Lake Mendota to satisfy boaters without risking another flood like the one that shut down streets and damaged homes and vehicles last month.
But some would like faster action. A leading local flooding scientist says talks need to start sooner so decisions are driven by fresh memories of flood damage and worries about a catastrophic Tenney dam failure as the lake rose.
Some experts are speaking out about lowering Lake Mendota and taking other steps to protect downstream areas as the climate becomes wetter.
And on Friday, Madison Mayor Paul Soglin also addressed the issue, expressing frustration at the prospect of a lengthy study and discussion.
"It's a yes-or-no question," Soglin said. "We either make a commitment to lower the lake a foot or we don't."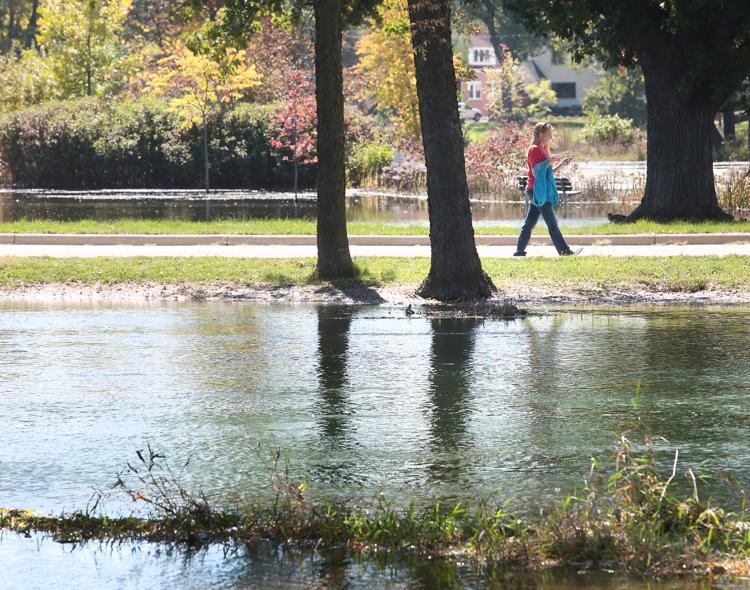 Lake Mendota property owners have opposed lowering the lake because shallower water would mean higher costs to extend piers farther from shore to protect boat propellers and keels from damage.
Downstream residents and conservationists want the lake lowered. When rain and runoff fill the lake too high, water needs to be released to prevent a dam failure. When water is released quickly, flooding occurs along the Yahara River and its smaller downstream lakes.
"Maybe (more study) is needed to convince really dense people to lower the lake level a foot," Soglin said. "Our engineers (and state) engineers all know that if we keep Lake Mendota down a foot toward the lower end of the spectrum that even the kind of storm we had on Aug. 20 would not cause a problem."
In 2012, after many months of study and debate, a state advisory panel considered but didn't recommend a lower water level. Soglin said owners of Lake Mendota marinas and other businesses were given too much influence by the state Department of Natural Resources.
Two businesses that had representatives on the committee didn't return messages Friday.
The DNR hasn't taken action to force the dam manager — Dane County — to keep the lake under the maximum.
Lake Mendota was nearly a foot higher than the official maximum before an average of about 4 inches of rain fell on the watershed that drains into it and into Lake Monona.
For most of the summer the big lake was 8 to 9 inches higher than the maximum in part because the county wasn't able to keep up with an unusual abundance of underwater plants that slowed the flow of water through the Yahara and out of the lake system.
County Executive Joe Parisi said Friday the complexity of managing water levels amid rising rainfall makes it difficult to lower Lake Mendota without causing flooding.
"We need to look at all of this and figure out solutions," Parisi said.
One of several factors that contributed to last month's flood was that Madison storm sewers aren't equipped with caps that could be closed to prevent high river or lake levels from forcing water onto streets, a persistent problem after the Aug. 20 rain, Parisi said.
"I'm not saying that to lay blame at anyone's feet," Parisi said. "There are a lot of causes. There are numerous answers. We have to look at this as a whole system and have all the players at the table and not do knee-jerk responses."
Parisi's chief of staff, Josh Wescott, said earlier in the week that county staff were busy with flood-delayed work on the annual budget, and no decision had been made on how to involve the DNR and others in talks on flood prevention.
But Friday afternoon Parisi sent a letter asking DNR Secretary Dan Meyer for help in reviewing lake levels and assessing other possible flood prevention steps.
"The magnitude of damage caused by the recent flooding is like none other experienced in Dane County's history," Parisi's letter states.
Waiting for the county
Ken Potter, a leading local researcher on flooding, said he suspects Lake Mendota would need to be lowered more than a foot as part of a plan that would also slow runoff and speed the flow of water downstream and out of the lake system.
"The frustrating thing is, what is the county executive going to do?" said Potter, a UW-Madison emeritus professor of engineering. "Is he really going to jump on this aggressively? He's the Number One, the kingpin. That's what everyone is waiting for."
Potter, a member of the earlier DNR advisory committee, said setting up another one might not be the best way to proceed.
The county should already have set up a committee of engineers and scientists to examine how the flood would have played out if Lake Mendota had been kept at a lower level, Potter said. A forum for public discussion would be needed later, he said.
Potter and others said a variety of policy changes will be necessary — not just lowering the lake.
Among the alternatives that have been suggested for local and state governments to consider:
Loosening Yahara River "choke points" such as the narrow railroad trestles that slow the flow of flood water out of the lake system.
Increasing the flow by expanding the county's fleet of aquatic plant harvesters and by dredging the river bottom.
Reversal of a state law that prevents strict runoff controls on new developments.
Pumping water downstream in emergencies.
Requiring farmers to do a better job of controlling runoff.
Construction of rainwater basins and restoration of wetlands that prevent floods by acting as natural sponges.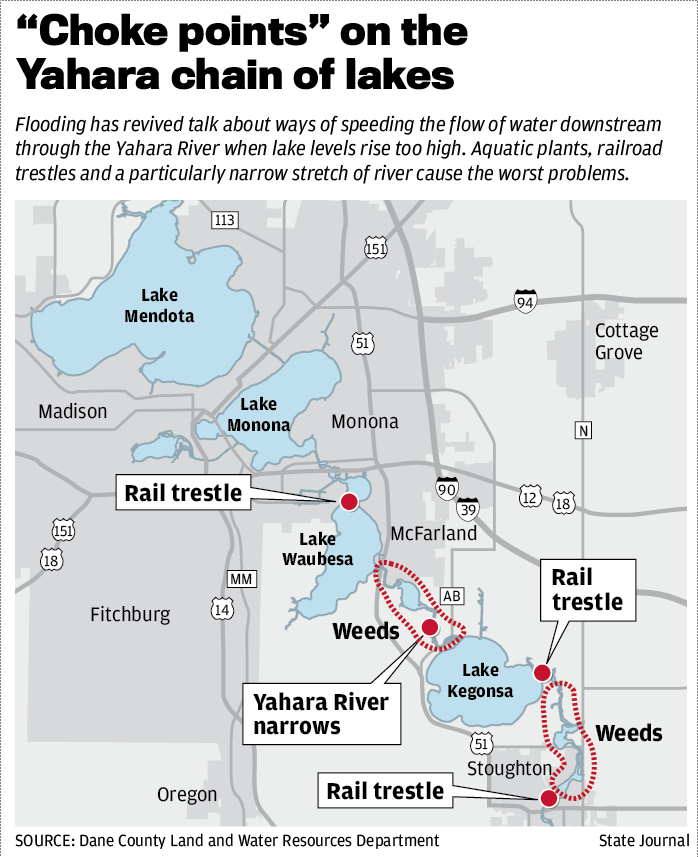 For government to purchase land and easements to protect wetlands would be costly, but it wouldn't be as expensive as the damage to Isthmus property and property values that would result from a failure of the Tenney dam, said a former county executive, Jonathan Barry.
In the 1980s when he held the county post, Barry said, he suggested lowering Lake Mendota, and he ran into a buzz saw of opposition that killed the proposal.
"Pier owners and big boaters howled at the inconvenience," Barry said.
Flooding has worsened since then, and it's time to take action on a number of fronts — including lowering Lake Mendota 1 or 2 feet, Barry said.
"There are going to be costs, and somebody is going to have to find the political sweet spot," Barry said.
Richard Lathrop, a UW-Madison expert on freshwater lakes, said the reality of increasing rainfall needs to be faced.
"While some people deny the recent flooding was caused by climate change, trends of weather statistics are irrefutable," Lathrop said. "To be a resilient community, we need comprehensive, equitable solutions to prevent future catastrophic flooding in the Yahara lakes."
A 'natural' Lake Mendota
Starting in 1847, a series of dams at Lake Mendota's outlet into the Yahara River channel have raised the lake level about five feet higher than the Isthmus and Lake Monona.
A citizens group called the Capital Region Advocacy Network for Environmental Sustainability (CRANES) has advocated for several years to lower the lake gradually to its natural level to provide increased flood protection and other benefits.
Submerged wetlands would reappear along with sandy beaches that were described by white settlers when they first arrived.
If the lake were lowered 5 feet, there should be consideration of dredging in some areas, and to compensating property owners, CRANES said in a statement.
No decisions
On Friday, Madison Deputy Mayor Katie Crawley urged residents to keep sandbags in place. The lakes have been receding slowly after several days of sunny skies.
But storm sewers are still full of water, and 2 or 3 inches of rain could lead to another bout of submerged streets and water in basements.
The current lake-level orders were put in place after a request by Dane County and Madison.
DNR spokesman Jim Dick said the agency issues lake-level orders in response to formal petitions. No petitions to change Lake Mendota's level have been filed for at least 11 years, Dick said.
The factors the department would consider include the way a change would affect boaters, scenic beauty, wildlife habitat, wetlands, pollution sources, erosion, flooding, the slope of the lake bottom, aquatic vegetation and economics.
The public would be able to comment during a lengthy, far-reaching process, Dick said.
Get Government & Politics updates in your inbox!
Stay up-to-date on the latest in local and national government and political topics with our newsletter.