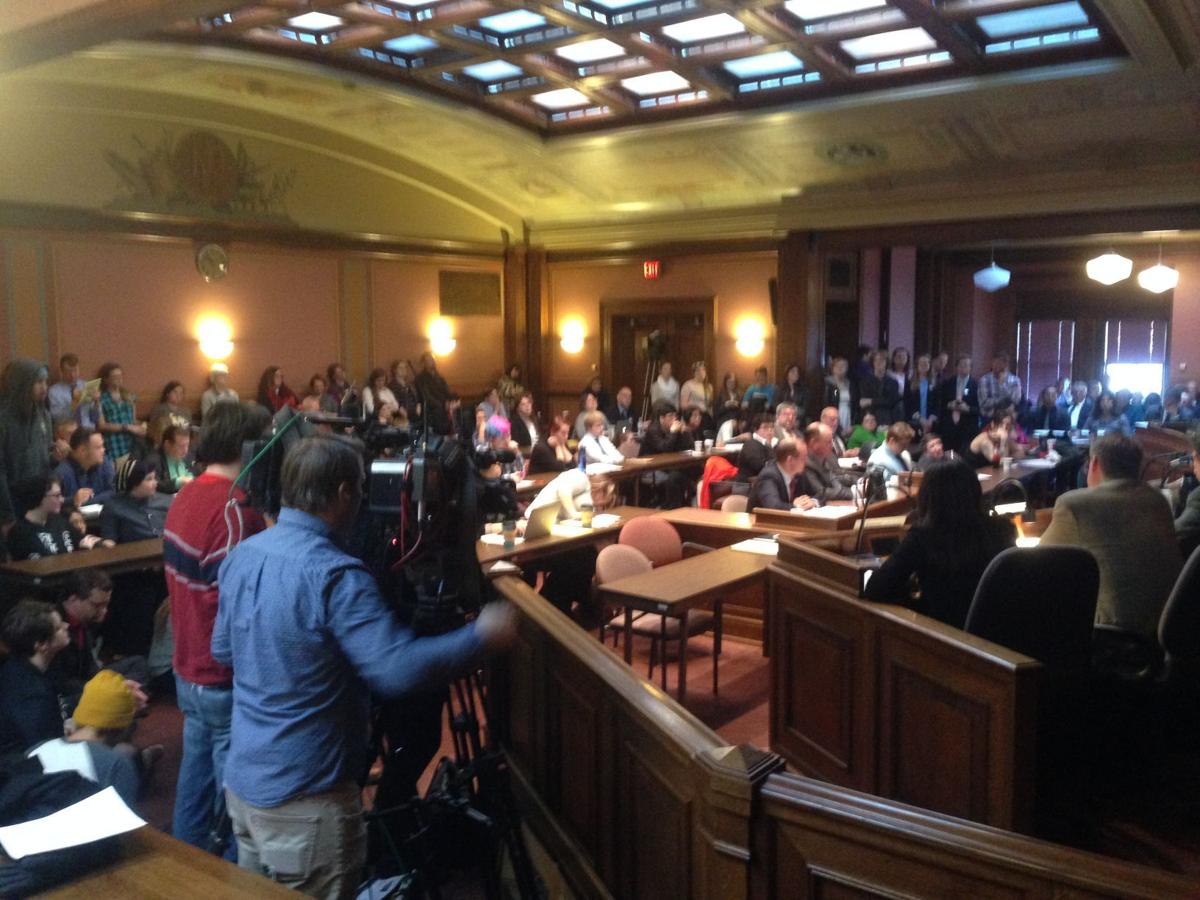 Wisconsin would be the first state to ban transgender students from using bathrooms and locker rooms assigned to the gender with which they identify if lawmakers approve a controversial bill that drew more than 100 people to the Capitol on Thursday.
The bill would require school boards to designate bathrooms and locker rooms by gender, require schools to make special accommodations for transgender students and others, and to require the state Department of Justice to defend school districts in lawsuits alleging the policy is discriminatory.
At a hearing on the bill sponsored by Rep. Jesse Kremer, R-Kewaskum, and Sen. Steve Nass, R-Whitewater, Kremer and supporters said the legislation seeks to protect all students' privacy and prevent uncomfortable situations.
The bill provides a "dignified learning environment" for all students, Kremer said.
Opponents said the bill would put the state in conflict with federal rules that say students can't be treated differently on the basis of gender and impede local control.
"The bill, as introduced, will not only negate local efforts to fashion local solutions but will likely create new legal concerns for schools," said Dan Rossmiller, lobbyist for the Wisconsin Association of School Boards.
Joellen Kralik, a research analyst with the National Conference of State Legislatures, said similar legislation was introduced this year in Colorado, Florida, Kentucky, Minnesota Missouri, Nevada and Texas, but none were enacted.
Representatives of public schools said it overrides the decision-making abilities of local school boards, and would put schools in conflict with federal guidance.
"The foremost of those is that it undoes the efforts local school districts have made to address accommodations for all students," said state Superintendent Tony Evers. "In school districts across the state, a great deal of time has been spent building relationships with community members and understanding these complex issues from all sides. This bill disregards that important work."
Julaine Appling, president of Wisconsin Family Action, which describes its mission as promoting Judeo-Christian principles and values, said federal guidance that supports allowing transgender students to choose bathrooms forces the majority of children to forfeit their privacy rights.
"It's a social experiment that borders on child exploitation," she said.
The hearing drew a number of transgender students, including some attending Madison's East High School, who argued the bill ignores the realities of a transgender student's experience and could be problematic for students who are homosexual but not publicly.
"A trans woman is a real woman and a trans man is a real man," said Aden Haley-Lock, a 14-year-old freshman at East who uses the school's gender-neutral bathroom.
Fed policy at issue
If passed, the policy could put the state at odds with a federal policy regarding student discrimination known as Title IX. In 2014, the Office of Civil Rights within the U.S. Department of Education said this law covered discrimination on the basis of sexual identity.
In June, the U.S. Department of Justice sided with a transgender student from Virginia who said his school's policy of requiring him to use alternative facilities instead of communal bathrooms violated his rights, and that he should be allowed to use the bathroom assigned to the gender he identified with as a matter of mental health.
Kremer said Thursday the Education Department "has overplayed their hand" in setting societal norms through Title IX. He said the department's policy would force students to shower next to their peers of other genders.
"We don't want that. That's not a societal norm," he said.
Joanne Lee, mother of Skylar Marcus Lee, a deceased transgender student from West High School, tearfully testified against the bill, saying forcing transgender students to use bathrooms that correspond with their biological gender could spur intense depression and thoughts of suicide.
The bill defines gender as being "the physical condition of being male or female, as determined by an individual's chromosomes and identified at birth by that individual's anatomy," according to an analysis of the bill from the Legislative Reference Bureau.
Revised bill
When he first drafted the bill earlier this fall, Kremer said safety fears could arise when female students entering a bathroom are followed by someone and they don't know if that person is a transgender student or someone "up to no good."
Under an amended version bill, students may request special accommodations if they don't want to use bathrooms associated with their biological genders. Parents may also file a written complaint if they feel their student's privacy is being violated because of transgender students' use of a school's bathroom or locker room. A school district then has 30 days to "investigate and attempt to resolve the complaint."
If the complaining parents are not satisfied with the school district's resolution, they may sue the district.
Kremer said the bill's impetus came from a situation in the Kewaskum School District in which a student who was born female but identified as male was repeatedly using a school bathroom for boys.
Rep. Sondy Pope, D-Cross Plains, questioned how a student's gender would be determined and how school districts would pay for building new unisex bathrooms.
Rep. John Jagler, R-Watertown, said school administrators he has consulted want guidance on the matter.
Get Election 2020 & Politics updates in your inbox!
Keep up on the latest in national and local politics as Election 2020 comes into focus.