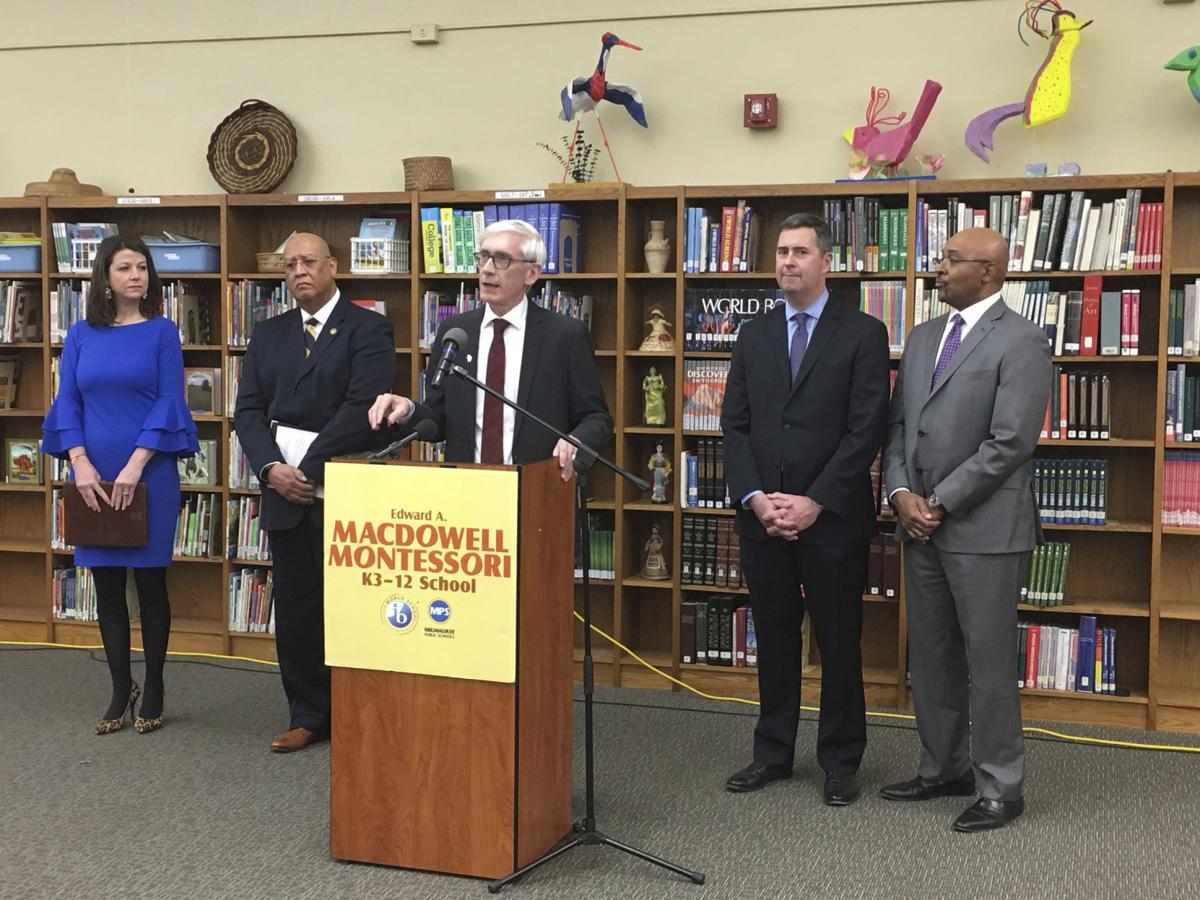 MILWAUKEE — Democratic Gov.-elect Tony Evers has named his first four picks to lead state agencies, including a Natural Resources secretary whose appointment drew praise from outgoing Republican Gov. Scott Walker.
But the fact that Evers' first four Cabinet appointees are from Milwaukee drew criticism from GOP legislative leaders.
Evers announced the following Cabinet secretary appointees Wednesday, subject to confirmation by a majority vote of the state Senate:
Department of Natural Resources:
Preston Cole, a member of the state's Natural Resources Board who was its first African-American chairman, and a Milwaukee city official.
Department of Administration:
Joel Brennan, CEO of Milwaukee's Discovery World science and technology museum and a former campaign manager for Milwaukee Mayor Tom Barrett.
Department of Corrections:
Kevin Carr, a U.S. marshal and onetime top aide to former Milwaukee County Sheriff David Clarke.
Sara Meaney, chief marketing officer for Milwaukee Film, the city's annual film festival.
Evers made the announcement at MacDowell Montessori School in Milwaukee. Asked what message he hopes the picks send, Evers said it's "the same message I said all during the campaign."
"I'm seeking talent, and I'm seeking people that can connect the dots and people that will work with the civil servants and others in their agencies to provide the best services possible," Evers said. "And to have a Cabinet that looks like the people of Wisconsin."
You have free articles remaining.
Walker took to Twitter to praise Evers' choice of Cole. Cole was appointed to the Natural Resources Board by Democratic Gov. Jim Doyle and re-appointed by Walker to another six-year term. He works as commissioner of neighborhood services for the city of Milwaukee.
Walker said Cole "did a good job on the board and understands the importance of the entire state."
But Evers' picks drew swift criticism Wednesday from other Republicans, who expressed disappointment the governor-elect did not draw on talent from outside the state's largest metro area in his first cabinet picks.
Assembly Speaker Robin Vos, R-Rochester, said in a statement that he's "greatly disappointed that his top four appointments were from Milwaukee."
Evers said Wednesday that many more cabinet officers are yet to be announced and will address that criticism. He did not say when additional announcements are expected.
Vos also noted that "the most powerful appointment was the brother-in-law of the co-chair of his transition team." That's a reference to Brennan, brother-in-law to Exact Sciences CEO Kevin Conroy, an Evers campaign donor and one of five co-chairs of Evers' transition.
"If independence is supposed to be a hallmark of his administration, he's already disproving it by showing that political connections are more important than anything else," Vos said.
Brennan's government and political background includes having run Milwaukee Mayor Tom Barrett's unsuccessful bid for governor in 2002 and successful mayoral run in 2004. Brennan also was director of the Redevelopment Authority of the city of Milwaukee.
The administration secretary, while not a headline-grabbing position, serves as a crucial lieutenant to the governor because the agency helps implement the state budget and assists other agencies, including with personnel matters. Ellen Nowak holds the job under Walker.
Before becoming chief marketing officer for Milwaukee Film, Meaney was managing director at BVK, an advertising agency. Her appointment comes after some Republicans had called for Evers to keep Walker appointee Stephanie Klett on as Tourism secretary.
If Cole is confirmed as DNR secretary, he would lead a department — now headed by Daniel Meyer — that has become a political hot-button in recent years. Critics say under Walker the department has ignored its own scientists and bowed to business and political pressures to curb environmental protections.
Cole, speaking at Wednesday's event, pledged to "double down on science" — drawing cheers from the supportive group in attendance.
Asked afterward what he meant, Cole said "science-based policy-making is the epicenter of the governor's wishes for the Department of Natural Resources."
"As a forester with a science-based background, I want to be able to assure him and members of the Legislature that those decisions are going to be based on the most available science that we have," Cole said. "The elected officials can then use that information for the policies that they deem appropriate.
"They'll have it; they can make decisions," he said. "As long as they have it, I'll be happy."