There is no Wi-Fi in the windowless basement office that state treasurer Sarah Godlewski occupies, so she relies on her own personal hotspot.
Shortly after taking office Jan. 7, Godlewski negotiated for a small supply closet in the basement's Capitol that she says she will use as her conference room.
And the office's budget isn't enough for a smartphone. Instead, Godlewski is equipped with two pay-as-you-go mobile flip phones to conduct the state's financial business when she's away from her desk. Each minute costs two cents.
If these are hints for how much work is expected out of the state treasurer's office, the irony is not lost on Godlewski, who led an effort to preserve the office during last year's referendum to eliminate it.
"While they have tried maybe everything to tie my hands to not be effective, I'm not going to let that stop me," she said. "When people thought I was going to go save this office, they thought I was crazy. They said 'Why would you do that? It's a done deal. We're going to remove this office.'"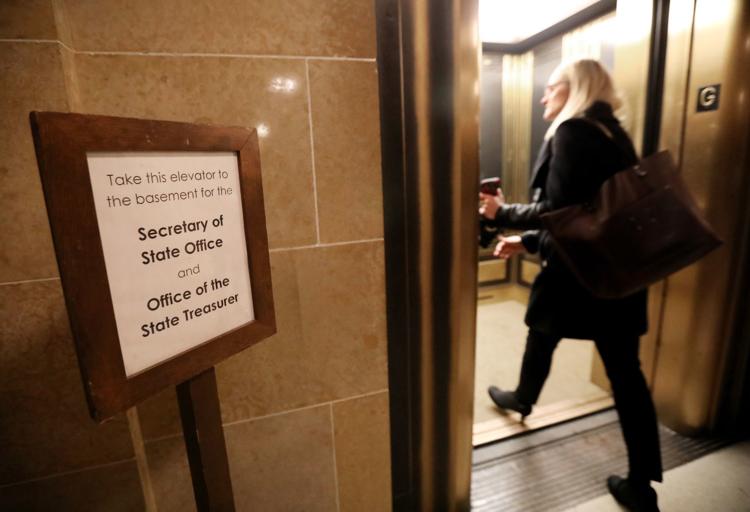 On April 3, 62 percent of Wisconsin voters decided the office was worth keeping, ending a years-long debate about the utility of an office many in state government view as ceremonial.
A few days later, Godlewski announced her campaign for state treasurer.
A six-month campaign and 30,000 miles clocked on her car, Godlewski found herself in a hotel elevator on election night when she got the call: She had won.
Despite the voter mandate last spring, the 37-year-old Eau Claire native faces an uphill battle in restoring an office that's been written off as obsolete.
Rep. Mike Schraa, R-Oshkosh, who sponsored the resolution to put the amendment to voters and expected it to be eliminated, said he doesn't foresee the office expanding.
"There is zero appetite in the Legislature to restore any duties to that office," he said in an interview. "It just isn't going to happen."
Antiquated relic
Godlewski compared her first day in office to a movie scene where the protagonist walks through the woods, comes across a cabin and steps inside a living area coated with dust and debris.
"This cabin is beautiful and has a lot to offer, but it's been neglected for a while," she said.
Godlewski's predecessor, Republican Matt Adamczyk, and many state lawmakers from both parties say the office no longer serves a purpose.
The only constitutional duty remaining for the treasurer is serving on the Board of Commissioners of Public Lands, which manages a $1.1 billion endowment that provided about $36 million to school libraries in 2018.
Adamczyk did not return calls for comment but has previously said the responsibility serving on the board "literally consists of two 15-minute phone calls per month."
Elected in 2015, he ran for the position on the platform of eliminating it. He whittled staff down until he was the only one left.
The office's budget shrunk from $544,800 in fiscal years 2014 and 2015 to $113,500 in fiscal years 2018 and 2019, according to the Legislative Fiscal Bureau.
He called the changes a "symbolic victory for smaller government."
Taxpayer savings
In most states, the treasurer holds considerable power, according to National Association of State Treasurers executive director Shaun Snyder. Aside from Wisconsin, he said he was unfamiliar with other states shifting substantial powers away from elected treasurers to agencies controlled by the governor's office.
But that's what has happened to the treasurer's office in Wisconsin starting in the mid-1990s.
In 2003, nearly all of the office's cash management functions were transferred to the Department of Administration. The College Savings Program and the College Tuition Prepayment Program, known as EdVest, were transferred to DOA in 2011. And in 2013, the treasurer's job of running the Unclaimed Property Program went to the Department of Revenue.
Schraa said the Unclaimed Property Program is administered more efficiently by that agency because it has access to certain personal data on state residents that the treasurer lacks.
The treasurer's office has not been funded with general purpose revenue since 1995, according to the Legislative Fiscal Bureau. It's run with program revenue associated with the Unclaimed Property Program, which the treasurer plays a role in promoting.
Godlewski hopes to maximize returns on the investment portfolios she helps manage. She also said there should be a more rigorous valuation of assets in the Unclaimed Property Program.
More oversight could lead to more program revenue, she said, which could go toward expanding her office.
Eliminating the treasurer's staff who oversaw those programs also doesn't necessarily save money in salaries, she argued, because those jobs are still there, just in departments overseen by political appointees instead of elected officials.
"I'm a believer that more elected officials are a good thing," said Cate Zueske, a Republican who served as state treasurer from 1991 to 1995 and as deputy secretary at the Department of Administration from 2015 to 2018. "It brings the responsibility and accountability directly to the voters."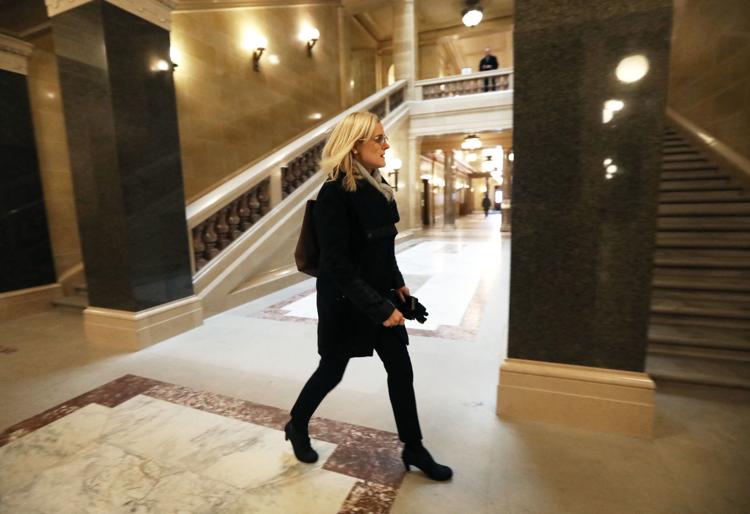 Spokespeople for Assembly Speaker Robin Vos, R-Rochester, and Senate Majority Leader Scott Fitzgerald, R-Juneau, said expanding the treasurer's powers is not a priority.
A spokeswoman for Gov. Tony Evers did not answer questions on whether Evers would like more powers restored to the treasurer's office and whether more money would be allocated to the office in the 2019-21 biennium.
"People clearly believe in the value of the state treasurer's office and they've placed their trust in Sarah Godlewski," spokeswoman Melissa Baldauff said in a statement. "The governor's office looks forward to working with her."
Even Rep. Mark Spreitzer, D-Beloit, who introduced a bill last year to transfer some powers back to the treasurer, said he was not planning to reintroduce legislation at this time.
Resurrecting duties
One of Godlewski's first actions as treasurer-elect was requesting the Legislative Reference Bureau produce a memo listing what responsibilities she is assigned to by law. The nonpartisan office came back with 16 powers she retains.
Some duties require extraordinary circumstances — such as serving as governor if the governor, lieutenant governor, attorney general and secretary of state cannot.
Other responsibilities are ones that Godlewski said have been ignored for years.
She was surprised to learn the treasurer has the authority to host conferences training county and municipal clerks and treasurers.
Zueske said her office led annual conferences for clerks and treasurers. The feedback from them was to continue that type of support, she said.
Godlewski hopes to resurrect the training and focus on data security, an area several reports by the Legislative Audit Bureau have identified as something that could be strengthened.
She also plans to look at the policies related to her check-signing authority, especially those involving third-party vendors.
"The executive office, they tax you, they tell you how they will spend your money when they write the budget, they actually spend your money and then they account for it," Godlewski said. "You should never have those four functions under the same room. That's a huge violation of internal controls."
Last fall before leaving office Adamczyk requested $116,700 for the office per year over the next biennium. Godlewski submitted her own budget plan and requested additional staff, which she said she needed to meet the immediate needs of the office. She declined to say how much she requested.
"We're scrappy, you know?" said Godlewski's chief of staff, Sarah Smith.
The current budget isn't enough money to hire a full-time aide. Smith's salary is funded through a grant Godlewski got that lasts through April.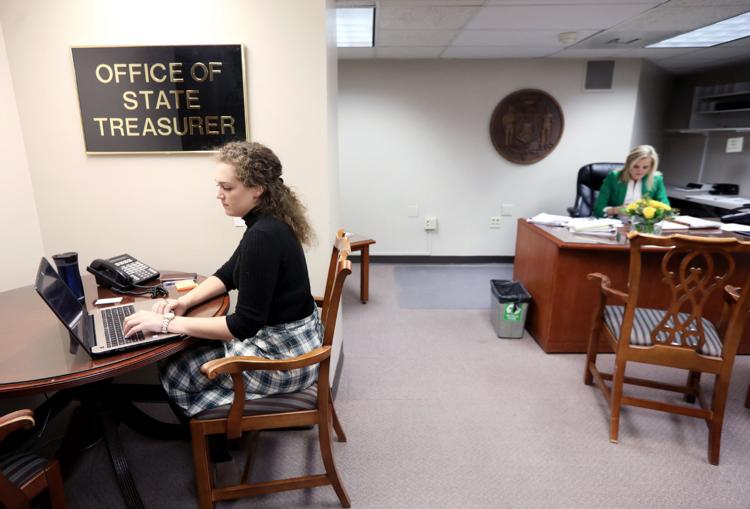 'Crazy ideas'
Godlewski's path to the basement of the Capitol started in 2017 when she fell down a research rabbit hole.
Godlewski and her husband, Max Duckworth, were running MaSa Partners, an investment venture that provides financial and human capital to "early-stage, socially responsible companies that are changing the world."
"I'll talk to our state treasurer and maybe help him on that," she said she remembers thinking.
Then she learned Adamczyk wanted the office eliminated.
So she called the National Association of State Treasurers to gather more research and received an invitation to one of their conferences that year.
Listening to treasurers share what their offices were up to at the 2017 conference, Godlewski said she "realized how far behind Wisconsin had fallen."
"These are critical problems in the 21st century and state treasurers are tackling that," she said.
Godlewski said she is looking into universal child savings accounts and financial literacy programs to be offered during life milestones, such as when a couple get married or when a child is born.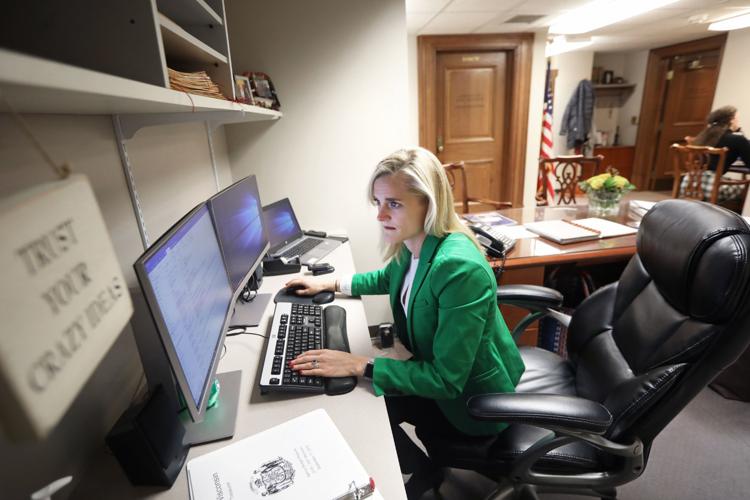 "I am not bored, if anyone asks," she said on a January day about two weeks into her first elected job.
Godlewski keeps her office door open as much as possible, sending a message to people that she's available. She even had her name and office printed on both sides of the door, so that no matter if it's propped open or shut, people know where she can be found.
Secretary of State Doug La Follette, whose office is next to hers in the basement, said he cannot remember a time when Adamczyk's door was ever left open and said Godlewski's approach is refreshing.
Eager to start working, Godlewski waves off critics who have relegated her as a figurehead the next four years.
A sign hanging to the left of her desk reads: "Trust your crazy ideas."