The Madison Plan Commission on Monday denied a proposal by HotelRED to construct a four-story addition to its Monroe Street building.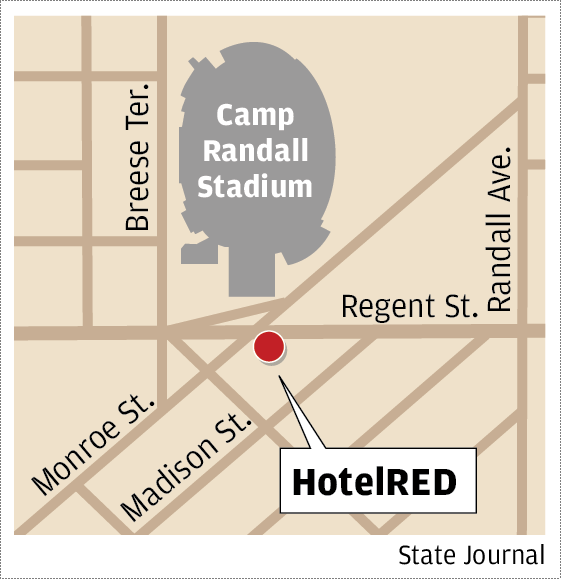 Members unanimously voted to reject a conditional use permit on the plan that would double the floor count and height of the boutique hotel at 1501 Monroe St. The commission cited concerns that the height of the proposed eight-story structure, about 100 feet, conflicts with neighborhood and city plans on how the area should be developed.
"It's just too far off what the current plan is to be able to support it from a standards perspective," said Ald. Steve King.
The developers argued the structure would not be out of place as it would be directly across Regent Street from UW-Madison's approximately 110-foot-tall Field House.
The plan would expand the 48-room hotel to about 105 rooms and would construct event space, a kitchen and lounge on the eighth floor.
Michael Erikson, president of operator Red Hospitality, said they realized they were asking for more height than is normally allowed, but he said the existing capacity is too small to "run an efficient business."
Jason Ilstrup, HotelRED general manager, said an expanded operation would create more property and room tax for the city, as well as bring more "vitality" to surrounding commercial districts.
Several Vilas Neighborhood residents showed up to speak against a project they said would "loom" over the area.
"The scale, the massing, the designs, it doesn't complement anything in the neighborhood," said Hans Borcherding.
HotelRED can revisit the commission with a new proposal.
Several commission members said they would like to see HotelRED come up with a scaled-down proposal that makes the building more aesthetically pleasing.
The independently owned HotelRED, near Camp Randall Stadium, opened in 2011 after dozens of neighborhood meetings, financial concerns and construction delays.