While a proposal to buy a building on Madison's Far East Side building to convert into a permanent men's homeless shelter fell one vote short of approval early Wednesday, an absent council member could make the purchase a reality at the City Council's next meeting.
So far, though, that member, Ald. Nasra Wehelie, isn't talking.
The council voted 14-5 to buy a former Savers and Gander Mountain store at 2002 Zeier Road for $2.6 million. But because the purchase would have amended the city's adopted budget, state law requires a three-fourths vote to pass it.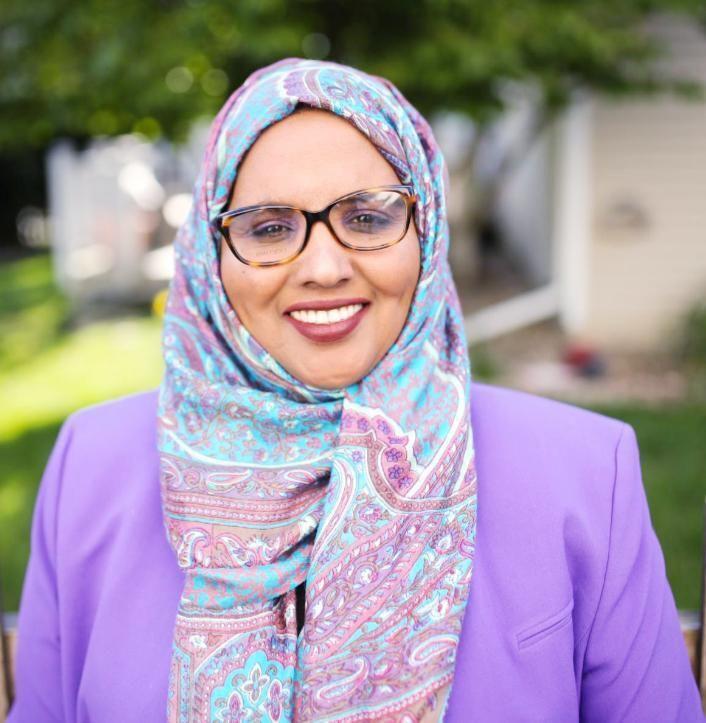 Wehelie, 7th District, was excused from the council's Tuesday night meeting, which stretched into early Wednesday. Under city ordinance, any council member excused from a council meeting can bring up a measure that failed during that council meeting for "reconsideration" at the next council meeting — which is May 18.
Wehelie did not respond to requests for comment Wednesday. But while she was not one of the nine council sponsors of the resolution to buy the Zeier Road property, her campaign literature from the April 6 election suggests she would be sympathetic to the purchase, which would not be in her Southwest Side District.
"The city and the county need to do more to not only provide shelter and Day Resource Center but have a clear path to permanent housing and eventually ending homelessness and stray away from short term fixes," she wrote.
Wehelie was appointed to the council in November to fill a vacancy left when former Ald. Donna Moreland resigned. She ran unopposed in the April election.
Mayor Satya Rhodes-Conway, a strong supporter of the Zeier Road purchase, released a statement Wednesday morning saying: "I find it remarkable that after the year we have had, and the extraordinary lengths the City has gone through to protect the most vulnerable, that some members of the (City) Council chose not to take the final, critical step to establish a safe, secure, purpose-built shelter."
Her office declined comment Wednesday.
During the council meeting, some council members argued the Zeier Road property was too far from Downtown, where most services for the homeless are located, and the city should evaluate an East Side property at 2030 Pennsylvania Ave., near the current temporary shelter at the city's former Fleet Services building on First Street near East Johnson Street.
Before voting on the Zeier Road site, council President Syed Abbas, 12th District, attempted to delay a decision until August to give city staff more time to evaluate the Pennsylvania Avenue property, owned by the Hooper Corp., and described the Zeier Road property as in the "middle of nowhere."
City staff said purchasing and renovating the Hooper property could run as high as $23 million, and renovations might not be complete until 2025. A permanent shelter at Zeier Road was estimated at $10.5 million, with renovations expected to be finished in late 2022.
Other council members admitted that while the Zeier Road location is not ideal, the city can't wait any longer to find a permanent solution to a men's shelter system that before the COVID-19 pandemic was for decades spread across three cramped Downtown church basements.
The council voted 14-5 against Abbas' bid to delay a decision on the purchase. He and Alds. Sheri Carter, Gary Halverson, Charles Myadze and Barbara Harrington-McKinney ultimately voted against buying the Zeier Road site.
In a post on her City Council webpage Wednesday, Harrington-McKinney said the "Zeier Road property is being shoved at us."
"Not because it is the best location or best choice," she said. "The rationale seems to be that it is available for sale. … Other properties had been considered and for various reasons did not happen. Staff had reported publicly that the location was not perfect, but if the site were purchased we will make it work. Why not invest the time to get it right?"
The failed purchase puts Madison and Dane County in an uncertain position going forward.
When the pandemic struck last spring, homeless men were moved from the church basement system to the Warner Park Community Recreation Center, where a temporary overnight shelter was set up. They were moved again in December to another temporary location in the city's former Fleet Services building. But that location is slated to be converted into the long-planned Madison Public Market some time next year.
"For the staff team, it is back to square one on the site search," Matt Wachter, director of the city's Department of Planning, Community and Economic Development, said about what happens now in the search for a shelter site. "We will regroup and look to see if new properties are becoming available."
---