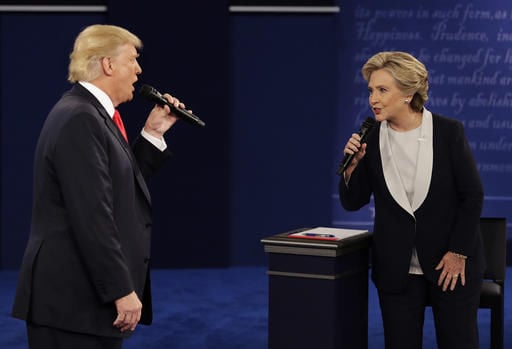 Hillary Clinton widened her lead to seven points over Donald Trump in Wisconsin, with her gains coming in the wake of a video showing Trump making predatory comments about women, according to the latest Marquette Law School Poll.
The latest poll showed Clinton leading Trump 44-37 among likely voters. Libertarian candidate Gary Johnson received 9 percent support and Green Party candidate Jill Stein received 3 percent.
The presidential election has gone through a volatile period since the last poll — in which Clinton led by three points — particularly during the period that the poll was taken, in which the results showed a "substantial shift," poll director Charles Franklin said.
The results fluctuated from Thursday, before a 2005 recording surfaced of Trump talking boastfully about being able to kiss and grope women because he's a "star," to Saturday and Sunday. Among the 412 likely voters polled on Thursday, Trump led 41-40, but among the 236 likely voters polled Saturday and Sunday, Clinton led 49-30. Among the 230 polled on Friday as the Trump video surfaced, Clinton led 44-38.
The poll also found Trump's support lessening among several subgroups before and after Friday, most notably women and evangelical Christians, though the sample sizes were small. Among women, Clinton led 45-36 on Thursday and 56-23 over the weekend. Among evangelicals, Trump led 64-24 on Thursday and 47-31 over the weekend.
"When you see every one of (the subgroups) move in the same direction from Thursday to Sunday, you have pretty good confidence that there was a pretty wide shift," Franklin said. "The real question is: Is it enduring or not?"
The previous Marquette poll, conducted a week before the first presidential debate on Sept. 26, showed Clinton leading Trump 41-38 among likely Wisconsin voters. The new poll found 78 percent of likely voters watched the first debate.
The latest poll came not only amid reports of the 2005 Trump video, but also as House Speaker Paul Ryan scratched Trump from a scheduled campaign rally in Elkhorn on Saturday, upsetting many Trump supporters.
The latest poll was completed before the second presidential debate on Sunday night and the decision by Ryan to not defend or campaign with Trump, which elicited a rebuke from Trump on Twitter.
Both candidates continue to be viewed negatively, with 61 percent viewing Trump unfavorably and 54 percent viewing Clinton unfavorably. Also, 63 percent said they are uncomfortable with Trump being president and 53 percent said the same about Clinton.
Only 33 percent described Trump as honest, though that was slightly better than the 29 percent who described Clinton that way. Meanwhile, 58 percent said Clinton is qualified to be president, compared with only 33 percent who said Trump was qualified.
Half said Clinton does not show good judgment and 70 percent said Trump does not show good judgment.
The poll also found 40 percent of likely voters have a favorable view of GOP vice presidential nominee Indiana Gov. Mike Pence and 28 percent have a favorable view of Democratic vice presidential nominee Virginia Sen. Tim Kaine. The poll was conducted a few days after the two met for their only debate, which 57 percent of likely voters watched.
The poll included 878 likely voters and a margin of error of +/-3.9 percentage points. The margin of error was +/-5.9 percentage points for Thursday's sample and +/-7.8 percentage points on both Friday and the weekend.
Get Election 2020 & Politics updates in your inbox!
Keep up on the latest in national and local politics as Election 2020 comes into focus.