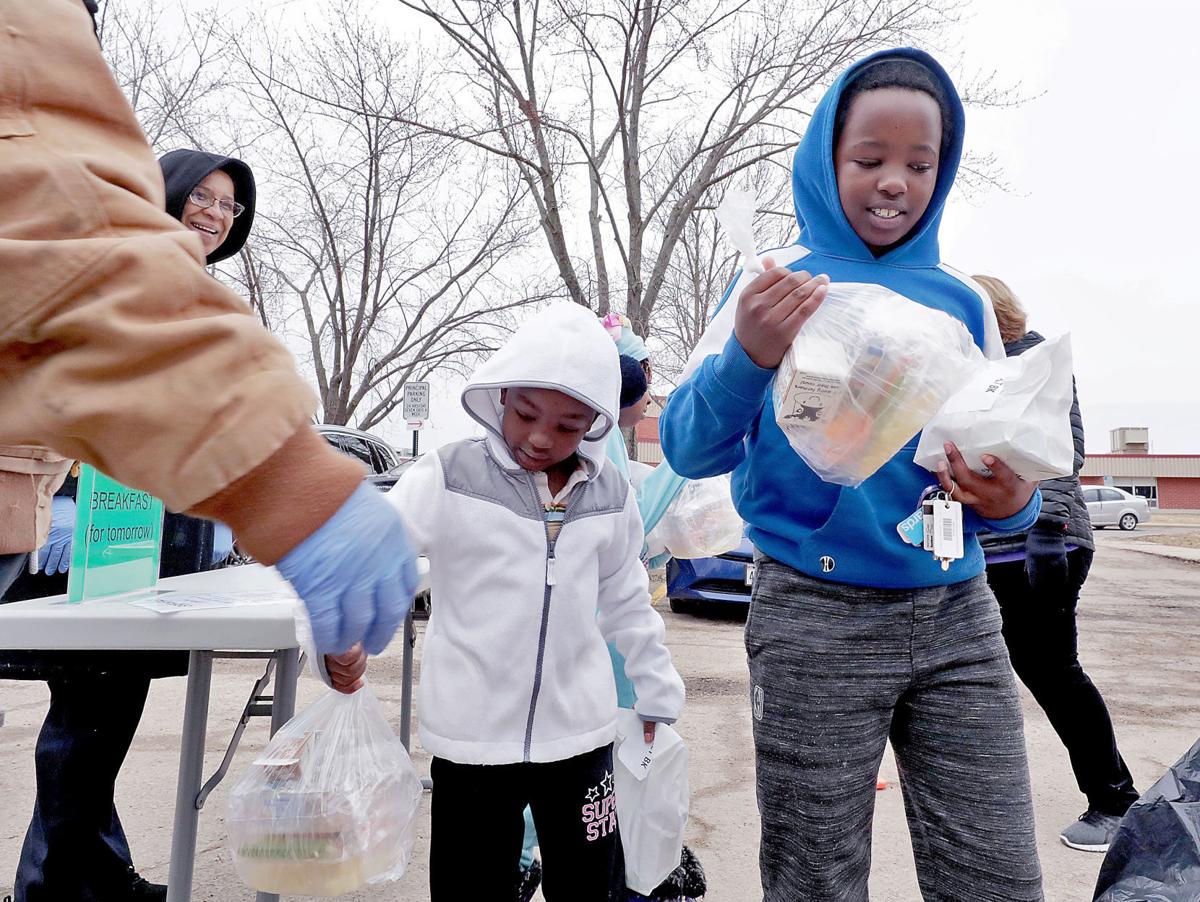 We've all got too much to worry about keeping ourselves and our families safe during the current public health crisis than to worry about whether we can put food on the table.
Here are ways you or your loved ones in the Madison area can be provided for if money is tight. This list will be updated periodically. To be added to the list, or to make any corrections, please email: wsjcity@madison.com
Residents can also call 211 to be directed to the nearest food pantry. 
Madison School District  
The Madison School District is offering free bagged breakfasts and lunches for children Monday through Friday at 12 sites throughout the district. 
Meal pickups between 11 and 11:45 a.m. weekdays at:
Badger Rock Middle School, 501 E. Badger Road.
Lake View Elementary School, 1802 Tennyson Lane.
Leopold Elementary School, 2602 Post Road.
Memorial High School, 201 S. Gammon Road.
Meal pickups between noon and 12:45 p.m. weekdays at:
Cherokee Middle School, 4301 Cherokee Drive.
La Follette High School, 702 Pflaum Road.
Sherman Middle School/Shabazz High School, 1601 N. Sherman Ave.
Boys & Girls Club of Dane County's Allied Drive location, 4619 Jenewein Road.
Meal pickups between 1 and 1:45 p.m. weekdays at:
East High School, 2222 E. Washington Ave.
Hawthorne Elementary School, 3344 Concord Ave.
Lincoln Elementary School, 909 Sequoia Trail.
Toki Middle School/Orchard Ridge Elementary School, 5606 Russett Road.
YMCA
The YMCA is operating two programs, one focused on meals for children and the other for the elderly.
The program for children under 18 will provide 100 grab-and-go meals a day from 11:30 a.m. to 12:30 p.m. Monday through Friday at four sites in Sun Prairie:
Sun Prairie VFW Post 9362, 349 S. Walker Way.
The Element on Main Apartments Clubhouse, 102 Park Circle.
Rolling Prairie Apartments Clubhouse, 415 S. Bird St.
McKenzie Family Boys and Girls Club, 232 Windsor St.
Each child will be provided with two meals, one for lunch and the other for breakfast the following day. Children have to be present to receive the food.
For seniors, the YMCA will be providing 125 drive-up meals a day. The program is available at three locations from 3:30 to 4:30 p.m., Monday through Friday, in Madison and Sun Prairie:
East YMCA, 711 Cottage Grove Road.
Sun Prairie YMCA, 1470 Don Simon Drive.
West YMCA, 5515 Medical Circle.
Food pantries
Food pantries and other organizations are also providing grocery delivery or free curbside pickup meals instead of community meals at other sites in the Madison area: 
Oak Park Terrace, 571 Banding Lane (near mailbox): 11:20-11:35 a.m.
Ridgecrest Apartments, 517 Northport Drive: 11:40-11:55 a.m.
Vera Court neighborhood, at 714 Vera Court: Noon-12:15 p.m.
Parkcrest Apartments, 1564 Troy Drive, 12:20-12:35 p.m.
Corner of Brentwood Parkway and Trailsway: 12:40-12:55 p.m.
Packers Townhouses, 1927 Northport Drive: 1-1:15 pm
Northport Apartments, 1740 Northport Drive: 1:20-1:35 p.m.
Corner of Kipling Drive and Scott Lane 1:40-1:55 p.m.
Kennedy Heights, 199 Kennedy Road: 2-2:15 p.m.

The Catholic Multicultural Center is continuing its free daily meal program, although now the meals are made to go and distributed from the center's parking lot, at 1862 Beld St. Distributions are from 4 to 5 p.m. weekdays and 11 a.m. to noon on weekends.
The Keep Food Pantry at Luther Memorial Church in Madison, 1021 University Ave., offers food for students, staff and faculty at UW-Madison, Edgewood College, and Madison Area Technical College from 3:30 to 6:30 p.m. on Thursdays.
Luke House at 310 S Ingersoll serves bag lunches nine times each week: 5:45 to 6:30 p.m. Sunday and then twice a day Monday through Thursday from 11:30 a.m. to 12:30 p.m. and 5:45 to 6:30 p.m. The center is closed on Fridays and Saturdays.
First United Methodist Church Food Pantry is delivering emergency food packages. Families in need can request a delivery to their home by calling 608-251-4407
Middleton Outreach Ministry is providing curbside pickup of food at 3502 Parmenter Street in Middleton Tuesday and Thursday noon to 1:30 p.m. and Saturdays 10 a.m. to noon. They are asking clients to bring an ID with them and only use the food pantry once a week so they can maintain supply. 
Concerned about COVID-19?
Sign up now to get the most recent coronavirus headlines and other important local and national news sent to your email inbox daily.