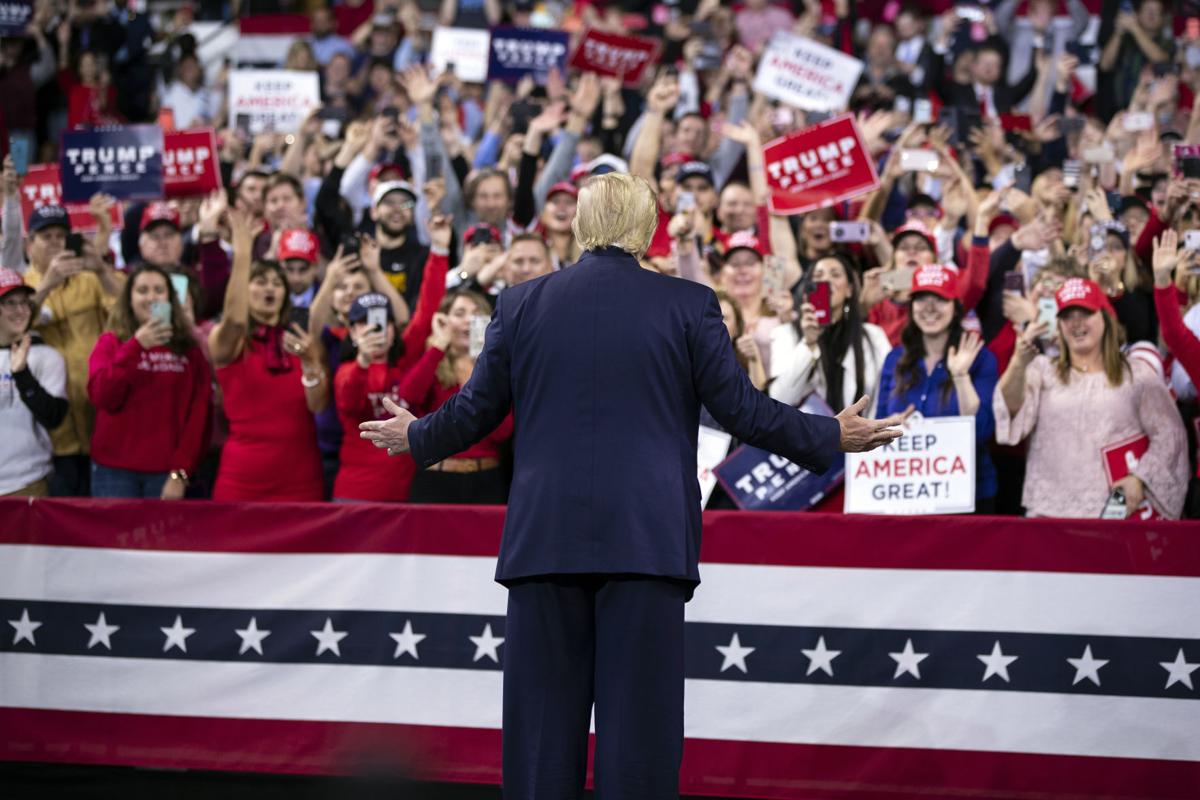 Just two weeks into the year, before the COVID-19 pandemic threw 2020 presidential campaigns into disarray, President Donald Trump spoke to thousands in a crowded Milwaukee arena with a message of "Promises Made, Promises Kept."
It's a message the incumbent president will continue to lean into as he nears his November showdown with presumptive nominee and former Vice President Joe Biden, said Anna Kelly, Wisconsin press secretary for the Trump campaign.
"We have, in my mind, the best record of success to run on in history," said Anna Kelly, Wisconsin press secretary for the Trump campaign. "The president has undoubtedly delivered on his promises to Wisconsinites — between fairer trade deals, lower taxes and constitutionalist judges — I do think that Wisconsin voters see the results of the president's 'America First' agenda and they'll send him back to the White House again in November as a result."
At the same time, Trump promised to accelerate economic growth and eliminate the national debt in eight years, but even before the economy was rocked by COVID-19 it was growing more slowly than the final years of the previous administration while growth of the national debt was accelerating with bigger budget deficits.
Perceptions of whether or not the president has delivered on the promises he made during his 2016 campaign differ drastically along party lines, leading many political observers to question whether evaluating the president's record even matters.
"If you're living in the conservative media bubble, then Trump has delivered masterfully on his campaign promises, but if you're living in a liberal media bubble, then Trump has been a miserable failure," said Anthony Chergosky, UW-La Crosse assistant professor of political science. "If Americans are going to judge whether or not President Trump has followed through on his campaign platform, can people make that determination in an era where it seems like Americans can't even agree on the basic facts of the situation?"
Between June 2017 and October 2019, the Marquette Law School Poll asked voters on five occasions if they felt Trump had kept the promises he made during his 2016 campaign.
Opinions didn't change much over the course of those five polls, with a combined 50% of respondents saying the president has kept his promises, while 45% said he hadn't.
Poll director Charles Franklin said the more than two-year consistency in poll results indicate that Trump's accomplishments such as passage of the Tax Cuts and Jobs Act in 2017, as well as his failures such as his inability so far to repeal and replace the Affordable Care Act, had little impact on respondents' perceptions.
Of respondents, 89% of Republicans said the president has kept his campaign promises, while 9% said he hasn't. Among Democrats, only 15% said Trump has kept his promises, compared with 81% who said he has not.
Among independents, 45% said Trump has kept his promises and 39% said he has not.
"There's a pretty strong partisan alignment on this, which is not at all surprising, really," Franklin said.
Trump's job approval also has remained consistent, shifting only slightly from 44% approval in early 2019 to 47% in May.
The economy
Preliminary numbers from the U.S. Bureau of Labor Statistics show the state's unemployment rate at 3.4% in March, before the COVID-19 outbreak caused business closures and the unemployment rate to reach 14.1% in April, a level not seen since the Great Depression.
The state's unemployment rate had been consistently falling through much of former President Barack Obama's presidency as well, with the unemployment rate falling from 9.3% at the start of 2010 to 3.6% when Trump took office in 2017.
"People looking at those indicators, I think would say Trump is doing a reasonable job of managing the economy," UW-Madison political science professor Barry Burden said.
But Burden added there are many ways to measure the economy, including the U.S. gross domestic product, a measure of the nation's economic activity.
During the 2016 campaign, Trump pledged to boost annual growth to 4% or more, but annual GDP growth has yet to reach 3% during his first three years, according to the Bureau of Economic Analysis. Wisconsin's GDP increased by only 1.4% last year.
"If the indicator is growth, then the economy has been sluggish or mediocre … by that standard you have to say he didn't succeed," Burden said. "It's just easy for people to pick the economic numbers they want to believe based on the candidates they already have decided to favor."
Trade policy
Trump also promised to renegotiate the North American Free Trade Agreement between the U.S., Canada and Mexico and clamp down on what he often referred to as unfair trading practices with China.
Wisconsin manufacturers generated more than $63 billion in output in 2018, accounting for 19% of the state's gross domestic product. Wisconsin also is one of the nation's top dairy states — leading the country in cheese production.
The U.S.–Mexico–Canada Agreement, which updates the decades-old NAFTA, was signed late last year, and included revisions to increase exports of dairy products and manufacturing goods to Canada and Mexico.
The International Trade Commission estimates the trade agreement would add more than $68 billion to the U.S. economy and generate 176,000 jobs.
In addition, Trump's "phase one" deal with China was signed in January. As part of the agreement, China has agreed to purchase $200 billion in U.S. manufacturing and agricultural goods.
Speaking at Milwaukee's Derco Aerospace last summer, Trump said his trade deals had already been paying dividends for Wisconsin farmers.
"Some of the farmers are doing well," Trump said. "We're over the hump. We're doing really well."
But while officials on both sides of the aisle seem to agree with the benefits of Trump's trade agreements, Democrats say previous escalation of tariffs and trade disputes have harmed the state's farming industry. Last year alone, more than 800 farms went out of business, a trend that has accelerated as the number of dairy farms has dropped from nearly 16,000 in 2003 to less than 7,300 last year.
"Was the trade war good for agriculture? No," Darin Von Ruden, a third-generation farmer and president of the Wisconsin Farmers Union Board of Directors, said during an online discussion with Biden earlier this month. "We're still losing over two dairy farms a day in the state of Wisconsin, so being over the hump really isn't here yet. Will we see it? I don't know."
Speaking in Madison last year, U.S. Agriculture Secretary Sonny Perdue signaled uncertainty for the state's small farms, saying, "In America, the big get bigger and the small go out."
Kurt Bauer, president and CEO of Wisconsin Manufacturers & Commerce, said a survey of WMC's roughly 3,800 members last June found that 47% said they were adversely impacted by trade disputes with China, but two-thirds of respondents said they supported those efforts.
Bauer also touted the Trump administration's efforts to provide businesses with regulatory relief and ease regulations on the nation's energy industry, emphasizing fossil fuels like natural gas and oil, rather than renewable resources like solar or wind.
"I think the business community has appreciated his policies and I think they've appreciated he's not afraid of ruffling feathers," Bauer said. "They may not always approve of the style, but they can't argue with the substance. He's gotten things done."
Trump also has been rolling back Obama-era environmental regulations, including the repeal of rules that had expanded water and wetland protections. While lauded as a victory by business organizations, environmental groups including Trout Unlimited slammed the change.
Health care reform
Another key campaign topic for Trump in 2016 was his criticism of the Affordable Care Act, which was signed into law in 2010.
However, despite his attempts to eliminate what is colloquially known as Obamacare, Trump's efforts to invalidate the health care reform act have stalled, with the matter now before the U.S. Supreme Court. The Trump administration has not unveiled a formal replacement.
Christine Forster, of West Allis, said she is concerned that Trump has yet to declare a plan to provide coverage for those with pre-existing conditions, which includes her daughter Kyleigh, who was born with a congenital heart defect.
Without the ACA, Forster said her daughter, who already has had three open heart surgeries, would not have access to health insurance when she turns 18 this fall unless she forgoes college and gets a job.
"By no fault of her own she was born with this, why should this be held against her when she has already had to fight for so much in her life? Why should she not have access to the health care that we have?" Forster said. "If she doesn't have insurance, she very well could die."
For now, Trump's pledge to do away with the ACA has been unfulfilled, but as Franklin noted, that doesn't necessarily translate into a failure to keep a promise.
"Trump trying to undo health care reforms failed, but certainly he didn't suddenly change his position and embrace Obamacare," Franklin said. "Success or failure in achieving the policy is not the same as attempting to keep the promise."
Photos: Donald Trump travels to Wisconsin for fundraiser (2017)