Farm interests faced off Wednesday against conservationists, fishing enthusiasts and other users of lakes and streams over proposed legislation to further roll back state regulation of high-capacity wells.
The debate focused on the Central Sands region of the state, where water levels in trout streams and lakes have dropped, in some cases dramatically, as millions of gallons of water have been pumped from the ground to cultivate some of the nation's most productive potato-growing fields.
As a standing-room-only crowd listened in a state Capitol hearing room, Senate Majority Leader Scott Fitzgerald told members of two committees the legislation he introduced last month was needed to ensure the health of Wisconsin agriculture.
"I don't want any lakes to dry up, and I don't want any streams to dry up," said Fitzgerald, a Juneau Republican. "But I'm also not going to hamstring an industry that's the backbone of this state."
But citizens who testified during the all-day session and Democratic lawmakers questioned why the bill addressed the concerns of farmers, but not owners of lakefront property or businesses that rely on tourism driven by outdoor recreation.
Stephen Laedtke of Wautoma said he has been saddened to see weedy low spots on the landscape where there had been sparkling lakes where for decades he had enjoyed fishing, swimming and boating.
Laedtke suggested there was only one reason for legislators to support the proposed law: "Generous campaign contributions and strenuous lobbying efforts by the WPVGA (Wisconsin Potato and Vegetable Growers Association) and its members."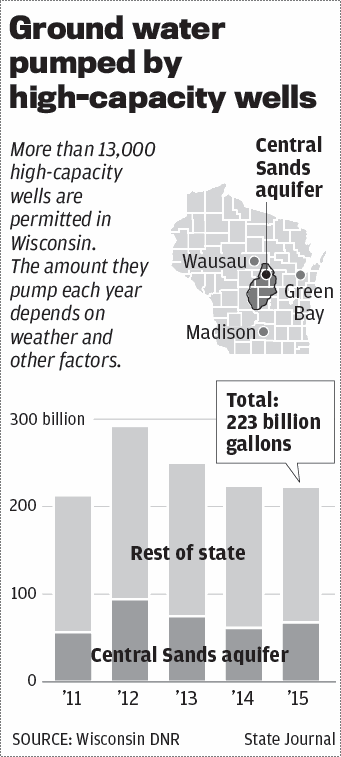 At issue is a proposal that would prevent state regulators from reviewing the impact of existing industrial grade wells on lake and stream levels.
It's a sore point in the Central Sands, where the groundwater is more closely connected to lakes and streams than in other parts of the state.
Water disappears quickly down into the sand and gravel that makes up the region's soil, so large volumes need to be pumped from deep in the aquifer to keep crops healthy. But the aquifer isn't replenished because most of the water sprayed on crops stays in the plants or evaporates. Consequently, groundwater — and the closely connected surface water — tend to drop lower and lower when high-capacity wells are at work.
Sections of streams such as the Little Plover River have run dry some years, and boat docks on lakes have been left high and dry.
Senate Bill 76 and Assembly Bill 105 would eliminate state review of the impact existing high capacity wells have on other water users by exempting them from any assessment when they are replaced, repaired or sold.
Those are the only times the state Department of Natural Resources can re-evaluate permits for wells that pump at least 100,000 gallons a day. Unlike other environmental permits, high-capacity well permits never expire.
The legislation also calls for groundwater studies in parts of the Central Sands that could lead to pumping restrictions within four years.
But conservationists say decades of research has already been done, and four years of continued and even increased pumping is too much, and the study areas cover only a fraction of the wells and vulnerable waters in the region.
You have free articles remaining.
John Holevoet, a lobbyist for the state Dairy Business Association, said he sympathized with concerns about falling lake and stream levels, but he denied that high-capacity wells were the only cause. Holevoet said many of the people affected were summer cottage owners.
But Carol Elvery, a member of the Central Sands Water Action Coalition, told lawmakers there were 10,000 permanent residents on a chain of lakes near Wautoma where she lives, and the numbers swell in the summer.
Photos: Public hearing over deregulating high-capacity wells draws intense interest
A public hearing was held Wednesday March 15, on legislation that would lock in existing high capacity well permits that have been linked to falling water levels in lakes and streams in Wisconsin's Central Sands region.
Elvery enlisted members of the audience to draw water from a cup of water with straws. There was no water left for the last person in line — representing lake and stream users.
Republicans who control the Legislature have had trouble delivering the deregulation farmers and other heavy water users have long wanted.
Over the next four months, the DNR approved a backlog of nearly 200 pending permit applications, including many that had been placed "on hold" for up to three years by applicants who weren't ready to accept pumping restrictions or the possibility of being denied when cumulative impact was the rule, DNR water section chief Adam Freihoefer told lawmakers.
At least one GOP member of the Assembly is telling his constituents in the Central Sands that he won't vote for the bill unless it is amended.
"I am aware that SB76 is not ideal for the situation our area is in," Rep. Scott Krug, R-Nekoosa, wrote Monday in an email to Arnie and Marty Wilke of Neshkoro. "That is why I will not be co-sponsoring this bill, nor do I plan to vote for it."
However, Krug said he would consider voting for it if the whole Central Sands was studied and water withdrawal could not be increased by a replacement well.
But the Wilkes said the basic premise of the proposal is wrong.
"No one should have a permanent ownership of our state's water," Marty Wilke said.
Three Central Sands counties — Waushara, Adams and Portage — that are typically ranked as the state's top potato producers are also the top three for groundwater withdrawals.
The Central Sands encompasses about 1.75 million acres east of the Wisconsin River. Sand and gravel deposited by glaciers hold groundwater in a single large aquifer that is more closely connected to surface water than other areas where groundwater is separated from the surface by layers of less permeable soil. The region has 800 miles of trout streams and 300 lakes.
The growers association has conceded that pumping water for crops contributes to lower water levels. But it's important that farmers are able to quickly replace wells when crops need water, said association executive director Tamas Houlihan.
"A grower can lose a crop in 24 hours if a well cannot be repaired or replaced," he said. The DNR's Freihoefer said the department moved quickly on replacement well permits, and he couldn't remember one being denied.
Several speakers referred to a two-year, peer reviewed study of the Little Plover River in the northern edge of the Central Sands. The state-funded study by the U.S. Geological Survey and the Wisconsin Geological and Natural History Survey confirmed previous research showing that water levels fell when nearby high-capacity wells pumped the most.
Editor's Note: This story has been corrected to more accurately reflect the comments of John Holevoet.