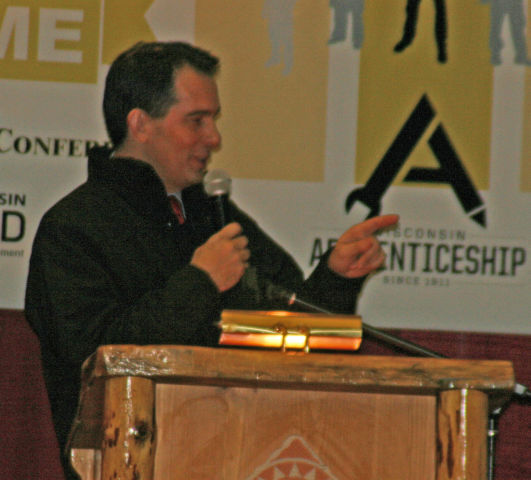 A group of low-wage workers hopes to use an obscure 101-year-old state law to force Wisconsin to boost its $7.25-an-hour minimum wage.
On Wednesday, Wisconsin Jobs Now plans to present petitions from about 75 workers who say they are paid wages that are not self-supporting. The group said that violates a state law dating back to 1913 requiring that the minimum wage in the state "shall not be less than a living wage."
Peter Rickman, director for Wisconsin Jobs Now's campaign dubbed Raise Wisconsin, said the group aims to force the administration of Gov. Scott Walker to boost the minimum wage, which has remained the same since 2009.
Some backers of a higher rate, including Democratic lawmakers and Democratic gubernatorial candidate Mary Burke, support raising the minimum wage in stages to $10.10 an hour over three years. Walker has said he opposes raising the minimum wage, saying it would force employers to cut jobs.
The "living wage" law, which Rickman said is unique to Wisconsin, requires the Department of Workforce Development, after receiving a "verified complaint," to investigate and determine within 20 days "whether there is a reasonable cause to believe that the wage paid to any employee is not a living wage." The law further defines a living wage as one needed to maintain "minimum comfort, decency, physical and moral well-being."
Walker spokeswoman Laurel Patrick said DWD "will review the complaint and determine next steps."
"Governor Walker wants jobs in Wisconsin that pay two or three times the minimum wage," Patrick said. "He is focused on finding ways to help employers create jobs that pay far more than the minimum wage or any other proposed minimum."
The law allows the state to "consider the effect that an increase in the living wage might have on the economy of the state, including the effect of a living wage increase on job creation, retention, and expansion, on the availability of entry-level jobs, and on regional economic conditions within the state."
Among those who plan to file complaints Wednesday is Britany Ferguson, a 23-year-old mother of two from Milwaukee who said the $9 an hour she earns as a part-time motel housekeeper is not enough to put food on the table.
Ferguson, a high school graduate with some technical college under her belt, said she and her fiance — the father of her two children — live with their respective mothers because they can't afford a place of their own. She doesn't qualify for child-care assistance for her children, ages 3 and 6, so she works only weekends, Ferguson said.
Ferguson said a few weeks ago, her food stamps ran out and she was forced to choose between buying bread or buying hot dogs — she couldn't afford both.
"My pay almost doesn't allow me to enjoy life and take care of my kids," Ferguson said. "If it wasn't for my mom, me and my kids would be homeless."
Rickman said he's not aware of the complaint process ever being used to raise the minimum wage, but he's optimistic the strategy could work."No one who would read these 75 complaints from these workers could reach any conclusion except these people don't make enough to live on," he said. "The governor and the (DWD) secretary will have to do the due diligence to decide what to raise that minimum to. The fact of the matter is, no one can live on $7.25 an hour."
Editor's Note: This story was amended to include a description of additional conditions the state can consider when evaluating whether to raise the minimum wage.