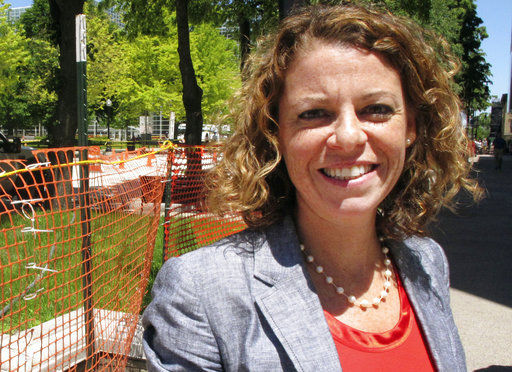 A Democratic group aiming to block Republican-drawn legislative maps headed by former Attorney General Eric Holder has purchased $140,000 in digital ads to help elect Milwaukee County Judge Rebecca Dallet to the state Supreme Court.
The National Democratic Redistricting Committee spent $116,666 in online advertisements to promote Dallet in the April 3 Supreme Court election and $23,333 in ads against opponent Sauk County Judge Michael Screnock, according to a Thursday filing with the Wisconsin Ethics Commission.
The group formed in 2018 and is working this year to eliminate Republican-controlled state governments by spending heavily in state races. In Wisconsin, Republicans control the state Legislature and the governor's office, and conservatives control the state Supreme Court.
Dallet, who is backed by liberals, is promoted in a Facebook advertisement that includes a graphic with an image of President Donald Trump that says, "Protect Your Rights. Protect Our Court," according to the Milwaukee Journal Sentinel.
The advertisement also urges voters to head to the polls for a "special election" on April 3. Dallet and Screnock compete in a general, regularly scheduled election that day
A spokeswoman for Dallet did not comment directly on the ad buy.
Sean Lansing, spokesman for Screnock, said the ad buy "warrants an answer from Judge Dallet on whether or not she still decries the influence of so-called dark money on Wisconsin elections."
In response, Dallet spokeswoman Jessica Lovejoy said Dallet "believes that if an organization is spending hundreds of thousands to elect a Supreme Court justice, the justice should recuse themselves when that organization is party in a case."
Dallet has said she believes the millions of dollars in outside spending that Supreme Court races typically draw has "bought and paid for" Supreme Court justices that the spending helps elect.
She also has questioned whether Screnock could remain impartial on the Supreme Court on cases involving Wisconsin Manufacturers & Commerce because of the more than $500,000 the group has spent on his behalf so far in the race.
Screnock has said he would recuse himself from a case if he felt he could not remain impartial. Lansing would not answer whether Screnock would specifically recuse himself from cases involving the WMC.
"As Judge Screnock has said many times, impartiality is the touchstone of our judicial system, and recusal must be determined on a case-by-case basis, taking all of the facts of the respective issue before the court into account," Lansing said.